Salads aren't just for those on a diet anymore. Properly made, they can be a filling and delicious meal. There are endless options when designing your salad. We break it down into four parts: the base, the protein, the texture, and the dressing.
Your salad base typically is lettuce leaves, but it could be pasta, cous cous, or roasted vegetables. There are great variations in lettuce texture and flavor, so try out a number of varieties to find your favorite. My favorite choice is arugula.
To make a salad a whole meal, you should include protein. This can come in the form of animal proteins, such as grilled chicken or sliced ham. Cheese is great in salads, with grated cheddar and crumbled feta being popular. You can also add protein with chickpeas and beans, and also a wide variety of nuts.
Add excitement to your salad with texture. Some great crunchy toppings are croutons, celery, apple, carrot, radish, and crumbled bacon. Some great soft toppings are avocado, orange pieces, tomato, and fresh berries. Also consider aromatic toppings, such as fresh herbs and onion.
Top your salad off with a great dressing. The typical ratio is a 1/3 for acid to oil. Change that to your personal taste- I prefer a 1-1 ratio. Different oils give a different flavor. Extra virgin olive oil can be very strong to some people, but delicious to others. Avocado oil is delicious in salad dressing. Vinegars also come in mild to intense flavors. Emulsifiers are great for adding texture to the dressing. Mayonnaise and buttermilk are prime choices to mellow out a salad, while mustard adds a pop of flavor.
Here are 10 great user submitted recipes for healthy salad ideas!
*Click on the images to view the full recipe.
10. Authentic Greek Salad
There are many different versions of Greek salad you can get abroad, for example, in England they often add lettuce to it, but that is not how the Greeks make it! This recipe shows how it is commonly prepared in Greece. Enjoy!
Prep Time: 5 Min | Cook Time: 20 Min
9. Thai Herb Salad
This delicious salad is full of Asian flair. The beansprouts give a great crunch, while the shrimp are the star of the show. The dressing is sweet, sour and spicy with Thai sweet chili sauce, lime juice, and sesame oil.
Prep Time: 10 Min | Cook Time: 10 Min
8. Tabouli Salad With A Twist
This classic Middle Eastern salad is a great beginning for wonderful customization. The author forgot to put the key ingredient- two cups of cooked cous cous. You can substitute it with cooked bulgar wheat.
Prep Time: 15 Min | Cook Time: 0 Min
7. Tuscan Grilled Chicken and Pepper Salad
This salad is so pretty, and delicious too! It's the perfect summer salad for pot-lucks, summer BBQ's and get-togethers. Loads of sliced peppers, every color of the rainbow, are tossed with grilled chicken, sliced red onions, tomatoes, olives, and basil, along with a smooth, Italian balsamic based vinaigrette.
Prep Time: 15 Min | Cook Time: 15 Min
6. Garbanzo Bean and Tomato Greek Salad
Pump up the protein in your salad with chickpeas! The chopped basil gives a bright and summery flavor to this yummy dish. Add in your favorite vegetables to make this salad your own recipe.
Prep Time: 20 Min | Cook Time: 0 Min
5. Bean Salad
This is another delicious bean salad. Chickpeas are mixed with kidney beans for a wonderful texture and flavor. The lime dressing with chili powder gives it a bright acidity with a kick of heat.
Prep Time: 15 Min | Cook Time: 0 Min
4. Warm Romaine Salad
Don't be scared of warm salads- they're delicious! Romaine heats up well without getting too soft. This is a great salad to go beside steak or chicken. Impress your guests with this delicious dish.
Prep Time: 10 Min | Cook Time: 10 Min
3. Herb Shrimp and Avocado Salad
This is a classic salad combination- avocado, shrimp, and Boston Bib lettuce. The soft textures all work wonderfully together, making a luxurious salad. This would be the perfect appetizer for a fancy dinner.
Prep Time: 15 Min | Cook Time: 0 Min
2. Pesto Pasta Salad
Add an Italian spin to your next summer cook-out with this creamy, caprese-style pasta salad. The chunks of fresh mozzarella blend in with the pasta, so they're a pleasant surprise to bite into!
Prep Time: 5 Min | Cook Time: 10 Min
1. Caesar Salad Bites
Salad becomes an easy appetizer in this fun dish! Handheld salad can be served alongside your favorite munchies! There are so many different ways you could do this, but this recipe is a classic Caesar Salad.
Prep Time: 15 Min | Cook Time: 0 Min
A new year is beginning and, like millions of other people around the world, you've probably vowed to make this year healthier and...
When you think of summertime, what's the one fruit that stands out to you as THE fruit of the summer?
Hey Forkly Followers! As a writer at Forkly, I try to walk the walk when it comes to what I make at home.
Having a backyard garden is one of the amazing ways you can cut down on your grocery costs while filling your body with fresh,...
When everyone is back at school and extra curricular activities kick in, it can be difficult to find time to have an after school...
Looking for a meat-free alternative to a classic chicken salad sandwich? We've got it for you.
Finding the right protein bar that isn't packed with sugar and additives can be a difficult task.
Chickpeas are always thought of as the ingredient required to make hummus and a bunch of other healthy foods.
Suppertime can be the best time or a time of chaos and dread. Why?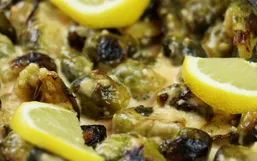 I remember when someone told me their favorite vegetable dish was Roasted Brussels Sprouts. I was not only shocked, but disgusted.
Cooking vegetables can be as simple or as complicated as you make it but at the end of the day, you want a delicious dish with the...
Have you been walking the grocery aisles and seeing "organic this, organic that"?