Appetizers are an essential part of any party or gathering. These small dishes stimulate our taste buds and fill our bellies while we wait for the main course. Whether you're attending a Halloween party, are throwing one yourself or are looking to treat your friends to delicious snacks, be sure to try these recipes!
These Halloween-themed appetizers will surely pique the interest of those you share them with. Keep the party fun and stress-free by ditching the laborious recipes and instead try one of these spooky-fun recipes that require only 5 ingredients or LESS!
1. Hot Dog Spiders
Who doesn't love roasting a spider dog over the campfire? Now you can take your favorite summertime snack and enjoy it during Halloween!
This 4-ingredient Halloween treat comes together effortlessly. With a package of hot dogs, crescent roll dough, and black sesame seeds, you'll have these ready to eat in no time. Share them with the family, or bring them to a party, your choice! Just be sure to bring ketchup for dipping!
2. 4-Ingredient Mummy Dogs
This recipe uses essentially the same ingredients as the spider dogs but instead transforms the hot dogs into creepy Halloween mummies. Once again you'll need a package of hot dogs and crescent roll dough but instead of black sesame seeds, you'll use sliced green olives for the eyes!
Our recipe yields 6 servings but can easily be doubled if you need to cater to more guests. This fun and delicious snack will come together in just 15 minutes or less!
3. Ghost Popcorn Balls
This spooktacular snack is the perfect combination of sweet and salty flavors. Marshmallowy popcorn balls are dipped in melted white chocolate and are decorated with candy eyes to look like little ghosts.
This delicious snack requires 5 store-bought ingredients and comes together quickly! Your little ghosts and goblins will surely eat this appetizer up quickly!
4. Halloween Caprese Eyeballs
Caprese salad is a classic and because it contains just 3 ingredients it is incredibly quick and easy to throw together. This Halloween put a fun festive spin on a simple salad and turn it into an enticing appetizer.
Small tomatoes are filled with whipped cream cheese and are topped with sliced black olives. Be sure to serve the eyes on a basil leaf so you can enjoy the authentic and delicious flavors of Caprese salad.
5. Scream Cheese Appetizer
Cheese platters are always a great idea whether it be an appetizer for a party or to nibble on while you watch a movie. Go all out this Halloween and instead of slicing up pieces of cheese, make these fun little scream cheese's!
It's important to note that you will need a silicone mold to create the scream cheese shapes! Aside from the mold, you'll only need 3 ingredients. Once prepared serve the scream cheese with your choice of crackers, veggies, and fruit!
6. Ham And Cheese Crescent Mummy
Share a spooky crescent mummy with your family and watch it get eaten up quickly! This simple recipe combines a tube of crescent roll dough with sliced cheddar cheese and deli ham to create a festive bite!
This recipe provides thorough step-by-step instructions so that you too can create the fun mummy shape. The finishing touches are what bring this appetizer to life and to do that, all you will need are two sliced olives!
7. Strawberry Ghosts
There are so many great appetizers you can enjoy but not all of them have to be savory. This spooky-fun sweet appetizer will capture everyone's attention, and they'll surely be back for seconds.
To create strawberry ghosts all you'll need are fresh strawberries, white chocolate or candy melts, and mini chocoalte chips. These come together quickly but keep in mind they do need time to harden in the fridge which means this is a great recipe to make ahead of your Halloween festivities!
8. Cheesy Bones
Breadsticks are delicious and would make a great appetizer but this recipe puts a fun Halloween twist on a simple recipe which will certainly leave a lasting impression on your guests! These cheesy bones are incredibly easy to make since you'll be working with store-bought breadstick dough. Stretch and tie the dough into bone shapes and then bake them in the oven!
Be sure to coat the breadsticks in parmesan cheese before baking. Finally, prepare the delicious sauce that is made from just 2 ingredients and is perfect for dipping.
9. Frankenguac
Guacamole and chips are a crowd favorite and that is why you should make this fun appetizer! This recipe takes simple ingredients and transforms them into the perfect Halloween treat.
To create this fun Frankenguac all you'll need is store-bought guacamole (or your favorite homemade recipe), blue tortilla chips, sour cream, and sliced olives. This delicious appetizer comes together in 20 minutes or less!
10. Pumpkin-Shaped Cheeseball
Pumpkins are an essential part of Halloween. Whether you like to display them as they are or carve them into Jack-O-Lanterns, they are great decorations for fall. With that in mind, sharing a pumpkin-shaped cheese ball would be an excellent Halloween appetizer.
While this recipe technically has 6 ingredients, we still believe it's worth noting. All of these ingredients are store-bought and this cheeseball comes together as quickly as mixing the ingredients together and then forming the shape with plastic wrap and rubber bands. It's so easy!
11. Spooky Spider Halloween Appetizer Dip
Veggies and dip are always a great appetizer for any occasion but this idea shows how you can effortlessly put a Halloween spin on a simple snack. Fill a bowl with your favorite dip and then follow this tutorial to create a spooky spider.
The spider is made out of 1 large bell pepper and sliced olives. It's an easy 5-minute hack that will quickly transform your dish!
12. Meatball Mummy Crescent Bites
Instead of sharing a Crockpot full of meatballs make a platter of these fun meatball mummy bites! All you'll need are frozen meatballs and a tube of crescent roll dough.
In 30 minutes or less, you and your friends can be digging into these fun little treats. Be sure to serve them with a side of ketchup, mustard, or marinara sauce.
13. Zombie Halloween Nachos
When you think of nachos, tortilla chips and melted cheese probably come to mind but this recipe puts a sweet twist on a traditional recipe! Instead of salty tortilla chips, you'll use cinnamon sugar pita chips.
To ensure that these nachos are irresistibly delicious be sure to top the pita chips with ingredients like crumbled Oreo cookies, raspberry pie filling, and hot fudge ice cream topping. This no-bake recipe comes together in just 10 minutes!
14. Corn Dog Mummies
Corn dogs are a crowd favorite, whether you enjoy them at the State Fair, for dinner, or as a snack. These corn dogs get a Halloween makeover thanks to a few simple ingredients.
With a box of store-bought corn dogs, crescent roll dough, and candy eyes you can have this spooky Halloween appetizer ready in no time. Be sure to follow the instructions carefully as there are important cooking instructions you need to pay attention to.
15. Jack O' Lantern Olive Cheese Dip
This recipe shows how you can put a Halloween twist on a simple dip recipe using shredded cheese and olives! This 5-ingredient recipe starts with cream cheese and sour cream as the base layer.
Use your creativity and form a pumpkin shape using shredded cheese and then make the Jack-O-Lantern come to life using chopped black olives. Finally, serve the dip with your favorite chips or crackers!
16. Easy Ritz Cracker Spiders
You don't have to have strong creativity skills to whip this Halloween appetizer into shape! These Ritz cracker spiders are so easy to make and only require 4 ingredients.
The recipe shares that you can fill the crackers with cream cheese, peanut butter, nut-free butter, or any spread of your choice. Then using pretzels, chocolate chips, and white icing, and this step-by-step tutorial you'll have these spiders whipped into shape in no time.
17. Spooky Cheese And Crackers
This is another excellent recipe that proves you don't need any fancy baking skills to create a fun festive snack! A platter of assorted crackers and cheese is a great appetizer, however, serving a platter of spooky cheese and crackers would be even better!
Your secret tool for creating this fun treat is to use Halloween-themed cookies cutters. These can be found at a bulk food store, craft and hobby stores, and even online too. Once you have the cookie cutters you can let your imagination run wild whether it be spooky cheese and crackers or spooky shaped soft fruits and veggies. The options are endless!
18. Witch Broomsticks
Prepare a platter of these witch broomsticks and watch this appetizer disappear quickly. This easy snack takes simple ingredients such as pretzel sticks and cheese strings to turn them into a fun Halloween snack.
This recipe provides step-by-step instructions on how to assemble the witch broomsticks so that you can prepare them effortlessly. Whether you share them with your family or bring them to a Halloween party, they're bound to capture everyone's attention.
19. Spooky Cinnamon Sugar Flour Tortilla Crisps
A bowl of chips may be one of the easiest appetizers to throw together, however, if you're looking to impress this Halloween be sure to make a batch of these spooky flour tortilla crisps. They have a special sweet flavor thanks to a cinnamon-sugar coating.
This 4-ingredient snack comes together in 30 minutes or less which is quite impressive for a homemade crisps recipe! These are so delicious on their own but would also serve well with your favorite sweet-flavored dip too.
20. Roaches (Crunchy Cheese Stuffed Dates)
We may have saved the best idea for last! Okay, maybe not the best but it is certainly the creepiest appetizer of them all! Serve this roach appetizer with faux roaches on the platter and watch your friends squirm in their seats at the sight of it!
To create the roaches you'll need pitted dates, cream cheese, chopped pecans, and maple flavoring. While this may seem like a strange treat the flavors surprisingly come together wonderfully and will have you wanting seconds!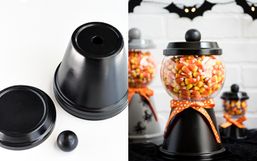 Holidays are fun and only come once a year so this year go all out and host an epic Halloween party!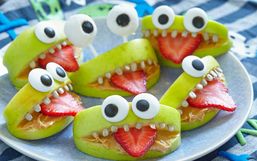 Halloween is the perfect time for parties. It is a chance to dress up in a ridiculous costume and just have fun.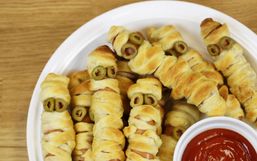 Hallowe'en is a time for spooky, silly, imaginative fun. That doesn't just mean costumes and candy, either.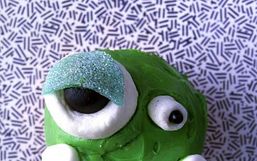 It's a spooky time of year but with some sweet treats. Halloween parties are a great way for parents and adults to get in the...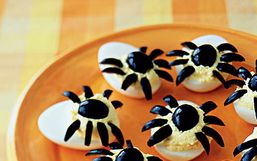 We love Halloween but it can be a very unhealthy time of year. It seems that everything is covered in chocolate and sprinkles and...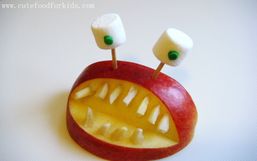 Halloween is a great time for children. They get to dress up as superheros, fairy princess, or what ever they like.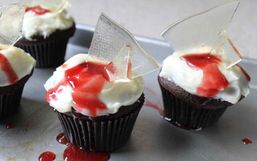 Halloween, a time to delight in all things gross, creepy, scary and spooky - and then lace that with a gallon of sugar.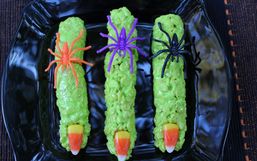 Halloween is all about the treats, because let's face it, without them you're just dressing up in weird clothing and creepily...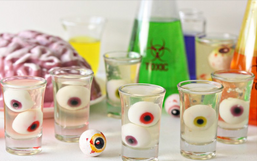 Drinks are often the most last minute, and sometimes forgotten element of a party.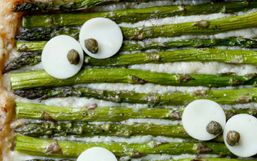 Tonight is Halloween! Send your little ones off for trick or treating with a good meal.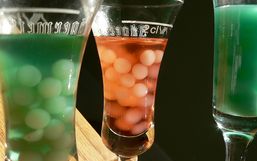 Halloween is almost here! People are putting the final touches on their kids costumes and prepping food for their Halloween...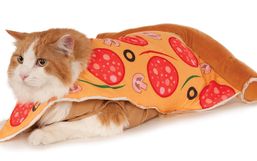 Halloween is a great time to have the excuse to do what you love - dressing up your pet hilariously.