We've all been there, buying a whole can of pumpkin puree for a recipe that requires maybe half a cup of the stuff. You paid a pretty penny for that can (or if you're really a go-getter, you roasted and pureed that bad boy at home!), and leftovers would simply suck to waste. But, what DO you do with pumpkin leftovers? Here are some ideas that will keep you waste-free and with more delicious pumpkin infused foods to eat. Can I get an "amen"?
1. Harvest Loaf
For this recipe you can actually use either pumpkin or squash puree (they're like veggie cousins so it's cool). However you make it, this loaf will be a warm addition to your dinner table this season.
http://www.sweetrecipeas.com/2010/06/07/must-have-missed-the-memo/ Photo by: Sweet Recipeas
2. Vegan Pumpkin Creme Brûlée

Don't get all weird on me about the concept of a vegan brûlée, because while dairy is usually the prime ingredient in a creme brûlée (ps "creme" means cream – who knew right?) with the thick and creamy texture of a pumpkin puree you're going to get a delicious outcome you won't forget.
http://www.feastingonfruit.com/vegan-pumpkin-creme-brulee/ Photo by: Feasting On Fruit
3. Creamy Pumpkin Pasta Sauce
Like I said before, pumpkin puree is so incredibly creamy, it actually compares to an alfredo sauce in texture when on a pasta. It's gorgeous orange color will compliment your pasta dish and impress your dinner guests or at the very least, your social media fans – hello #foodgram!
http://www.lifealittlebrighter.com/2015/12/creamy-pumpkin-pasta-sauce/ Photo by: Life A Little Brighter
4. Pumpkin Waffles
Oh pumpkin flavored everything, I love you so. Take that leftover puree and save it for breakfast – because this recipe is a complete fall knockout. Maple, pumpkin, spices…total bliss.
http://lovelylittlekitchen.com/pumpkin-spice-waffles/ Photo by: Lovely Little Kitchen
5. Pumpkin Spice Energy Balls
Looking for a quick, healthy on the go energy source? While the health food stores will charge you an arm and a leg for them (well, they're like $2 each, so I guess Barbie-sized arm and leg), you can easily use up your leftover pumpkin puree, and save money by making energy balls at home. Pumpkin spice, and everything nice.
http://www.thehealthymaven.com/2015/10/pumpkin-spice-oatmeal-energy-balls.html Photo by: The Healthy Maven
6. Pumpkin Mac & Cheese
The kids won't even know your sneaky secret…because the color of the pumpkin puree perfectly matches that of delicious cheddar cheese. Way to sneak those veggies in!
http://brooklynfarmgirl.com/2013/09/09/pumpkin-macaroni-and-cheese/ Photo by: Brooklyn Farm Girl
7. Gluten Free, Dairy Free Pumpkin Fudge

Save that leftover puree and make treats you can pull out when your next holiday gathering happens. Food sensitivities are on the rise, with gluten and dairy at the top of the list. Having ways to serve your guests, kids, or yourself who suffer from these intolerances. Everyone deserves pumpkin desserts, e-v-e-r-y-o-n-e.
http://petiteallergytreats.com/pumpkin-fudge-dairy-free-gluten-free/ Photo by: Petite Allergy Treats
8. 90-Second Pumpkin Pie Breakfast Quinoa
If you're anything like me, no matter how early I get up in the morning – the race out the door owns me. Between my hair, makeup, work outfit, kids, lunches, bus stops and the 20,000 other things sure to come up between 6am and 8am it leaves not much time for a warm breakfast. Dream on, girl. 90-second hot breakfast that uses pumpkin puree to get your basic-ness on with full pumpkin spice bandwagon? I can get on that! Even me, the eternal rusher-out-the-doorer.
http://www.simplyquinoa.com/90-second-pumpkin-pie-breakfast-quinoa/ Photo by: Simply Quinoa
9. Pumpkin Apple Doggie Mint Treats
Don't forget your little pooch! Pumpkin is actually a digestive aid for dogs, which is why you'll see it as a main ingredient in so many dog foods and treats. Thankfully, you can whip up your own batch at home easily with this recipe!
http://damndelicious.net/2015/09/29/pumpkin-apple-doggie-mint-treats/?utm_content=buffer57b5a&utm_medium=social&utm_source=pinterest.com&utm_campaign=buffer Photo by: Damn Delicious
10. Creamy Pumpkin & Cheddar Scalloped Potatoes
Keep sneaking in those veggies folks! Save some calories on the creaminess of scalloped potatoes without sacrificing any of the taste!
http://www.cookingforkeeps.com/2015/10/29/creamy-pumpkin-and-cheddar-scalloped-potatoes/ Photo by: Cooking For Keeps
11. Homemade Pumpkin Spice Latte
Star- who? Save that $5, and use up that leftover puree and you're money with this recipe! PSL's at home? It's a pumpkin spice miracle.
http://www.inspiredtaste.net/8419/pumpkin-spice-latte-at-home-recipe/ Photo by: Inspired Taste
12. Pumpkin French Toast Bake
This recipe may scream fall delight, but personally – this sounds like the perfect Christmas morning breakfast idea, too. Whenever and whatever you're making it for, it's an easy way to serve up an entire casserole of french toast, with the added flavors of pumpkin and pumpkin spice.
http://minimalistbaker.com/pumpkin-french-toast-bake/ Photo by: Minimalist Baker
13. Pumpkin Cheesecake Mousse
Let me repeat that title one more time. Pumpkin. Cheesecake. Mousse. Now here's the kicker…it's also sugar free, and low carb. Let the angels siiiiiing!
http://www.sugarfreemom.com/recipes/low-carb-pumpkin-cheesecake-mousse/ Photo by: Sugar Free Mom
14. Pumpkin Pie Overnight Oats

Overnight oats were the best thing to happen since we all started eating out of mason jars. You make it the night before, and then voila, breakfast (the next day). Again, perfect for people like me, with the constant rushing out of doors every freaking morning. Not only that, but packed with protein to keep you fueled and filled and get your entire day started off on the right foot.
http://amyshealthybaking.com/blog/2015/09/02/pumpkin-pie-protein-overnight-oats/ Photo by: Amy's Healthy Baking
15. Clean Eating Pumpkin "Ice Cream"

If you're like me and trying to eat clean wherever possible, giving up things as delicious as ice cream can be difficult. That said, the internet is a genius and has come up with solutions that makes things like bananas into ice cream. This recipe uses only 4 ingredients, and is completely vegan, gluten free, and clean!
http://www.thegraciouspantry.com/clean-eating-pumpkin-ice-cream/ Photo by: The Gracious Pantry
I grew up with an amazing Mother who would do everything with themes. From birthday gifts, to seasonal decor, and even meals.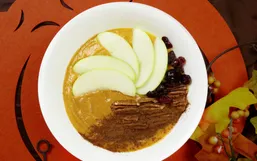 Pumpkin might be the most relatable food item when it comes to fall forward cravings.
Pumpkins are a wonderful ingredient. They are good in both savory and sweet applications.
Hosting a potluck or going to a potluck is a wonderful way to enjoy the company of many without the pressure of having to cook an...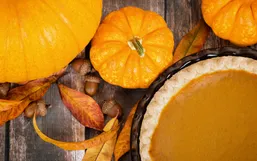 When I think about pumpkins I often find myself reminiscing or wishing it was the season of Fall.
The season of fall is a favorite for many because it means crisp air, cozy layered clothing, and of course comforting meals.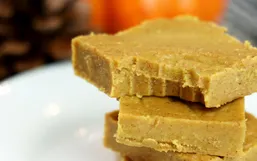 When I was a kid, fudge was something that so rich and decadent it came around maybe once a year.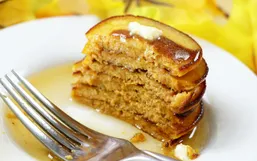 A while back we discovered that pancakes didn't require what we once thought was a pancake's main ingredient - flour.
Those of us who are celebrating Halloween are getting ready to carve the pumpkins!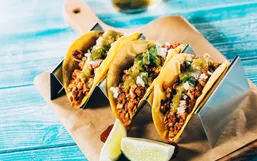 A gluten-free diet is becoming more popular as the years pass. For some, it's a choice because they simply feel better when they...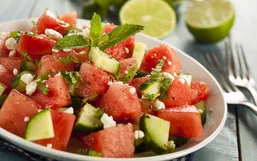 Every new year comes new diet trends and we're on a mission to discover what they are and help you understand why they're...
It was a couple weeks ago that I was strolling the aisles of my favorite mega bulk store (starts with a C, rhymes with "ostco")...