Christmas is the perfect time of year to reconnect with family and friends. It's time to take a few days off and just relax with your loved ones. We love Christmas parties and throwing intricate dinners together, but you don't want all that work at Christmas. We found 12 great Christmas appetizer ideas that are quick, easy and – most importantly – taste wonderful. Don't slave away in the kitchen this holiday season – check out these fast and fabulous appetizer recipes below:
*Click the image or source link to view the recipe.
12. Shrimp Cocktail
It might seem old fashioned, but shrimp cocktail can be a very delicious appetizer. Step away from the frozen shrimp rings! Making your own shrimp cocktail is actually really easy and it comes out much more tasty. The key is to brine the shrimp. This gets rid of the mushy texture that some shrimp can have.
[Source: Food Network]
11. Eggplant Appetizer
This fresh appetizer is is a great choice for vegetarian guests. You can bake or fry the eggplant if it's too cold to grill them. When buying eggplant, look for firm and unbruised flesh. Lightly oil the pan and not the eggplant itself. It will suck up to oil like a sponge.
[Source: Laylita]
10. Red Pepper Goat Cheese Spread
This beautiful cheese spread will be a fan favorite at your Christmas party. Different types of pepper have unique heat signatures. These festive red peppers have a great smokey flavor. If your guests like it spicy, they can take a scoop with the peppers. If they want it mild, just tell them to steer clear and enjoy the cheese.
[Source: The Kitchn]
9. Mozzarella Basil and Tomato Skewers
These red and green skewers are festive and delicious. This recipe shows you how to marinate cheese. That's right- you can marinate cheese! If you're looking for a vegan option, try replacing the mozzarella with tofu.
[Source: Skinny Taste]
8. Tiny Tomato Tarts
We love tarts for appetizers. Tiny tarts are called tartlets. You can buy pre-made tarlet shells in the grocery store, but it's easy to make them yourself. Use regular pie dough but cut them into smaller circles. Bake until golden brown like you would a regular pie crust.
[Source: My Recipes]
7. Cranberry Blue Cheese Puffs
These little bites have all the taste of Christmas. The strong blue cheese pairs wonderfully with the brightness of the cranberries. The crust is made with puff pastry. When you cut out the rounds from the pastry, use a very sharp cutter. This will help them puff up and not sink.
[Source: Pillsbury]
6. Bruschetta
These favorite appetizers have a great Christmasy theme. The red tomatoes look great with the bright green basil. When making bruschetta, rub a cut clove of garlic against the bread. This gives a lovely hint of spice without being overwhelming.
[Source: Eating Richly]
5. Feta and Prosciutto Rolls
We love these salty appetizer rolls. Salty foods work great as a party food because they make you hungry and you can refresh yourself with drinks. Prosciutto is an expensive ingredient and it comes in paper thin sheets. Use it sparingly as a little goes a long way.
[Source: Eating Richly]
4. Goat Cheese and Red Pepper Pesto Crisps
These one bite cups can be made into any shape. Use a cookie cutter in a festive theme, like a gingerbread man. Goat cheese is a great filling for appetizers. You can find different flavors of goat cheese ranging from mild to very strong. Try different types out to find your favorite.
[Source: Hungry Happenings]
3. Baked Cranberry Brie
Brie is a wonderful cheese for Christmas. It's creamy and rich, with a mild flavor. It melts perfectly, making it a great spread for crackers and bread. This dish is elevated by wrapping it in puff pastry and topping it with cranberry sauce.
[Source: Punchbowl]
2. Roasted Asparagus Wrapped With Serrano Ham
Serrano ham is a great alternative to prosciutto. Use your favorite for this recipe. Asparagus is the start of the perfect appetizer. Leave the woody stems on so your guests can pick them up with their hands. Warn them to not eat the bottom.
[Source: My Colombian Recipes]
1. Cranberry Cream Cheese Bites
One bite appetizers are perfect for the holidays. You'll have a drink in one hand so using a fork and knife is not an option for party food. It also has to be clean and not make a mess of your party outfit. These little cranberry bites make the perfect quick appetizer.
[Source: I Adore Food]
Cupcakes are relished all year round. You can enjoy them for birthdays, holidays, any celebration really, or to treat yourself!
Eggnog can be a hot topic over the holidays. Some tend to think it's a disgusting concoction, while the rest of us are swooned by...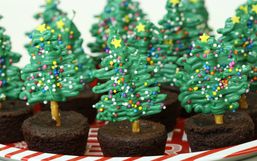 We've all been there. You need to bring a dessert to a Holiday function and you're lacking time, or general baking skills.
There's something...well...magical...yes, Christmas magical about a Reese's Peanut Butter Cup.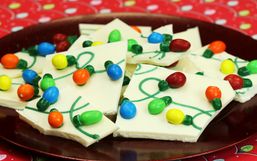 Chocolate barks are my absolute favorite go-to for large batch treats you can store for weeks and hand out as needed to neighbors,...
Candy canes are basically a Christmas holidays mascot. The peppermint candy sticks with a hook on the top, so you can hang them on...
The holidays are known to be the hardest season of the year in terms of the age-old battle of the bulge.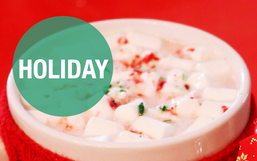 It's that time of year, the season of giving. It's magical and wonderful - and oh, don't forget the mailman!
The best part about Christmas for any kid (or adult for that matter) is the delicious treats that pop up everywhere.
A Christmas cake is the centerpiece of your holiday meal. After you're stuffed with turkey and all the fixings, the only thing...
Christmas has this tendency to sneak up on us each year. It approaches at a fast rate and before we know it the big day has...
Christmas pies are a delicious addition to the holiday season. While we love the classic pumpkin pie, there are a ton of other...