Halloween is almost here! People are putting the final touches on their kids costumes and prepping food for their Halloween parties. Drinks are an easy way to get a spooky yet fun theme. We found 6 great adult Halloween drinks and 6 kid friendly drinks. We've got you covered at Half Hour Meals!
Adult Drinks
1. The Goblet of Fire
[Source: sashahalima.com]
2. Pumpkin Martini
[Source: halloweendrinks.net]
3. Candy Corn Cordial
[Source: partyallready.wordpress.com]
4. Blood Red Punch
[Source: somethingcakey.posterous.com]
5. Frog Egg Martini
[Source: dabbled.org]
6. Bloody Caesar
Children's Drinks
1. Butter Beer
[Source: justsweetandsimple.blogspot.ca]
2. Mummy Juice Boxes
[Source: mermaidscreations.wordpress.com]
3. Ghost Pudding Shakes
[Source: kraftrecipes.com]
4. Candy Corn Smoothie
[Source: pillsbury.com]
5. Black Light Punch
[Source: ourbestbites.com]
6. Cemetery Slime Punch
[Source: cookingchanneltv.com]
Drinks are often the most last minute, and sometimes forgotten element of a party.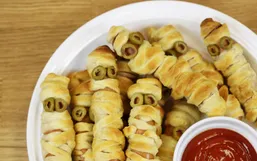 Hallowe'en is a time for spooky, silly, imaginative fun. That doesn't just mean costumes and candy, either.
When Halloween comes, people are divided into two groups- those that love candy, and those that want to spoil it for the rest of...
We love Halloween but it can be a very unhealthy time of year. It seems that everything is covered in chocolate and sprinkles and...
Halloween is a great time for children. They get to dress up as superheros, fairy princess, or what ever they like.
Halloween is a great time to go all out with decorations, costumes, and of course food!
It starts to get dark pretty early when October rolls around, and by October 31st (aka Halloween) you're hard pressed to get a...
Tonight is Halloween! Send your little ones off for trick or treating with a good meal.
Halloween is the perfect time for parties. It is a chance to dress up in a ridiculous costume and just have fun.
Halloween is all about the treats, because let's face it, without them you're just dressing up in weird clothing and creepily...
Halloween is an exciting holiday because you can really go all out.
Parties are always fun to attend especially ones that are themed. What makes themed parties even better is when they're a potluck...