Hershey's Kisses are truly a chocolate classic. While they carry their own very particular look, taste, flavor and familiarity, they have also been used time and time again as a recipe ingredient. Why the heck not? They're basically just giant chocolate chips, right? In more recent years, the Hershey brand has taken the classic kiss and made umpteen flavors of them from pumpkin spice to candy cane, cookies 'n cream and caramel filled (and a whole lot in-between) giving truly endless possibilities for baking with them. These recipes all use Hershey's Kisses in them, and wouldn't be the same without them. So go grab a bag at the store, and get unwrapping your latest and greatest baked up delight.
1. Kisses Strawberry Truffle Cookies
Pink strawberry bites of delight, and you'll never believe what's in the batter! Easy to make and for only a few dollars in supplies, these will definitely satisfy your strawberry chocolate cravings.
2. Kisses Pies
By using pre-made pie shell dough, and making cute pinched mini-pies filled with whatever type of kiss you choose (mint were used in this recipe!), you can create party friendly handheld dessert, that's NOT a cookie.
3. Kisses Cupcakes
Drop a kiss in the bottom of the cupcake liner, before pouring the batter, and you're left with a yummy surprise kiss at the center of your cupcake! Surprise kisses are the best kisses.
4. Kisses Skillet Cookie
Served hot, right out of the pan. Skillet cookies are easy to prepare, bake in such a way to leave a soft center with an extra crisp outside. Toss some kisses in there, and finish off with some ice cream for the most decadent of desserts.
5. Kisses Donut Bears
These adorable little donut bears, are none of the baking, and just a little bit of the assembling – but still creating one heck of a cute little dessert, especially for kids. With a Hershey's kiss creating the base of the nose, these will be a chocolate on chocolate on chocolate win.
6. Kisses (Secret) Cookies
A kiss tucked away and baked inside the dough for a delightful surprise at the center of each. They aren't your typical shortbread cookie. With a buttery texture, chopped walnuts and dusted in icing sugar, the kisses are perfectly complimented.
7.  Kisses Cream Cheese Pastry
Flaky, buttery, topped with delicious kisses. What more could you want in a dessert?
8.  Kisses S'mores Mix
An easy and fun recipe you can make with the kids! With popcorn, pretzels, marshmallows, almonds and of course – Hershey's Kisses.
9. Kisses Brownies
The kisses aren't visible in these brownies, but that undeniable Hershey's rich chocolate flavor is folded into the entire recipe. There's actually over 60 Hershey's Kisses in the batch!
10. Kisses Red Velvet Cheesecake Trifle
The title of this dessert alone is enough to make you drool. Layers of cheesecake, red velvet cake, whipped cream, crushed cookies and of course – lots and lots of Hershey's Kisses. It's most definitely going to be the headliner dessert at your next party or potluck.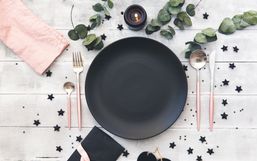 Valentine's Day is a time when expectations are high from your loved one, especially when you're the one planning it!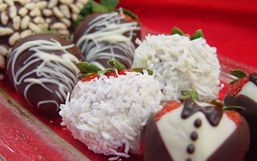 Chocolate-covered strawberries are a delicious dessert any time of the year but they're especially popular around Valentine's day.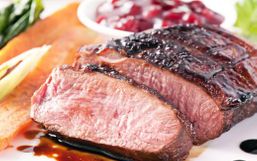 Valentine's Day is the perfect opportunity to cook an amazing meal for your loved one.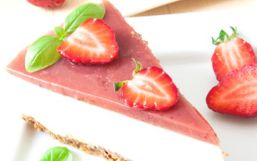 Do you plan on making this Valentine's Day memorable for the special someone in your life?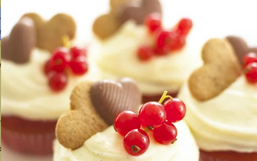 Valentine's Day is just a few weeks away and there's no better time than now to start planning.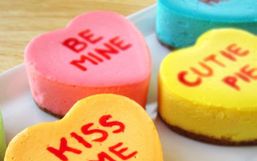 Valentine's Day is the best day of the year to show the person you love how much you care.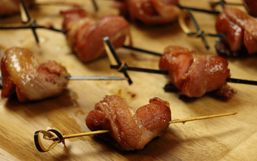 When it comes to Valentine's, it doesn't have to be all candy hearts and chocolates, roses and candlelit dinners.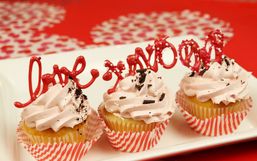 This past Christmas we created little brownie toppers out of chocolate candy melts, made to look like Christmas trees (see them...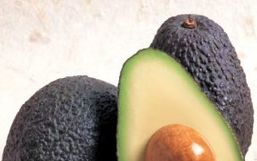 It's officially Valentine's Day and for those of you still scrambling to find the perfect recipe for your romantic meal, we have...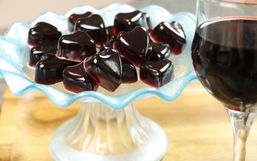 I remember one time buying a pack of "wine gums" and read the disclaimer on the side that says "does not contain actual...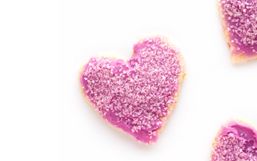 Love it or hate it, Valentine's Day is around the corner. On this holiday, you get a chance to spend it with those you love or to...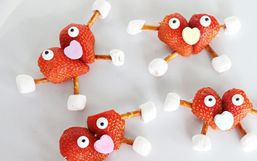 Valentine's Day is a day to celebrate the ones you love and let them know how much you care.