Love it or hate it, Valentine's Day is around the corner. On this holiday, you get a chance to spend it with those you love or to truly spoil yourself! Splurging on Valentine's Day with luscious chocolates and sugary candies is the best part! Unfortunately, a lot of these treats are not vegan-friendly.
We've searched for the best vegan recipes that you'll actually want to indulge in on Valentine's Day! Not only did we find delicious desserts and treats but we have also discovered intriguing breakfast, lunch, and dinner recipes. Treats yourself on this special day and splurge all day long with the satisfaction that they're all plant-based friendly.
1. Pink Dragon Fruit Chocolate Chip Waffles
These pink waffles are stunning and a great way to start your day. Dragon fruit powder provides the stunning pink color and also packs a lot of nutrition too.
These waffles also have a lovely flavor from maple syrup, vanilla extract, and chocolate chips. Garnish the waffles with fresh berries, dragon fruit and a sprinkle of powdered sugar.
3
2. Vegan French Toast
A traditional french toast recipe uses ingredients like milk and eggs, however, it is clear that neither of those is allowed on the vegan diet. This recipe proves that with a few substitutions you can indulge in your favorites without the animal products!
All you'll need is chia seeds, maple syrup, almond milk, cinnamon, vanilla, and bread. Simply soak the bread in the batter and then cook on the stovetop until it's achieved a golden brown color. Serve with delicious toppings such as fresh berries, maple syrup, and coconut whipped cream!
4
3. Vegan Beet Pink Pancakes
Like the pink vegan waffles, these pink pancakes would make a perfect Valentine's Day breakfast! Instead of dragon fruit, these pancakes are naturally pink thanks to beets!
These pancakes are made from wholesome ingredients and have a touch of sweetness from agave syrup. Most traditional pancake recipes call for eggs, but to make this plant-based you'll create a flax egg using ground flax seed and water. These precious pancakes come together quickly and will surely be a hit!
5
4. Low-Fat Vegan Strawberry Muffins
These strawberry muffins are precious and most importantly delicious! They're perfect for busy on-the-go mornings or an afternoon pick me up! Better yet, they're healthy too coming in at only 1 gram of fat and 150 calories per muffin.
The strawberries provide these muffins with a lovely sweet flavor but also a stunning pop of color – perfect for Valentine's Day! Share them with friends, family, a loved one or keep them all for yourself (no judging here)!
6
5. Moroccan Sheet Pan Buddha Bowl
Treat yourself to a delicious lunch this Valentine's Day! This sheet pan buddha bowl looks complicated, but it's actually quite easy to create!
Cooking on a sheet pan allows you to cook all the ingredients at once as well as creates less mess! Enjoy these lovely ingredients with a heaping of brown rice, sliced avocado and a drizzle of homemade tahini sauce.
7
6. Vegan King Oyster Scallops
When I first stumbled upon this recipe I had to take a double take. These truly look like scallops, but really, they're king oyster mushrooms! It's amazing how the combination of creativity and the right ingredients can replicate a classic seafood dish!
To give the mushrooms a true salty sea flavor you'll boil them in a homemade broth that is made from soy sauce, water, kombu (edible kelp), white miso and a few seasonings. Lastly, when you're ready to enjoy you'll sear the mushroom scallops in a skillet. This dish is so elegant and perfect for date night on Valentine's Day!
8
7. Creamy Vegan Sun-Dried Tomato Pesto Gnocchi
Gnocchi is one of my most favorite types of pasta. Its soft pillowy texture is just so irresistible. This sun-dried tomato pesto gnocchi is such an easy dinner to throw together, it can be ready in just 20 minutes!
If you feel like really splurging you could enjoy this for lunch too. First, you'll need to prepare a sun-dried tomato pesto. The pesto is made from a few ingredients and can be whipped together in a food processor. Prepare the creamy sauce and the gnocchi on the stovetop. Finish this meal by serving it with fresh basil and vegan parmesan cheese!
9
8. Pomegranate and Basil Crostini
These stunning crimson red crostini's are a perfect Valentine's Day appetizer or light lunch! You can have a delicious tray of stunning crostini's to share in just 30 minutes.
The ingredients required for this recipe are simple and store-bought. You'll need a French baguette, vegan cream cheese, pomegranate seeds, fresh basil, zest from an orange, and a balsamic reduction.
10
9. Vegan Asparagus Risotto
Do you leave risotto to the professionals? Our recipe proves that you can bring fine-dining to your kitchen effortlessly.
We have also put a healthier spin on a traditional risotto recipe so you can indulge guilt-free! This risotto is infused with lovely flavors of garlic, fresh asparagus, and cheesy nutritional yeast. Enjoy this meal on Valentine's Day and you'll find yourself craving it again and again.
11
10. Cashew Ricotta Stuffed Shells
Enjoy a comforting yet elegant meal for Valentine's Day. These stuffed shells are filled with homemade cashew ricotta that is savory and irresistibly good.
The cashew ricotta is easy to make too! Begin by soaking cashews in water overnight, or in hot water for just an hour. Next, blend the cashews with lemon juice in a blender or food processor. The cashew ricotta is infused with flavors of garlic, basil, and oregano and is then transferred to cooked shells. Top with marinara sauce and finish by baking this dish in the oven.
12
11. Garlic and White Wine Pasta with Brussels Sprouts
What better way to celebrate the day of love than with a bowl of creamy delicious pasta. This vegan alfredo is insanely good. Infused with garlic and white wine, you'll be licking your plate clean!
The sauce has a creamy texture that stems from a combination of almond milk, wine, and arrowroot starch. It also has a cheesy flavor thanks to nutritional yeast. While you cook the sauce and noodles on the stove top roast the brussels sprouts in the oven.
13
12. Baked Apple Cider Donuts with Pomegranate Glaze
Along with comforting breakfast's and elegant dinners, the best part of Valentine's Day has to be the delicious treats. Make these adorable heart-shaped apple cider donuts and share them with your loved ones or favorite gal pals!
You'll need a heart-shaped donut pan to create the fun-shaped donuts. These donuts are flavored with sweet apple cider and fragrant cinnamon and are topped with a cinnamon-sugar topping! Lastly, drizzle the donuts with a lovely pink glaze.
14
13. Chocolate Mousse Dip For Strawberries
You could make chocolate dipped strawberries but you might like this chocolate mousse dip even more! It has a bold rich flavor yet is healthy and paleo-diet approved.
This dip can come together in just 4 minutes and requires only 7 ingredients. You'll need to chill the dip in the fridge so that it can harden so consider making it a day in advance.
15
14. No-Bake Chocolate Dip Strawberry Macaroons
Swoon over these chocolate dip strawberry macaroons this Valentine's Day! They're quite easy to make and will only steal 20 minutes of your time.
The macaroons are made from shredded coconut, freeze-dried strawberries, coconut cream, vanilla, and maple syrup. Once the macaroons have hardened in the fridge, dip them in melted dairy-free chocolate and drizzle melted chocolate on top.
16
15. Vegan Sugar Cookies
Not only are these vegan cookies adorable but they're infused with the most lovely flavors too. The cookie batter contains flecks of orange sprinkles that are actually pieces of carrot. Further, the frosting is naturally colored from frozen dragon fruit.
You can feel good about indulging in 1 or 4 of these cookies because they're made from wholesome ingredients! Better yet, share them with your loved ones and prepare to blow them away!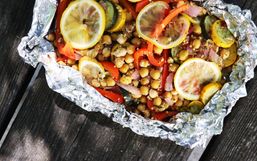 As someone who now eats a mostly plant-based diet, I've found myself stumped on how to enjoy BBQ meals this summer.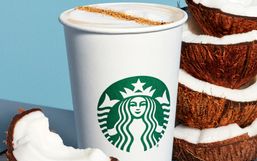 The vegan diet continues to gain popularity and not to mention lactose allergies are on the rise too.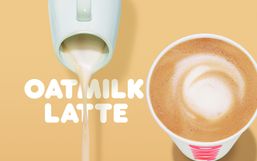 Earlier this week Starbucks announced that they're officially offering 2 new non-dairy beverages nationwide.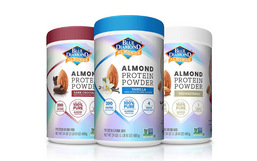 Blue Diamond Growers is entering 2020 with a brand new product, Blue Diamond Almond Protein Powder made from 100% pure almond...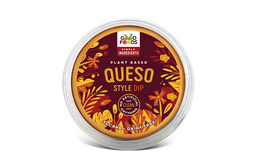 The plant-based diet trend is growing and it shows no signs of stopping!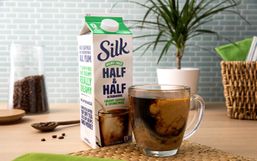 Silk, America's number 1 plant-based beverage brand is back with another exciting announcement!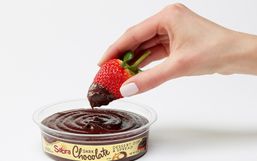 If you haven't heard of dessert hummus yet, it's essentially a sweet spin on a traditionally savory chickpea-based dip.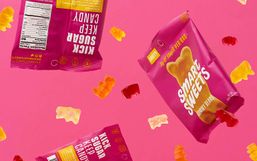 It's no secret that sugar isn't good for you, especially the refined kind we find in sweets.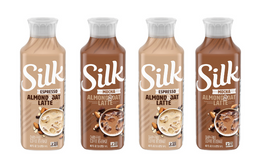 If you don't have time to head to a coffee shop this morning to score your favorite latte, don't fret! Silk, America's No.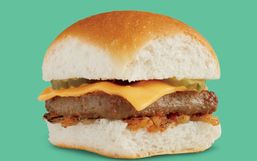 Brace yourselves because White Castle has unveiled amazing news! White Castle announced that they will soon become the very first...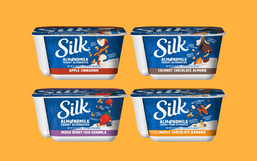 Silk, America's number 1 plant-based beverage brand is constantly thinking up new, innovative products so you don't have to miss...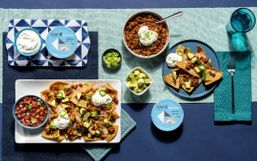 With more consumers searching for dairy-free alternatives, companies like Kite Hill are on a mission to deliver.