Valentine's Day is the perfect opportunity to cook an amazing meal for your loved one. They key to planning a sexy meal is to keep it light. You don't want to eat a five course meal and feel overstuffed. Beef is a popular Valentine's Day dish, with tenderloin being a favorite. Fish and seafood are also a great choice.
In terms of poultry, duck is a fantastic option. You can find it frozen at large or specialty grocery stores. When cooking duck, try to keep it medium well done. Unlike chicken, it's perfectly safe to eat duck rare.
We hope you love these 8 sexy Valentine's Day dishes, submitted by Half Hour Meals users.
*Click on the image to view the full recipe.
8. Steak Oscar
Steak Oscar, every once in a while you've got to spoil yourself. Yes, there is a Steak under all that creamy rich bearnaise sauce! Top the steak with a couple lemon-garlic grilled shrimp and then smother with that rich thick crab filled bearnaise sauce. Serve with fresh steamed asparagus on the side and you've got heaven on a plate.
7. Cranberry Glazed Duck Breast
This sweet/sour duck combination is beautiful. It makes a really impressive special occasion dish but it's actually easy to make. Serve this for your Valentine's Day dinner and impress your loved ones!
6. Tagliatelle ai Funghi
The beauty of tagliatelle ai funghi is the simplicity, and how the quality of each ingredient can be perceived in each and every bite. When prepared with fresh handmade egg pasta, the dish is divine. This is a great dish for a vegetarian Valentine's Day dinner.
5. Filet Mignon with Red Wine Reduction
Filet mignon, or beef tenderloin, is a great choice for Valentine's Day dinner. It's an expensive cut of meat so it's great for a special occasion. The red wine sauce is the perfect accompaniment to this dish!
4. Duck Breast With Red Wine Pears
The richness of the duck goes perfectly with the acidity of the pear and wine. This is a great Valentine's Day meal. Poached pears make a beautiful side dish to this fatty cut of meat.
3. Pork Loin With Cranberry Pomegranate Sauce
In this recipe, the mild flavor of pork pairs perfectly with a fruity, tangy, sweet sauce made with cranberries and pomegranate juice. The red sauce is a perfect color for celebrating Valentine's Day.
2. Linguine With Parma Ham
Pasta is a great option for Valentine's Day dinner. Fresh pasta is delicious, but you can always buy a good brand of dried pasta. The red tomatoes and pink parma ham make this dish very festive!
1. Five-Spice Glazed Salmon
One dish dinners don't often get as quick and easy as this one! The salmon is marinated in a quick Asian marinade and the beans are roasted right alongside it in the oven. Quick and easy and perfect for a weeknight dinner, or to impress someone special on Valentine's Day!
Valentine's Day is a time when expectations are high from your loved one, especially when you're the one planning it!
Chocolate-covered strawberries are a delicious dessert any time of the year but they're especially popular around Valentine's day.
It's officially Valentine's Day and for those of you still scrambling to find the perfect recipe for your romantic meal, we have...
Do you plan on making this Valentine's Day memorable for the special someone in your life?
Valentine's Day is just a few weeks away and there's no better time than now to start planning.
Valentine's Day is the best day of the year to show the person you love how much you care.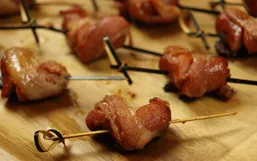 When it comes to Valentine's, it doesn't have to be all candy hearts and chocolates, roses and candlelit dinners.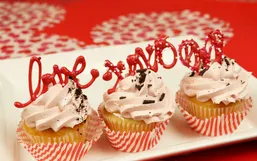 This past Christmas we created little brownie toppers out of chocolate candy melts, made to look like Christmas trees (see them...
Valentine's Day is a day to express your love for the special people in your life.
These recipes are for the lovers! Each represents a perfect token of your affection because they spell out—without a doubt...
Making Valentine's Day treats for your child's class can be awfully tricky these days with so many allergies and eating...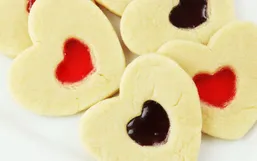 I love baking sugar cookies with my kids, however - it's always such a process between all the dough making, the rolling out,...