It can be particularly hard to eat well at work. We spend the mornings making healthy lunches for our family, and yet we forget to make one for ourselves. The vending machines and convenience stores at work make it too easy to just buy snacks. They tend to be unhealthy choices, like chips and candy bars.
It's a good thing that making healthy snacks can be delicious and fast! We found 15 healthy snacks that will fill you up and keep you at the top of your game at work.
1. Fruit Rice Cakes
This snack is a great combination of fresh fruit and crunchy rice cake. Pack the rice cakes in a baggy separate from the fruit and spread, or else everything will get soggy.
Rice crackers by themselves are a great work snack too, but don't forget to get your daily intake of fruits and vegetables!
2. Banana Bites
These cute banana bites are packed with flavor. Dip a banana is soft peanut butter and add a walnut on top.
You can find peanut butter whipped with jam in some grocery stores. You can also use low-calorie marshmallow spread for a sweet treat.
3. Kale Chips
Kale chips are a great alternative to potato chips. They're packed with minerals and nutrients. Some people find kale bitter, but there are some good ways of combating this.
First, massage the kale well with the oil before you cook them. Secondly, you can add a drizzle of lemon juice onto the chips before baking.
4. Roasted Chickpeas
Chickpeas are super healthy and they're also delicious! They are high in protein and make a great snack. Be sure to portion this snack out or else you'll find you've eaten the entire lot!
Make them with any favorite spice mix, or do it simply with just a dash of salt.
5. Fruit Leather
Fruit leather isn't just for children. It's a great snack for adults too. You can easily make your own with a dehydrator or your oven on a low setting.
This recipe is nice and simple, using sugar-free applesauce as the base. Add any favorite fruit puree or preserves.
6. Beef Jerky
Beef jerky is a great high protein snack that will keep you full for a long time. You can easily make it yourself at home. This recipe uses ground meat, which makes the process simpler and the results will be tender.
Using ground meat is also a more affordable option when compared to other cuts of meat.
7. Fresh Spring Rolls with Peanut-Ginger Sauce
Needing a little color in your diet? These spring rolls are an amazing snack to have on hand at work. They will help you get some veggie nutrients into your system without making you feel like you're just eating a salad.
One way to make your spring rolls even more delicious is by including some mango slices for a little sweet to go with your savory.
8. Pizza Fruit Crackers
Instead of reaching for a cookie or slice of cake in the breakroom, how about packing your own kind of dessert that doesn't have the consequences of cake?
These pizza fruit crackers are delicious and nutritious while combining salty and sweet which is just about everyone's favorite combinations.
9. Summer Berry RAW Macarons
Summer is a wonderful time to enjoy these summer berry macarons, but if you're missing the sunshine in the winter, you can always pull out this recipe and bring it to work.
Not only are these fruity snacks sweet and healthy, but they are also drizzled with melted chocolate. What more can you ask for?!
10. Chocolate Banana Frozen Yogurt Bark
Replace your chocolate cravings with…chocolate! This healthy alternative to a chocolate bar will not only satisfy those chocolate cravings, but it will also help you feel actually full as well.
You can add some nuts and berries to this bark to increase the nutritional benefits of this fantastic snack if you want to get a little creative.
11. Green Bean Crisps
Not a fan of eating raw veggies? How about making them crispy like potato chips? You can even make a low-fat greek yogurt dip to go with your snack to get some protein in there as well.
Remember to lightly salt your green been crisps for added flavor and maybe even add some hot spices if you like a little kick in your food.
12. Carrot Cake No-Bake Snack Bites
Carrot Cake with cream cheese icing? Oh dear, now that is one delicious treat! Fill your body with those same amazing flavors and reap some amazing health benefits!
These snack bites are packed with delicious, healthy foods including oats, carrots, and walnuts to give you long-lasting energy without the refined sugar.
13. Fruit and Yogurt Parfait
It's a simple fix for a rushed morning! If you are someone who doesn't have time to eat breakfast, bringing a premade snack to work that can stand in the place of a first-thing-in-the-morning breakfast is perfect for you.
Load up your container with greek yogurt, berries, granola, and cereal for a healthy and sweet snack that absolutely will not disappoint!
14. Rainbow Veggie Pinwheels
We all love snacking on pinwheels at potlucks and weddings, but how about bringing them with you to work? This snack is not only colorful, but it's packed with antioxidants and delicious cream cheese.
To make this snack a full meal, add some grilled chicken to your wrap for added protein to help you get through your work day.
15. Coconut Brownie Batter Energy Bites
If you have a serious chocolate craving that you just can't shake, don't worry about resisting the urge but have a healthy alternative available to eat. When you're hungry, it's important to get some protein in your system which is why energy bites are fantastic.
These little snacks are packed with sweetness from dates and have all natural cocoa in them as well so they taste genuinely like chocolate. Sprinkle some coconut flakes on top for added flavor.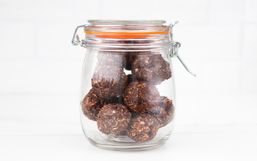 You've probably been seeing recipes for no-bake snack/energy bites online for a few years now. I know I have!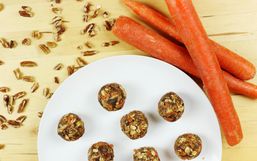 A healthy snack inspired by a Spring-time favorite - carrot cake!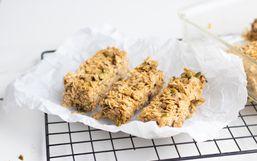 Granola bars are perfect for so many moments: breakfast time; an at-work or school-safe snack; a picnic, playground, or...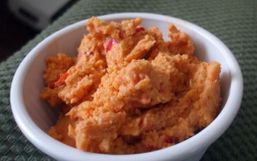 Happy National Chip and Dip Day everyone! To help you celebrate this special occasion, we've collected the 10 best dip recipes we...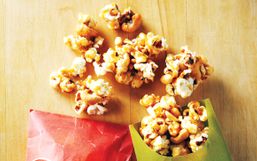 Ahhhh movie nights! Where everyone puts on their slippers and cozies up under a big quilt to watch a new release or an old...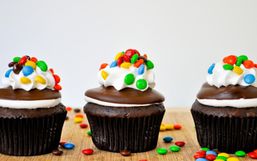 You know them, you love them, you quietly whisper "melts in your mouth, not in your hands" as you tip your head back and toss...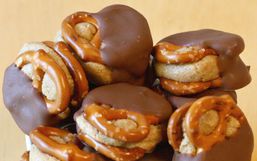 Soft or crunchy, salty or sweet - there are oh-so-many ways to enjoy a pretzel.  Mixed, dipped, crunched, munched.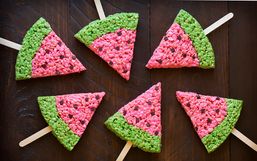 Admittedly, I'm a rice krispie treat addict. I'll take a fresh batch of homemade (yes, homemade is a must) rice krispie treats...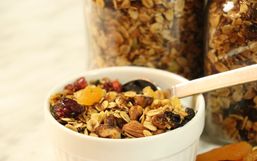 Granola costs a small fortune at the grocery store, yet it's incredibly easy and cost-efficient to make it yourself at home.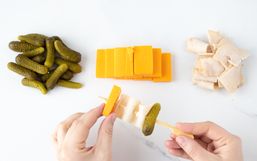 Snack time is the best time! So fill your belly with some seriously mouth-watering snacks that won't load you up with sugar and...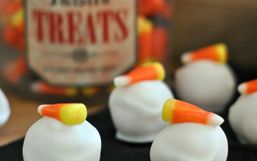 There's nothing better than a new season that brings about all your childhood favorites and those mild food addictions that come...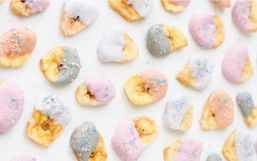 Summertime is road trip time! I remember munching on apples and granola bars for hours on end when my family went on road trips.