Granola bars are perfect for so many moments: breakfast time; an at-work or school-safe snack; a picnic, playground, or on-the-trail treat; an after-school "moooooooom I'm hungry" snack; or even (if they're really good) an after dinner snack to crush your sugar cravings. But did you know that they're super easy to make at home and have way less sugar than their storebought counterparts? We've got this easy granola bar recipe for you today that is packed full of protein and healthy fats AND doesn't have nuts making it 100% school safe should you decide to pop one into your little one's lunch bag. So let's get started!
Love these granola bars and want to try your hand at granola? You'll love this very similar Best Ever Simple Nut-Free Granola.
Start by throwing all of the dry ingredients into a large bowl, including the oats, pumpkin and sunflower seeds, coconut and coconut smiles, and cinnamon. Give it a good stir to get that cinnamon well mixed in!
Grab another bowl, this one microwavable, and add the wet ingredients including real maple syrup, coconut oil, soy or seed butter, and salt. The real maple syrup provides a hint of sweetness, the seed butter adds lots of protein, and the coconut oil adds healthy fats – a perfect way to fuel your day.
Microwave for 30 seconds at a time until the mixture is runny and the coconut oil has melted. Give it a good stir to mix in the oil as much as possible! It won't completely combine, but do your best using the photo here as a reference.
Pour the liquid into the big bowl of dry ingredients and stir well to coat. The granola should be wet, but not soaked. If it seems too wet, add another handful of oats to thicken up the mix.
Dump in the chocolate chips of your choosing (milk, semi-sweet, dark, mini – whatever you want!) and stir to distribute them through the oat mixture. Spray a square 8-inch by 8-inch or 9-inch by 9-inch pan well with coconut oil cooking spray and spoon the granola bar mix into the pan. Use the back of a greased spoon to press the mixture down into the pan, being sure to compact it as much as possible to bind the ingredients.
Cover the pan and set in the fridge or freezer for at least an hour to solidify the bars, allowing for overnight if possible. Once it's set, use a sharp knife to cut them into 12 rectangular bars.
Store in the pan in the fridge until they're going to be packed in a lunch or eaten! Remove them carefully since they crumble more easily than storebought granola bars. They should keep for up to two weeks, if they don't get gobbled down sooner! We hope you and your family enjoy!
Ingredients
3 cups rolled oats
½ cup shredded coconut
½ cup coconut smiles
½ cup sunflower seeds
½ cup pumpkin seeds
½ cup mini dark chocolate chips
½ cup coconut oil
½ cup seed or soy butter
½ cup maple syrup
½ tsp salt
1 tsp cinnamon
Coconut oil spray
Method
Add the oats, coconut and coconut smiles, sunflower seeds, pumpkin seeds, cinnamon, and chocolate chips to a large bowl and mix.
Add coconut oil, seed butter, maple syrup, and salt to a glass bowl and microwave for 30-60 seconds until melted. Stir well to combine the ingredients.
Pour liquid mixture onto dry ingredients and stir well to coat.
Spray pan with oil and dump mixture in. Spread evenly and pack down tightly either using your fingers or the back of a greased spoon.
Cover pan with plastic wrap and set in the freezer to set for at least 1 hour before cutting into bars. Store in the refrigerator in an airtight container for up to one week or in the freezer for up to one month.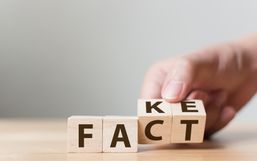 Have you ever gotten stuck falling, or diving head-first, down a rabbit hole of amazingly satisfying food videos on Facebook or...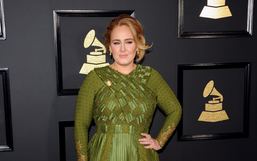 Adele, singer-songwriter and multi-Grammy winner has been making headlines for several years, mostly due to her incredible music...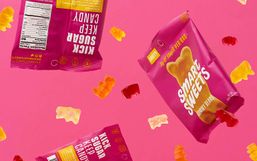 It's no secret that sugar isn't good for you, especially the refined kind we find in sweets.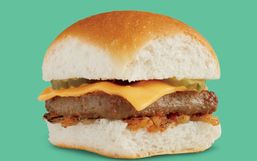 Brace yourselves because White Castle has unveiled amazing news! White Castle announced that they will soon become the very first...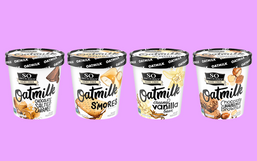 With dairy allergies and vegan dietary preferences on the rise, companies are making the commitment to offer their consumers more...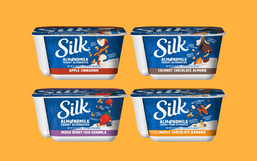 Silk, America's number 1 plant-based beverage brand is constantly thinking up new, innovative products so you don't have to miss...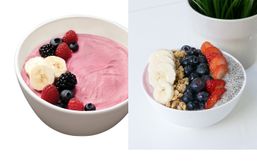 Yogurtland, the leader in self-serve frozen yogurt has no shortage of delicious options.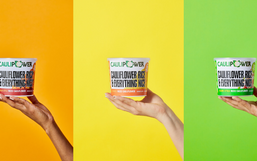 With more people searching for healthier options, companies like CAULIPOWER is committed to delivering.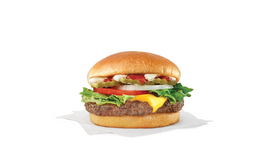 Good news plant-based friends, Wendy's is the next fast-food chain to hop on the plant-based trend!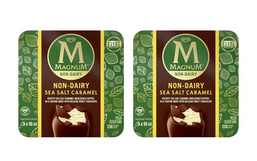 Good news dairy-free fans, anther delicious offering is coming to a freezer aisle near you!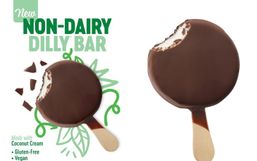 With lactose allergies and vegan diets on the rise, more restaurants are adding innovative products to cater to their customer's...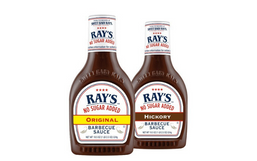 Summer is just around the corner and we all know what that means grilling season is coming too!