It's one of the craziest weeks of the year for busy parents and we have tips and tricks to help make back-to-school stress-free this year.
One of the biggest sources of stress for parents is deciding what to make for kids' lunches. There's a fine line between finding something your kids will love and overdoing it to the point where they become sick of it. For that reason, we have 10 unique ideas that are sure to please even the pickiest of eaters.
Give these 10 lunch ideas a try this school year:
1. Ham and Cheese Sandwich Sushi Rolls
Take ham sandwiches and transform them into sushi! This is a fun take on an easy traditional lunch for back to school.
http://www.kingshawaiian.com/recipes/ham–cheese-sushi-bites/?pp=1 Photos and Recipe By: Kings Hawaiian
2. Cucumber and Cheese Sandwiches
These sandwiches aren't just served at tea time! The perfect mix of tangy with creamy is enough to have your child asking to have this in their lunch Monday to Friday.
http://www.chewoutloud.com/2014/05/19/lemon-cucumber-cream-cheese-sandwiches/ Photos and Recipe: Chew Out Loud
3. Cheese, Cracker, Meat and Vegetable Spread
A charcuterie board is for the adults, but it can also be modified for your little one's lunch!
http://www.lovefromtheoven.com/kid-friendly-charcuterie/ Photos and Recipe By:Love From The Oven
4. Veggie Pita Pockets
Veggie pita pockets don't get soggy or lack flavor. They will fill those students with tons of energy to get through the rest of the school day. To make this recipe more allergy-friendly, remove the nuts from the equation.
http://www.simplywhisked.com/curry-chickpea-salad/ Photos and Recipe By: Simply Whisked
5.Broccoli, Ham and Cheese Pop Tarts
Consider this the ultimate casserole to-go. Stuff these pastries with delicious fillings such as broccoli, ham and cheese and you have yourself one filling lunch!
http://www.easyanddelish.com/broccoli-ham-and-cheese-pop-tarts/ Photos and Recipe By: Easy and Delish
6. Veggies Tortilla Roll Ups
Going the vegetarian route? These flavorful and bright tortilla wraps will brighten your little one's day.
https://www.culinaryhill.com/vegetable-tortilla-roll-ups/?m Photos and Recipe By: Culinary Hill
7. Sandwich Kabobs
Disassemble a sandwich and serve it up in a slightly different format! This works perfectly for children who are sick of the same old lunch.
http://www.momontimeout.com/2016/07/six-easy-lunch-kabobs-for-back-to-school/ Photos and Recipe By: Mom On Time Out
8. Healthy Chicken Pasta Salad
Pasta salad can last for days and only needs to be prepped once. It's a fantastic option for a family on the go.
https://therecipecritic.com/2017/01/healthy-chicken-pasta-salad/ Photos and Recipe By: The Recipe Critic
9. Turkey Ranch Club Wraps
Everyone loves a good turkey wrap, but it's definitely taken to another level of awesome when you add bacon and ranch dressing!
https://life-in-the-lofthouse.com/turkey-ranch-club-wraps/ Photos and Recipe By: Life In The Lofthouse
10. Mini Quinoa Pizza Bites
Skip pizza day and serve up a healthier option in your kids' lunch bags. Pack Pizza sauce as the dipping sauce for a creative twist.
http://www.momables.com/mini-quinoa-pizza-bites/ Photos and Recipe By: Momables
Food Organization inside a lunch bag is one of those arts you must master as a parent.
Most parents love back to school season because that means you can finally get the kids out of the house and give yourself a...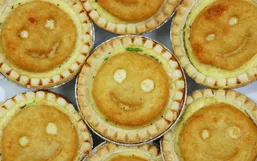 My brain has been in "back to school" mode for a while now. It's not my first rodeo, but it's always my biggest struggle (for...
Back to school season is nearly here! We know you're excited to get the whole family back into your routine but with that comes...
Back to school can be a very stressful time for parents. There are daily battles with getting your children showered, dressed, and...
With cooler weather just around the corner, oatmeal will once again be a staple breakfast food.
It's getting chilly and the leaves are turning colors. That can only mean one thing- Halloween is coming!
Being a parent can be super fun, but it also has it's challenges.
We try and teach ourselves and our little ones to respect the earth, take care of our precious planet, and be more eco-friendly.
Back to school is coming up soon and parents are searching for great ideas for after school snacks.
Many schools have a morning snack break to help keep the children's energy levels up.
Making the transition from living at home to living in a dorm can be both exciting and nerve-racking.