Looking for a meat-free alternative to a classic chicken salad sandwich? We've got it for you. The chunky, flavorful, protein-rich power of chickpeas makes this a tangy salad that will satisfy you much beyond lunch.
When we made this recipe, it was clear it was going to be good…because I couldn't keep my tasting spoon out of the bowl! I loved the kicks of mustard, and the sweetness of apple, it's ridiculously satisfying.
What else I love? It doesn't need refrigeration! Since there's no dairy or meat products in the sandwich…it can safely be packed up at room temperature without risk.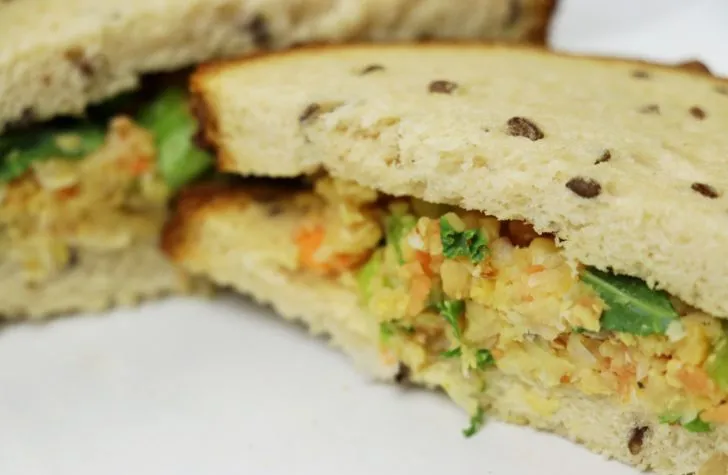 Also, just a little side note – but if you'd like a little extra kick, a shot of Sriracha won't hurt 😉
Ingredients
1 Medium Carrot, peeled & shredded
1 (15oz) can of Chickpeas, drained & rinsed
1/4 cup Celery, chopped
1/4 cup Green Apple, diced small
1/4 cup Red Onion, diced small
1/2 cup Kale pieces
1 Tbsp Cilantro, chopped
1/4 cup Dijon Mustard (we used grainy)
2 tsbp Lemon Juice
2 tbsp sunflower seeds (shells removed)
Salt & Pepper to taste
Optional** Sriracha, for spice!
Bread for serving (we used a Gluten Free variety!)
Equipment
Food Processor (can use a shredder and potato masher in substitute)
Large Mixing Bowl
Method
Start by shredding your carrot in your food processor, setting aside. Next, add your chickpeas into the food processor and pulse just until it's chunky, but not completely blended (only pulse a few times for this!). If you don't have a food processor, you can hand shred the carrots, and mash the chickpeas with a potato masher easily!
In a large mixing bowl, begin mixing your chickpeas with the shredded carrots, and the rest of the ingredients until well blended.
Season and spice to taste, then spoon onto sandwich bread, spread, slice and enjoy!
Salads aren't just for those on a diet anymore. Properly made, they can be a filling and delicious meal.
Let's talk about superfoods. They are nutrient rich foods that will benefit your health and wellness significantly.
When you think of summertime, what's the one fruit that stands out to you as THE fruit of the summer?
When you think about health food craze foods, Zucchini is probably one of the first foods that comes to your mind.
Having a backyard garden is one of the amazing ways you can cut down on your grocery costs while filling your body with fresh,...
When everyone is back at school and extra curricular activities kick in, it can be difficult to find time to have an after school...
Finding the right protein bar that isn't packed with sugar and additives can be a difficult task.
Chickpeas are always thought of as the ingredient required to make hummus and a bunch of other healthy foods.
Suppertime can be the best time or a time of chaos and dread. Why?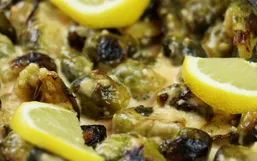 I remember when someone told me their favorite vegetable dish was Roasted Brussels Sprouts. I was not only shocked, but disgusted.
Cooking vegetables can be as simple or as complicated as you make it but at the end of the day, you want a delicious dish with the...
Have you been walking the grocery aisles and seeing "organic this, organic that"?