Staying on track with your diet during any holiday can be extremely difficult. Often, plenty of delicious food is floating around which leads us down the road of temptation. This 4th of July set yourself up for success by making these delicious keto-approved dishes.
We're sharing tasty appetizer recipes, dinner ideas, and even a couple delicious desserts! The best part is that these ideas will surely get the stamp of approval from your family and friends whether or not they follow the keto diet too. So let's dig into delicious keto-friendly food and enjoy this exciting 4th of July holiday!
1. Everything Bagel Deviled Eggs
Flavors of delicious breakfast are transformed into a delicious party appetizer. These everything bagel deviled eggs will certainly pique the interest of your friends and family but once they take one bite they'll be falling in love!
Everything bagels are seriously delicious but are clearly not allowed on the keto diet. Instead, top a simple deviled egg with the delicious seasonings to create an unforgettable treat. You could even add variety to your deviled egg platter by adding these Cajun Avocado Deviled Eggs!
https://ketodietapp.com/Blog/lchf/keto-everything-bagel-deviled-eggs PHOTOS AND RECIPE HERE: KETO DIET APP
2. Keto Charcuterie Board
Charcuterie boards are all the rage and for good reason! It's a great way to display an array of different foods that your party guests can pick from. This particular recipe will show you how to build a charcuterie board perfect for the keto diet.
Traditionally, charcuterie boards contain meats, cheese, fruits and veggies and often bread or crackers. While bread and crackers aren't keto-friendly everything on this platter is! If you're really missing the bread element you could even add these Keto-Friendly Baked Cheese Crisps!
https://wholelottayum.com/charcuterie-plate/?utm_medium=social&utm_source=pinterest&utm_campaign=tailwind_tribes&utm_content=tribes&utm_term=522225836_18730406_454770 PHOTOS AND RECIPE HERE: WHOLE LOTTA YUM
3. Buffalo Chicken Jalapeno Poppers
Dive into another delicious fat bomb keto appetizer with these buffalo chicken jalapeno poppers. Store-bought boxed jalapeno poppers are loaded with carbs and clearly not keto-friendly so this recipe provides a great keto alternative.
Creamy cheesy buffalo chicken is stuffed into a jalapeno and then is wrapped in a piece of bacon. Before assembling the poppers you'll want to precook the bacon until it's slightly crispy but not fully cooked. It will finish cooking in the oven and before you know it you'll have an exciting platter to share on the 4th of July party.
https://www.homemadeinterest.com/buffalo-chicken-jalapeno-poppers/ PHOTOS AND RECIPE HERE: HOMEMADE INTEREST
4. Low-Carb Keto Tuna Pickle Boats
These tuna pickle boats are a serious crowd pleaser. You'll want to make a double batch because this party appetizer literally disappears off the plate.
Creamy tuna is stuffed on top of a pickle and then garnished with fresh dill. The best part is that this recipe is so easy and will take you next to no time to prepare!
http://www.forkly.com/recipes/low-carb-keto-tuna-pickle-boats/ PHOTOS AND RECIPE HERE: FORKLY
5. Keto Spinach Dip
Dips are always a good idea for a party. Your guests can mingle around the food table while dipping into this delicious appetizer. After all, spinach and artichoke dip is everyone's restaurant favorite so why not serve it at your 4th of July party.
The dip is loaded with flavorful ingredients and only requires 15-20 minutes in the oven. Serve it hot with your favorite veggies or low-carb crackers.
https://cookinglsl.com/easy-low-carb-keto-spinach-dip-recipe/ PHOTOS AND RECIPE HERE: COOKING LSL
6. Keto-Friendly Baked Cheese Crisps
Crackers and chips often make their way onto the food table so instead of derailing your diet this holiday serve these baked cheese crisps! They're made with 1 simple ingredient, cheese!
These crisps are delicious on their own but would also pair well with the spinach dip we talked about previously and would even be a great addition to the keto charcuterie board! Shares these at the party and you'll find yourself craving them over and over again.
http://www.forkly.com/recipes/keto-friendly-baked-cheese-crisps/ PHOTOS AND RECIPE HERE: FORKLY
7. Low Carb Big Mac Bites
Craving a Big Mac? Try these! This delicious keto-friendly version of a Big Mac is perfect for a party! This idea transforms the same flavors we know and love but into an adorable and delicious appetizer.
The patties are cooked on the stove top and then are pair with a slice of cheese. Finish the skewer with a piece of lettuce and pickle and pair it with the delicious homemade secret sauce!
https://www.forkly.com/recipes/easy-low-carb-keto-big-mac-bites/ PHOTOS AND RECIPE HERE: FORKLY
8. Bacon-Wrapped Keto Jalapeno Popper Chicken
If you're tired of burgers and hot dogs try serving these delicious bacon-wrapped jalapeno popper chicken breasts. Everyone will go crazy for this delicious dinner and it's a great way to fuel guests so that they stay energized all night long!
The chicken breasts are stuffed with jalapenos, full-fat cream cheese, and shredded cheese. What makes this dinner stand out is the finishing touch of delicious bacon.
http://www.forkly.com/recipes/bacon-wrapped-keto-jalapeno-popper-chicken/ PHOTOS AND RECIPE HERE: FORKLY
9. Keto Parmesan Chicken Casserole
Casseroles are always a good idea for a party. It's a great way to feed a crowd without spending hours in the kitchen. Another awesome dinner idea would be to serve this tasty parmesan chicken casserole.
Traditionally chicken parm is breaded which is clearly not keto-friendly, however, this recipe proves how you can still eat the foods you love while staying in line with your diet. Even your non-keto friends or family will love this dish.
https://www.eatwell101.com/mozzarella-parmesan-chicken-casserole PHOTOS AND RECIPE HERE: EAT WELL 101
10. Fully Loaded Burger Bowls
Instead of barbecuing burgers for your 4th of July party, try making these exciting fully loaded burger bowls. The homemade burgers are made from 4 simple ingredients. Instead of forming the beef into patties you'll form it into bowls which means no burger buns required!
The bowls are filled with cheese, mushrooms and, bacon and then they are cooked in the oven. Top the burger bowls with a drizzle of full fat ranch dressing, keto-friendly barbecue sauce, and chives! Pair these delicious foods with these Low Carb Keto-Friendly Alcoholic Beverages!
https://www.familyfreshmeals.com/2018/05/fully-loaded-burger-bowls.html PHOTOS AND RECIPE HERE: FAMILY FRESH MEALS
11. Low-Carb Red, White & Blue Berry Parfaits
End the party with a delicious dessert! Better yet share a dessert that is patriotic and fit for any 4th of July party starting with these red, white and blue berry parfaits.
When it comes to the dessert menu, carbs are not the only culprit that can derail your keto diet, sugar can too! This delicious treat is sweetened with a keto approved sweetener of your choice! Even your non-dieting friends will love to dig into this delicious parfait.
https://ketodietapp.com/Blog/lchf/low-carb-red-white-and-blue-berry-parfaits PHOTOS AND RECIPE HERE: KETO DIET APP
12. Keto Poke Cake
Another exciting dessert option is this keto poke cake. It's hard to believe you can have cake on the keto diet but with a recipe like this, you can! The cake batter is made from several keto-approved ingredients such as almond flour, cream cheese, and a keto sweetener.
Decorate the cake to look like the American flag starting with a delicious whipped topping followed by blueberries and sliced strawberries. This dessert will definitely look amazing on your food table and is bound to be the talk of the party!
https://www.fittoservegroup.com/low-carb-4th-of-july-poke-cake/ PHOTOS AND RECIPE HERE: FIT TO SERVE GROUP
13. American Flag Toothpicks
Last but not least why not dress up any of the foods listed above by adding these adorable American flag toothpicks. This set comes with 100 toothpicks so you'll have plenty to use this year and possibly even next year! This is such an easy and inexpensive way to add a touch patriotism to your table!
BUY IT HERE: https://amzn.to/2vuodol
PHOTOS BY: AMAZON
Forkly.com is a participant in the Amazon Services LLC Associates Program, an affiliate advertising program designed to provide a means for sites to earn advertising fees by advertising and linking to Forkly.com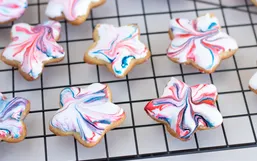 The Fourth of July is just around the corner and that means you're probably starting to plan your menu!
With the sultry days of summer fast approaching, it's important to take some extra care when preparing food for those backyard...
4th of July is less than a few weeks away and we're continuing our Forkly countdown to the big day with 9 delicious and easy...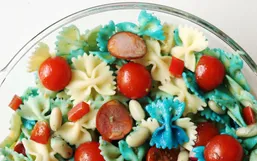 We fully recognize that pasta should probably never be dyed blue, with one exception - patriotism food!
4th of July is one of America's favorite holidays for many reasons: Great weather, great food and great company are generally...
Fourth of July is one of the biggest holidays in America. Every year, friends and families gather together to celebrate American...
Last year a little book called "The Life-Changing Magic of Tidying Up" made us realize just how much stuff we've been...
Many of us start our day with a warm (or cold) cup of coffee to help get a good kick start to the day.
Nothing quite compares to a good ole homecooked meal but sometimes life gets busy. That's where fast-food comes in!
Alright Taco Bell fans, you're in for a treat today! You can now take your favorite Taco Bell flavors on the go with you with the...
Following a low-carb ketogenic diet is no easy feat especially when temptation is everywhere from fast-food restaurants to the...
Following a diet is never easy -- it requires planning, motivation, and most of all, dedication.