Chicken wings are a favorite meal for many, whether you're eating out at a restaurant or sitting around the dinner table with your family. They're inexpensive and tasty and easy to turn into a full meal with the addition of some raw veggies or a salad. But like so many foods, they're off-limit (in their most common, breaded and sauced form) if you're in the keto diet! To help you continue to enjoy this delish dish, we created these Keto BBQ Wings, made in your Instant Pot for maximum flavor and minimum mess.
Looking for the perfect keto-friendly slaw to go on the side? We've got you covered with this Creamy Keto Fat Bomb Summer Slaw recipe!
Want New Instant Pot Recipes and Content Delivered Straight To Your Inbox? Sign up for our Instant Pot Email Newsletter!
Before you start, you'll need a keto-approved BBQ sauce. This recipe uses a Forkly original recipe – Easy Low Carb Keto BBQ Sauce – but you can always use a different recipe or a storebought version if you want. If you're using ours, make the sauce recipe before you move forward with the rest of the steps.
Once the sauce is done, add the chicken wings to a large bowl and add the coarse salt. This will help break down the protein and tenderize the meat. Once you've sprinkled the salt on, toss to coat, adding a little bit more salt need be.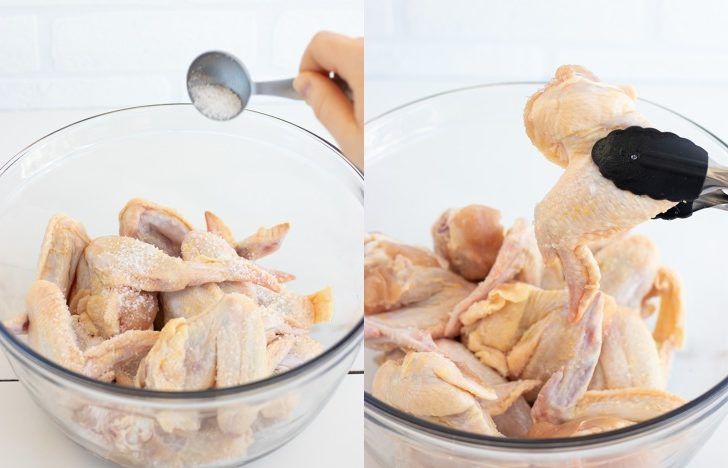 Add the sauce and toss, adding more if all the wings aren't well coated yet. You want them to be fully covered in sauce, but not dripping, as that could get you the dreaded BURN notice when you pressure cook them.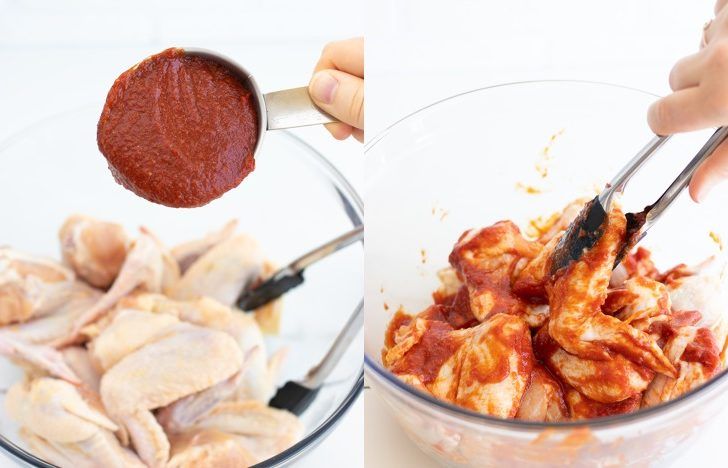 Add the water to the Instant Pot, then lower the trivet in with the wings stacked on top. Place any additional wings on top of the pile and drizzle any sauce left in the bowl on top of the pile of wings.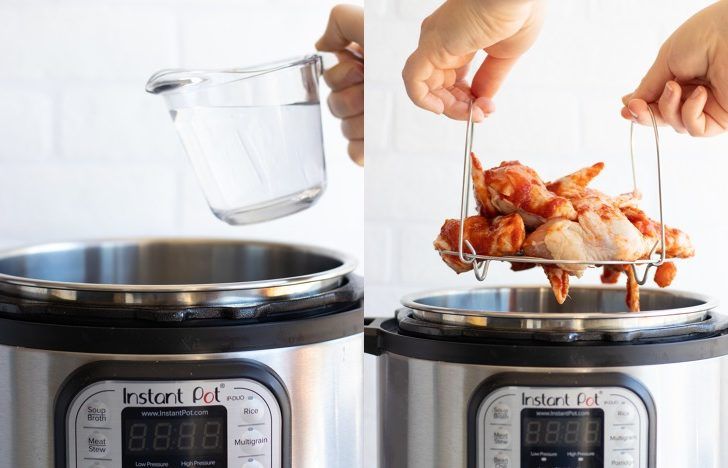 Lid the pot, set the valve to sealing, and hit Pressure Cook (or "Manual" depending on how old the model you're using is) HIGH for 10 minutes. Our 6-quart Instant Pot Duo took 14 minutes to come to pressure, but the time may vary depending on what size and model of pot you're using.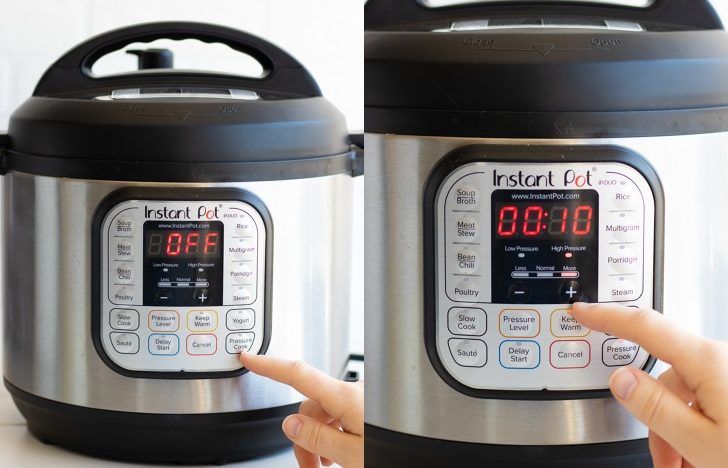 Once the cook time has elapsed, allow for a 5-minute natural release. This ensures that the meat doesn't get tough and chewy, so don't rush this step! Transfer the wings to a serving bowl and toss in more warmed sauce until they're to your preferred level of sauciness. You can heat that extra sauce on the stovetop or just microwave it for 30-60 seconds. It doesn't have the be super hot, you just don't want it to be cold!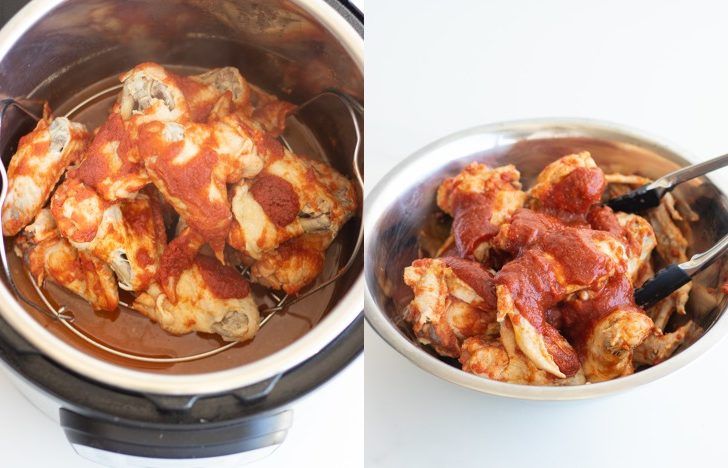 If you want them crispy, transfer the wings to a baking sheet and broil for about 5 minutes until the sauce carmaleizes a bit and the skin crisps up. The step isn't required (they tasted goooood just out of the Instant Pot), but it's an easy step if you want to mimic the deep-fried taste. Time to eat! Serve the wings up alongside your favorite keto side dish, like this Creamy Keto Fat Bomb Summer Slaw (pictured below!). Enjoy!
Ingredients
2-3 lbs chicken wings
1 tbsp coarse salt
1 cup water
1 cup Keto barbecue sauce
Method
Add chicken wings to a large bowl and sprinkle salt on. Toss to coat.
Add water and the trivet to the Instant Pot. Add wings on top of the trivet and pour barbecue sauce on top on top of the wings, making sure that there is sauce on all of them.
Cook on Manual/Pressure Cook HIGH for 10 minutes. Once cook time has elapsed, allow a 5-minute natural release and then quick release the remaining pressure.
Remove wings from the pot, toss with additional BBQ sauce, and serve hot! Alternatively, broil the wings for another 5-7 minutes to crisp them up. Serve on their own or with a high-fat dressing, like our Keto Avocado Ranch Dip!
Notes
Our 6-quart Instant Pot Duo took 14 minutes to come to pressure, but the time may vary depending on what size and model you're using.
You can find our Easy Low Carb Keto BBQ Sauce recipe HERE.
Looking for a keto dipping sauce for your wings? Check out our Keto Avocado Ranch Dip recipe HERE!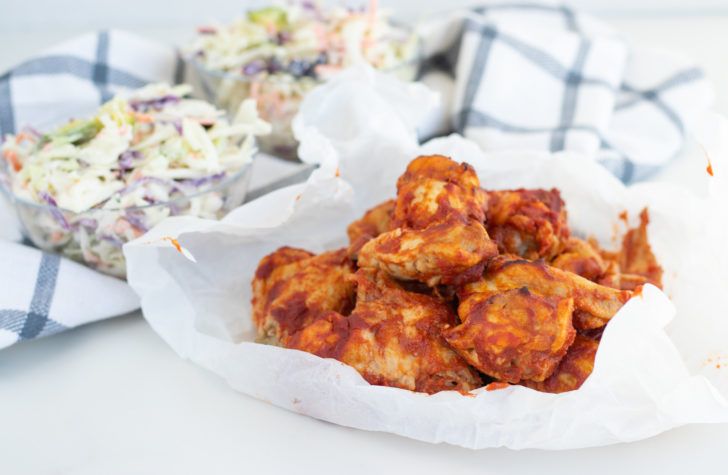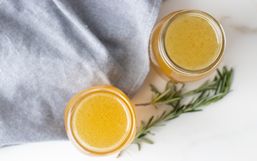 Bone broth is all the rage nowadays with health professionals proclaiming the benefits and people (and companies looking to...
Everyone and their besties have an Instant Pot pressure cooker these days, and if you don't have one yet, you really need to get...
Parties happen all year round and instead of taking on the task of cooking for a crowd, make your next party a potluck party!
I love Easter because it's the first holiday that really signifies that spring is here!
The 4th of July holiday indicates that summer is here. On this patriotic holiday friends and family gather together to play games,...
The season of fall is a favorite for many because it means crisp air, cozy layered clothing, and of course comforting meals.
How many times have you pulled out your butternut squash just before supper and realized you don't have enough time to cook it...
Quick and easy dinners are often a goal for so many, but that doesn't always mean it's healthy, too.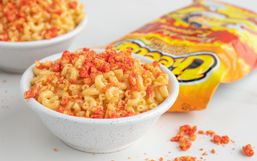 There is no comfort food like mac and cheese - the carbs and cheese are oh so delicious!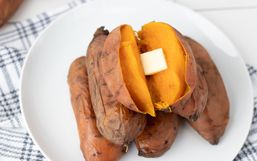 The thing about root vegetables is that they often take a lot of time to cook, especially in the oven.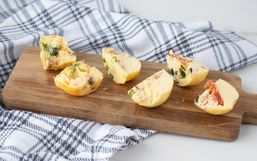 Breakfast is often the most rushed meal of the day. Sure, lunch is eaten while at your work desk and supper may be thrown...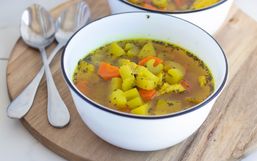 It seems like everybody is sick this Spring. People are dropping like flies!