Noodle dishes make for some of the most comforting meals. The awesome thing about them is that they can come in many shapes, sizes and forms. From rice noodles, pasta noodles, and even zucchini noodles, there are seemingly endless options. No matter what diet you follow there is definitely a noodle dish for you.
Since noodle dishes are typically quick and easy, many different cultures have their own take on them, creating recipes that allow you to now explore flavors and textures in noodle-y variety. With that, we wanted to find some of the best noodle dish recipes that you'll want to try for dinner this week!
1.  Ginger Garlic Noodle Soup With Bok Choy
If you love soupy dinners then you'll love this noodle dish. It's hearty and healthy and even claims to be great for fighting the flu.
This delicious broth-filled bowl only takes 20 minutes to make, a great contender for busy weeknights! The base of this bowl is a chicken broth. Then it is filled with rice noodles, mushrooms, and baby bok choy. You can also add in a protein of your choice such as chicken, shrimp or add in additional veggies of your liking.
2. Dairy-Free Pumpkin Alfredo
Creamy pasta dishes are my kryptonite. However, trying to cut out dairy while still maintaining a creamy and admirable bowl of pasta can seem difficult! Forkly is here to help and makes our dairy-free pasta-loving dreams come true.
Pumpkin puree is the secret ingredient to assist in achieving a desirable creamy texture. Nutritional yeast is used to help give it a cheesy and delicious flavor and the cornstarch will help to thicken the sauce. To make this recipe gluten-free you'll want to use gluten-free fettucini noodles.
3. Chicken Pot Pie Noodle Skillet
Have you ever dreamed about the flavors of chicken pot pie combined into a comforting noodle dish? This is your time to shine! Ditch the crust because your comforting ingredient in this recipe is noodles.
Add this skillet dinner to your weeknight meals because it only takes 25 minutes from start to finish. If you have picky eaters at home then you have to give this a try. The creamy sauce will mask the veggies so they'll hardly notice them. If you want to save yourself some extra time save this recipe for when you have leftover cooked chicken.
4. Vegetable Singapore Noodles
This recipe may not be authentically Asian but it does quite often make an appearance in the Asian takeout menus in America. In just 15 brief minutes you and your family can enjoy this veggie-packed dinner.
From curry powder to soy sauce, this vermicelli noodle recipe is definitely exploding with flavor. With the soft vermicelli noodles, the crunchy vegetables the dish will have your palate signing all dinner long.
5. One-Pot Taco Zucchini Noodles
Taco night is one of my favorite nights of the week. The soft flour tortillas or crunchy tortilla chips are what I dream about. Although, when you're trying to watch your carb intake they're not so diet friendly. Alas, this one-pot taco zucchini noodle dish has come to the rescue.
Zucchini noodles help minimize the carbs while the toppings allow you to enjoy the flavors we love about tacos. It's made in one-pot for convenience and made with ground turkey to make things a little healthier. Watch this dish quickly become a new family favorite.
6. One-Pan Spiralizer Shrimp Dinner
Traditional pasta noodles or rice noodles aren't the only way to enjoy a comforting dinner. Making zucchini noodles the highlight of a dish will increase your serving of veggies and they're texture is the perfect dupe for a traditional noodle. However, in this dish, you'll not only find green zucchini but there is also yellow zucchini and even spiralized sweet potato (or butternut squash, whichever you have on hand).
Not only is this meal a one-pan wonder but it's also a sheet pan dinner. This means you get to prep, place it in the oven and walk away until it's done, your welcome! Pair with shrimp for a wholesome meal.
7. Grilled Chicken Cauliflower Alfredo With Zucchini Noodles
Fettuccini Alfredo is one of the creamiest and comforting noodle dishes out there. Once again zucchini noodles save the day by helping us indulge in a favorite but without all the extra carbs. It's even low in calories, 270 calories per serving to be exact!
This classic dish gets a healthy makeover by replaces ordinary noodles and the sauce too. The sauce is made from cauliflower, broth, and several seasonings to make it addictive! Once you combine the savory sauce with the noodles all that's left is to add grilled chicken for a new healthy favorite.
8. Mongolian Beef Noodle Bowls
Skip the take-out and make this classic at home! This Asian-inspired meal is gluten-free and delightful. It's full of flavor and exciting textures that will impress you and your family.
Flank steak is used to provide this meal with protein. You'll begin by combining thinly sliced steak with green onion for added flavor. Store-bought coleslaw mix will add texture and more nutrition. While the steak and other ingredients are cooking you can prepare the homemade Mongolian sauce.  Then, this meal comes together nicely by combining all the ingredients into a wok and stir-frying until the noodles are tender.
9. Crazy Good Quick Garlic Noodles
This is another awesome quick and easy dinner that you'll want to add to your menu for the week. It requires minimal and simple ingredients, most of which you'll have on hand.
While the noodles cook you'll want to prepare the savory sauce that seriously makes this dish amazing. It's made from the combination of fish and oyster sauce with a dash of sugar. Don't forget the fried garlic that really pushes this dish over the edge.
10. Vietnamese Noodles With Lemongrass Chicken
Don't let the bright veggies trick you into thinking this meal is a salad. This Vietnamese recipe is full of veggies but is also overflowing in flavor too.
Lemongrass chicken is provided this meal protein and to make it extra flavorful you'll want to set it in the marinade overnight. When you're ready to prepare this meal, the base of this bowl is vermicelli noodles. The bed of noodles then is topped with sliced carrot and cucumber, iceberg lettuce, bean sprouts and a generous handful of mint leaves and cilantro. Then when you're ready to serve drizzle the homemade Nuoc Cham sauce.
11. Potsticker Noodle Bowls
From prep time to a finished meal on your table, this gluten-free dinner comes together in just 30 effortless minutes. Potstickers are a Japanese specialty, however, in Japan, it is called Gyoza. Traditionally it is made by filling wonton paper with pork and cabbage.
Unfortunately, wonton papers are not often gluten-free friendly which is what inspired this recipe and how it evolved. With gluten-free rice noodles, you can enjoy the flavors and textures of a gyoza without the guilt or upset stomach afterward.
12. Thai Noodle Salad With Peanut Sauce
Peanut sauce is one of my most favorite sauces that come from Thai cuisine. It's savory and sweet all in one delicious sauce. In this recipe, you'll find a divine and easy to make peanut sauce that you can whip up yourself.
There might be the word "salad" in this title but this recipe is promised to be filling and savory that you'll want to have it for dinner time and time again. Rice noodles give this salad substance while shredded veggies give it color, texture and a whole lot of nutrition. If you didn't love Thai cuisine before, you definitely will now.
13. Instant Pot Chicken Pad Thai
Do you love putting your Instant Pot to use as much as possible? Then this recipe is perfect for you! If you don't already have an Instant Pot, you need one! Considering the noodles can cook with everything else in the same pot there'll be less clean up for you afterward.
The Instant Pot allows you to cook this meal incredibly fast! Once it's heated the ingredients only cook on high for 2 minutes, woah! Then you'll add the remainder of the ingredients and let it sit for another 5 minutes. If that isn't quick cooking then I don't know what is. For more recipes to enjoy in your Instant Pot read HERE.
14. Northern-Style Vegan Thai Coconut Soup
Noodles can even make soups a little more awesome too. This recipe is inspired by a classic Thai soup called Khao Soi. The difference, no egg noodles or meat broth either because this version is 100% plant-based and gluten-free.
Coconut milk and vegetable broth give this soup a savory base. It then comes to life with an abundance of seasonings such as Thai red curry paste, curry, turmeric, and several other bold ingredients.
15. Sesame Noodles
Much like the garlic noodle recipe, this sesame noodle recipes takes a simple approach but promises a plethora of flavors. In just 10 minutes you can have this meal ready for the whole family to enjoy.
The simple sesame sauce is made with rice wine vinegar, soy sauce, and sesame oil. To give it a bold flavor you'll add ginger and garlic. It is recommended by this recipe that you enjoy this dish while the noodles are cold but if you prefer them warm they'll taste just as great too. The leftovers might even be better the next day as the noodles have more time to soak up all the flavors.
16. Quick and Easy Instant Pot Chicken Ramen
Ramen has become quite a trendy dish and for good reason! It's so savory and loaded with flavorful ingredients. Any type soup-based recipes can take hours to cook especially when cooking on the stove-top. While the payoff is worth the wait many of us live busy lifestyles that don't accommodate laborious recipes like that.
With that, we made an Instant Pot ramen recipe that cooks in less than 3o minutes. As a bonus, you can cook your eggs with the broth all at the same time so that when the cooking time has elapsed all that is left is to add the noodles, divide into bowls, and garnish with your favorite ramen toppings! Explore more dishes you can make in your Instant Pot with these Absolute Best Recipes To Try in an Instant Pot.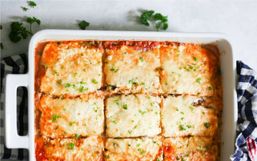 Carb-filled foods are hard to give up. For many of us, they act as comfort foods.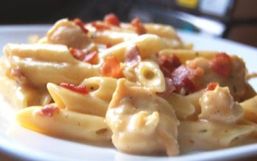 Chicken is a family favorite for dinner. It has a pleasant mild flavor that even picky children love.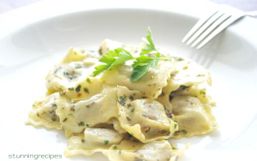 Ravioli is a great weeknight meal idea. Not only is it filling and delicious but the leftovers are great for work or dinner the...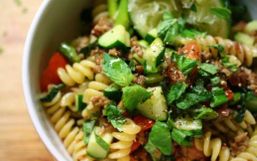 Our spring celebration continues today with 13 amazing pasta dishes using fresh fruits and  vegetables that will keep your family...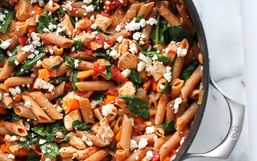 We've all been there. You've had a long day, and you want a simple dinner idea that isn't going to leave you in the kitchen...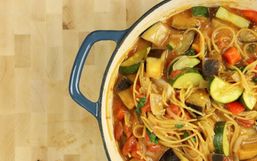 This was actually my first recipe attempt at making a pasta dinner, completely in one pot.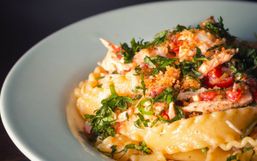 Pasta is a popular meal choice for many families because it's easy-to-make and relatively inexpensive.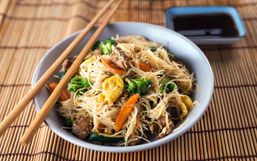 Pasta is one of our guilty pleasures that often do not have great health benefits.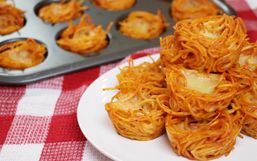 As a mother of 3, making dinners are often made with the intention of leftovers. Why? Well...lunches the next day!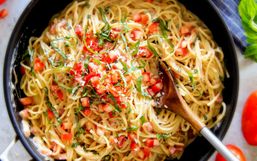 Busy weeknight dinner can be hectic. Instead of ordering takeaway food, why not try one of these pasta dinners?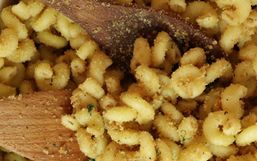 Garlic bread has long time been a best friend of pasta dinners.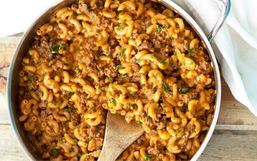 Macaroni noodles are often not the greatest food for your body. However, recently, healthier options have come onto the market...