Planning a special gathering this spring or summer? The prettier the food it, the more delicious it tastes. Having a beautiful display of food at your party or celebration enhances the theme of the event and brings emphasizes all the other decorating you've put so much time into. Flowers are a gorgeous element at any event – but did you know you can cook and bake with them? We have everything you need to know right here. What flowers you can eat and what recipes will be a hit with your guests.
The Flower Chart:
First, let's check out what flowers we can eat so in the future, you can create your own floral masterpieces!
https://laurenconrad.com/blog/2016/08/tuesday-ten-edible-flowers/ Photo By: Lauren Conrad
1. Floral Ice Pops
Popsicles are for kids right? Wrong! These popsicles are only for the most proper people you know, so save it for a pretty gathering to match your decor. You'll have your friends instagram-ing their chilly snacks left, right and center!
https://www.thenest.com/content/floral-ice-pops-recipe?utm_source=thenest.com&utm_medium=email&utm_campaign=nest-news-newsletter Photos By: The Nest
2. Edible Flower Spring Salad
Dress up your regular salad for a colorful piece of artwork. Your guests will be blown away when they see what they are about to eat. Once you start creating food like this, I doubt you'll be able to go back to a normal salad.
http://laurenkelp.com/edible-flower-spring-salad/ Photos By: Lauren Kelp
3. Floral Doughnuts with Blood Orange and Lemon Ginger Icing
Yes – some genius decided to collide stunning flowers with the most photogenic dessert. We are all about this recipe. Instead of serving cupcakes or a cake, why not try these classy doughnuts?
http://themerrythought.com/recipes/floral-donuts-with-blood-orange-lemon-ginger-glaze/ Photos By: The Merrythought
4. Flower Sun Tea
This is one recipe that is easy to make and so pretty to look at. Create some beautiful ice cubes that your guests will look for reasons to use and pair it with this tangy sweet tea.
https://www.brit.co/flower-tea/ Photos By: Brit+Co
5. Nordic Open Faced Smoked Salmon Sandwiches
This little entree is a classic bite to eat with the unexpected twist of flowers. Use flowers that match your color scheme to make all your meal courses match! These sandwiches won't disappoint.
http://theviewfromgreatisland.com/nordic-open-faced-smoked-salmon-sandwiches/ Photos By: The View From Great Island
6. Rose Flavored Rock Candy
The use of flowers is a little more subtle in this recipe which may be helpful for picky eaters who aren't ready to dive into the whole "I'm going to eat flowers I find in my garden" trend. Also, on that note, not all flowers are edible. Anyway – back to the recipe at hand…remember rock candy from your childhood? Bring it back with edible gold star sprinkles! This makes for a great party favor.
http://abeautifulmess.com/2015/06/rose-flavored-rock-candy.html Photos By: A Beautiful Mess
7. Caramelized Peach and Lavender Scones
These pretty little scones are a wonderful addition to tea time. Their sweet flavor makes it perfect for a summer affair filled with teacups, home made jam (read below!) and dainty treats.
http://www.howsweeteats.com/2015/07/caramelized-peach-and-lavender-scones/ Photos By: How Sweet It Is
8. Rose Petal Jam
This is princesses eat right? It sure looks like it! This special treat would make for another special little celebration as a wedding or party favor – or just to spread on some lovely scones.
http://www.feastingathome.com/rose-petal-jam/ Photos By: Feasting At Home
9. Color Blocked Chocolate Bark with Edible Flower Sprinkles
This stunning little number makes a great gift idea and an easy dessert. With the simple baking method, you can make large quantities in one go for lots of people!
http://www.papernstitchblog.com/2015/03/16/color-blocked-chocolate-bark-with-edible-flower-sprinkles/ Photos By: Paper and Stitch
10. Rosey Rocky Road Squares
Just like every other recipe in this article, these squares make me swoon at their beauty. I mean, they're almost too pretty to eat! But then again…it's chocolate. So yes, I will be eating these despite their beauty.
http://ascensionkitchen.com/rosey-rocky-road/ Photos By: Ascension Kitchen
11. Floral Garnishes
Transform your bevys with a few petals! You will literally be adding life to your cocktails and mocktails with these show stopping garnishes.
http://www.designlovefest.com/2014/08/floral-drinks/?crlt.pid=camp.vIXOqYBIzuzo Photos By: Design Love Fest
12. Natural Colored Rainbow Cake
When selecting a cake for a very special occasion, standards and the price tag rise quickly. Bake this exquisite cake at home and create a custom store-bought looking cake without having to foot the hefty bill.
http://www.twiggstudios.com/2014/08/natural-coloured-rainbow-cake-with/ Photos By: Twigg Studios
13. Lollipops
Lollipops aren't just for the children, today we are talking about the most sublime pops. Finish off a meal with these sweet goodies and you won't hear the end of it – plus, they're going to be home-made with love!
https://gardentherapy.ca/edible-flower-lollipops/ Photos By: Garden Therapy
14. Flower Macaroons
If you're looking for a quick way to incorporate florals into your cuisine, this idea is perfect for you. Paint on some pretty details to your already finished dessert and you are ready to host!
http://theproperblog.com/diy/diy-edible-flower-macarons/ Photos By: The Proper Blog
15. White Chocolate Basil Popsicles
We started with popsicles, and will also end with some more popsicles. If you mastered the first recipe, you are now ready for level two of gourmet flower baking. So here it is!
Please comment below with your baking outcomes!
http://www.sproutedroutes.com/healthy-white-chocolate-basil-popsicles/ Photos By: Sprouted Routes
Noodle dishes make for some of the most comforting meals. The awesome thing about them is that they can come in many shapes,...
Ravioli is a great weeknight meal idea. Not only is it filling and delicious but the leftovers are great for work or dinner the...
Vegetarian dishes can be boring. It seems that all recipes are made for meat eaters.
We've all been there. You've had a long day, and you want a simple dinner idea that isn't going to leave you in the kitchen...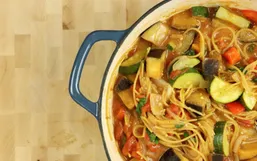 This was actually my first recipe attempt at making a pasta dinner, completely in one pot.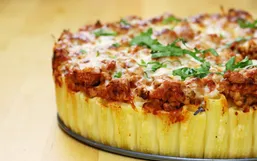 Forget traditional pasta casseroles! With the noodles standing upright, the sauce and cheese bake down into the pasta making each...
Macaroni noodles are often not the greatest food for your body. However, recently, healthier options have come onto the market...
Chicken is a family favorite for dinner. It has a pleasant mild flavor that even picky children love.
I love lasagna almost as much as Garfield does. But who really loves lasagna as much as him? I have an issue though.
Pasta is one of our guilty pleasures that often do not have great health benefits.
Garlic bread has long time been a best friend of pasta dinners.
Carb-filled foods are hard to give up. For many of us, they act as comfort foods.