Yogurt is an amazing versatile snack. It can be enjoyed on the go, combined with granola or fresh fruit, and it comes in different flavors and varieties which means there really is something for everyone! This summer, Yoplait is adding a few new and exciting products to the market that you don't want to miss! From Gusher fruit snack-flavored yogurt to Gogurt Slushies, dairy-free options and more! Follow along as we unveil everything there is know!
New Yoplait Gushers
Yoplait just partnered with Gushers to unveil the first of it's kind to the yogurt aisle! The new Yoplait Gushers features the creamy-style Yoplait yogurt you have come to know and love but now it's combined with "bubble beads" that taste like Gusher's iconic fruit-flavored snack!
The new yogurt will be available in three crave-worthy flavors including Red Tropical Punch, Blue Raspberry, and Green Apple. Better yet, the yogurt is a great source of calcium making it a great snack for the whole family! Be sure to mark your calendars because the new Yoplait Gushers isn't out yet but will be making it's grand debut in major retailers nationwide starting August 2020!
Source: Yoplait
New Yoplait Gogurt Slushie
Yoplait's Gogurt makes the perfect on-the-go snack because the yogurt is served in a convenient tube — no spoon required! This summer you can enjoy the iconic fizzing texture you love about slushies combined with creamy yogurt! The Yoplait Gogurt Slushie is available in two classic slushie flavors including Blue Raspberry and Cherry and will hit the yogurt aisles nationwide starting August 2020!
Source: Yoplait
New Yoplait Gogurt Dairy-Free
With plant-based diets and dairy allergies on the rise, more companies are entering the dairy-free market! Yoplait just announced that they are launching a new Yoplait Gogurt Dairy-Free product! The yogurt is made with a coconut dairy alternative and features Yoplait's iconic strawberry flavor. Not only is it vegan compliant but it's gluten-free, soy-free, and contains 10% daily value of calcium per tube! Since it comes in Yoplait's convenient Gogurt tubes, you can take this snack with you anywhere you go! Just like the other products, this offering will be available starting in August 2020.
Source: Yoplait
New Oui Coffee Flavor by Yoplait
If you love all things coffee you are going to love the new Oui coffee-flavored yogurt! This delicious treat features a luxuriously thick texture and a subtly sweet coffee flavor. You may also enjoy knowing that its made with simple non-GMO ingredients like whole milk and pure cane sugar!
The brand is also launching an Oui Dairy-Free lineup that is now made with a creamy coconut base! The line will launch later this summer and will feature four delicious flavors including mango, vanilla, raspberry, and strawberry!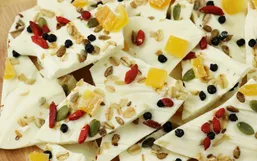 Looking for a healthier version of a chocolate bark? With bulk stores now selling greek yogurt chips, we decided to try our hands...
Summer is officially here and what better way to treat yourself and stay cool than with a refreshing beverage in hand!
We might be right in the middle of a blazing hot summer but if you find yourself missing everything about fall then we have...
Merry Christmas... in July?! Yes, Mars, Incorporated wants to get you in the holiday spirit early this year!
Every day will feel like your birthday when you enjoy a Funfetti treat!
Every coffee lover knows that there is nothing quite like starting your morning with a delicious cup of coffee to get your day...
Ice cream is one of the best treats to enjoy in the summer. It's sweet, refreshing and there is virtually a flavor for everyone!
Fairlife is renowned for its wide range of better-for-you products like their ultra-filtered milk which features 50 percent more...
Mmm... is there anything more delicious than chicken parm? It's perfectly crispy on the outside with tender chicken on the inside...
This year has proven to be the year of the tiger! Earlier this year, Netflix's American true-crime documentary miniseries, 'Tiger...
IKEA is renowned for its modern, affordable furniture but they also offer delicious food.
Chipotle Mexican Grill is committed to serving its guests fresh meal items and is dedicated to sourcing ingredients from ethically...