The best part about Christmas for any kid (or adult for that matter) is the delicious treats that pop up everywhere. This year, make Christmas fun for your kids by whipping up some these amazing (not to mention incredibly cool) Kellogg's Rice Krispies treats.
From dazzling Christmas balls to tasty turkey treats, there's no shortage of amazing Rice Krispies Christmas-inspired treats to warm up the holidays this season. The best part? These delicious snacks are so affordable you can make enough for all of your kids' friends as well!
Want seasonal and holiday content delivered straight to your inbox? Sign up now and receive free exclusive recipes, unique party hosting ideas and more!
1. Christmas Tree Ornament
Spruce up Santa's snack with your little helpers by decorating each tasty "ornament" with frosting and Christmas-colored M&M'S candies.
A little marshmallow and licorice for the handle of the ornament is a fun, edible touch and an easy way for people to eat their treat.
2. Colossal Candy Canes
The kids will love wrapping these giant candy canes with licorice for a festive snack the whole family can share.
If your family is not a fan of licorice, try using icing instead. Another alternative is to add food coloring to melted white chocolate if your family happens to love white chocolate.
3. Stuffed Stocking Treats
Personalize these cute stocking-shapes by letting your little ones "stuff" them with their favorite candies and add their names in the frosting.
The most fun part about this treat is having your kids decide what gifts will be in the stocking! Let them go crazy with icing and candy to create the ultimate stuffed stocking.
4. Santa Clause Treats
Make these jolly, round faces with your kids on Christmas Eve. Then leave them out for Santa to enjoy while he delivers presents.
Santa Claus must always make an appearance at a Christmas party! This dessert's decorations are best achieved with some food coloring and icing, along with some small pieces of candy for the details.
5. Christmas Turkey Treats
An array of twisted pretzels gives this goofy-looking turkey plenty of tail feathers. Your kids will think they are so cool!
Who doesn't love some turkey at Christmas!? You can also use red and green fondant to create festive colored turkey feathers if your crew is less about those starbursts and more about icing.
6. Reindeer Treats
These friendly little reindeer are almost too cute to eat, but only almost.  These fun Rice Krispie treats are a perfect party snack for your younger guests and would make a great edible craft project for a classroom party.
You can also use some icing to create funny expressions on the reindeers faces if you are making these reindeer pops for an elementary school party – the kids will love the humor!
7. Christmas Tree Lights Treat
Deck the halls with Rice Krispies Treats Christmas lights. A truly unique snack that's perfect for a kids' snack, an office potluck party or any Christmas event this year.
You can also add bits of candy cane to the Rice Krispies for an extra kick of Christmas in their dessert if you want to take it to the next level.
8. Chocolate Rice Krispie Gingerbread Men Pops
Gingerbread cookies are the best cookies at Christmas, but you can also create them with the help of Rice Krispies as well! Don't forget to pick up some fun straws to pop the gingerbread men onto for easy eating.
If M&M's aren't allergy friendly, use smarties instead, or mini Hershey kisses! No matter what you use, it will be absolutely delicious.
9. Christmas Presents Treat
Frosting "wrapping paper" and little licorice bows make this recipe a deliciously thoughtful gift for friends and family around the holidays.
You can also hollow out of the middle of your "gift box" and fill it with M&M's as a treat inside a treat! Kids will absolutely love that surprise.
10. Fancy Christmas Ornaments
This is our favorite Rice Krispies holiday treat. It's so fancy and dazzling that everyone will comment on how beautiful it is. You can even wrap them up and give them away as mini gifts for your kids' friends or your co-workers.
Don't forget to add a festive little Christmas card with this sweet treat to make someone feel extra warm and fuzzy over the holidays.
11. Christmas White Chocolate Dipped Rice Krispie Treats
Rice Krispie Squares don't just have to be for the kids! You can create gourmet looking desserts in no time for your adult Christmas party that will fit the theme but let your guests reminisce about their childhood as they bite into the classic dessert.
Simply dip your Rice Krispie Squares in white chocolate and add some decorative sprinkles to pull the whole dessert together. You can also swap out the white chocolate for dark chocolate or milk chocolate depending on what your guests like the best.
12. Easy Christmas Tree Rice Krispie Treats
Everyone loves decorating their Christmas tree as a way of welcoming the holiday season into their home. Make dessert tonight match your home decor by creating some homemade Christmas tree Rice Krispie Treats.
You can add sprinkles as Christmas tree decorations, and even use icing as a garland around the tree. The pretzel makes a great tree stump and a handle for your little ones to hang onto while they're eating their dessert.
13. Rice Krispie Treats Santa Hats
Santa hats are everywhere at Christmas, and they've even made their way into our desserts. Instead of using a triangle shaped Rice Krispie Square for a Christmas tree, you can also use it to create a hat.
Use vanilla or cream cheese icing to add white "fluff" to the bottom and top of the Santa hat. You can always use a skinnier icing tool to create fun designs on the hat as well.
14. Christmas Mickey Mouse Rice Krispie Treats
Do you have some Disney fans in your home this Christmas? Make these lovely little Mickey Mouse silhouettes out of Rice Krispie Squares and use a little food coloring to create different colors.
Adding sprinkles of any kind can add a fun and festive holiday aspect to the dessert, while some icing can help make the Mickey Mouse face.
15. Grinch Rice Krispie Cake
The Grinch may have tried to steal Christmas in Whoville, but not at your house! Create this colorful Rice Krispie Cake that has a heart for Christmas in a short amount of time.
It really does look more impressive than it actually is! The color is achieved with food coloring, while you can use icing or melted chocolate for the drizzle on top.
16. White Chocolate Peppermint Rice Krispies Treats
It may not be a white Christmas outside yet, but with these treats, you can definitely pretend it's a snow day. Use a cookie cutter to create fun snowflake shapes for your Krispie dessert and soon you'll have a whole snowbank of them!
For the sprinkles, you can use red and white sprinkles or you can use a variety of crushed candy canes and coconut flakes for a more gourmet twist.
17. Peppermint Rice Krispies
Candy Canes are a sweet staple around Christmas time, and it's obviously going to make it's way into our Rice Krispie Treats. Instead of creating a bright red, create a lighter red color and incorporate some candy cane pieces in the squares as well.
You can slice this dessert up into traditional squares, or get your little ones to use cookie cutters to make them into Christmas tree shapes or stocking shapes.
18. Merry Christmas Rice Krispie Treats
If you're ready to take your Rice Krispie game to the next level, you're ready for this recipe! Instead of dying a full batch of Rice Krispie Squares one color, try making each square multicolored.
Simply cut your traditional Rice Krispies into squares and then use a cookie cutter to cut out the shapes. Make sure you make a red batch, green batch, and uncolored batch so you can swap out the colors.
19. Rice Krispies Treat Christmas Ornament
If you're having an adult Christmas party, these ornaments are a great option. You can use a very skinny icing tool to write festive words on Christmas bulb shaped Rice Krispies.
If you want to make them more modern, use blue and white with silver sprinkles for a Winter Wonderland themed dessert.
20. Christmas Wreath Rice Krispie Treats
Everyone needs a Christmas wreath! These Rice Krispie Treats are a fantastic favor to send home with guests and are so easy to make.
Instead of using your cookie cutter as a Rice Krispie cutter, simply fill the wreath cutter with the Rise Krispies as they harden so you can fit in both a little green and red. Stick M&M's or another small candy in the green wreath for decorations.
Want seasonal and holiday content delivered straight to your inbox? Sign up now and receive free exclusive recipes, unique party hosting ideas and more!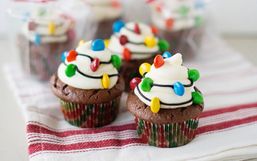 Cupcakes are relished all year round. You can enjoy them for birthdays, holidays, any celebration really, or to treat yourself!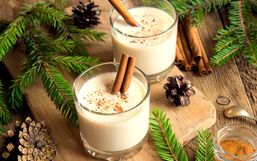 Eggnog can be a hot topic over the holidays. Some tend to think it's a disgusting concoction, while the rest of us are swooned by...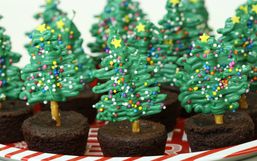 We've all been there. You need to bring a dessert to a Holiday function and you're lacking time, or general baking skills.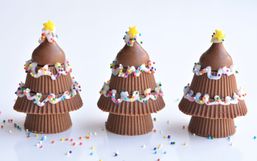 There's something...well...magical...yes, Christmas magical about a Reese's Peanut Butter Cup.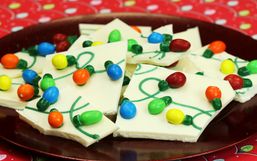 Chocolate barks are my absolute favorite go-to for large batch treats you can store for weeks and hand out as needed to neighbors,...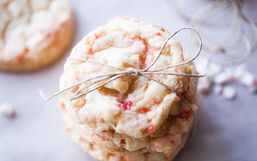 Candy canes are basically a Christmas holidays mascot. The peppermint candy sticks with a hook on the top, so you can hang them on...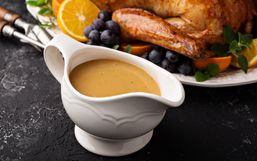 The holidays are known to be the hardest season of the year in terms of the age-old battle of the bulge.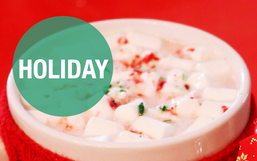 It's that time of year, the season of giving. It's magical and wonderful - and oh, don't forget the mailman!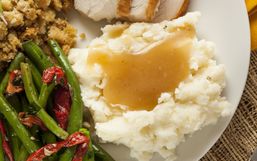 The centerpiece for your Christmas dinner is a great turkey or ham, but the side dishes are just as important.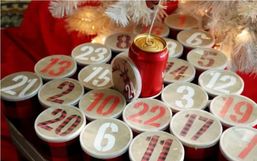 Christmas has this tendency to sneak up on us each year. It approaches at a fast rate and before we know it the big day has...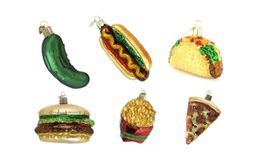 Decorating the tree always gets me into the mood for the holidays. As soon as the tree is up I'm in full force Christmas mode.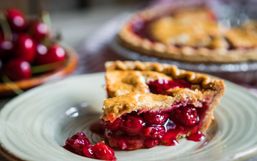 Christmas pies are a delicious addition to the holiday season. While we love the classic pumpkin pie, there are a ton of other...