Christmas is just around the corner and we're all looking for great appetizer recipes. If family and friends are coming over, appetizers are a great way to feed your guests without making a whole meal. You can also start a meal by passing these appetizers around. Make these ahead of time so you can enjoy the time with your guests without slaving away in the kitchen. We have some classic appetizers like spinach dip and stuffed mushrooms, but also some unique ones like spring rolls and edamame.
Related Topics (Ads):
Here are 9 amazing appetizer recipes for Christmas. All were submitted from our wonderful Half Hour Meals users like you.
*Click on the image to view the full recipe.
9. Giant Jalapeno Poppers
This fiery appetizer makes a great start to a get together. They are salty from the bacon, spicy from the jalapeno pepper, and creamy with the cream cheese. Make these spicy treats milder by scraping out all of the fiber and seeds from the inside of the peppers.
8. Fried Stuffed Olives
These salty appetizer bites are great to get your appetite up before a big meal. The filling is made from pork and prosciutto for an extra richness. Pair these stuffed olives with a dry white wine or a cold beer for a perfect combination.
7. Mini Ham and Cheese Tarts
These adorable miniature tarts are flavored with ham and cheese. The dough is simple to make, but if you're in a rush you can always use store bought puff pastry. The filling is made from cheese, ham, and scallions, mixed with an egg custard. Feel free to use your own filling combination.
6. Baked Chicken Meatballs
Meatballs make a perfect appetizer. Use toothpicks to let your guests eat them without getting their fingers messy. You can make a dipping sauce for them, but this recipe has a ton of flavor without that addition.
5. Fried Spring Rolls
This dish originates in Vietnam and the dipping sauces vary from region to region. Use plum sauce for the dipping sauce. Should the plum sauce be too sweet and not spicy enough simply warm it up and add a little vinegar with chopped hot chili peppers.
4. Crockpot Spinach and Artichoke Dip
This delicious dip is a great way to start a party. The best part of this recipe is that it uses the crockpot. That keeps things easy for you so you can prepare the rest of the food and forget about this dish as it cooks itself. Serve the dip with a variety of vegetables and crackers.
3. Edamame
Salty snacks are the best way to start a meal. The salty food makes you hungry. This Japanese appetizer can be found in the frozen section of big grocery stores. Steam the pods and toss with sea salt. You eat them by popping the beans out. The shells are fibrous so only eat the insides.
2. Stuffed Mushrooms
This classic appetizer is delicious and addictive. Savory mushroom caps are stuffed with bacon, garlic, and cream cheese. These are great hot or cold, and make a perfect side dish too.
1. Mediterranean Hummus
This beautiful appetizer is also very healthy. This recipe takes you through how to make hummus with a classic flavor. It also shows you how to decorate the dish with delicious toppings. Serve this dip with vegetables and pita for dipping.
There's something...well...magical...yes, Christmas magical about a Reese's Peanut Butter Cup.
Candy canes are basically a Christmas holidays mascot. The peppermint candy sticks with a hook on the top, so you can hang them on...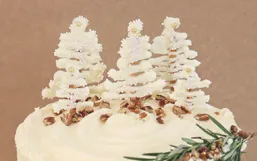 Last year, we created these adorable festive Christmas Tree Brownies, and well...the video recipe for them went viral overnight!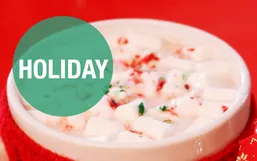 It's that time of year, the season of giving. It's magical and wonderful - and oh, don't forget the mailman!
The best part about Christmas for any kid (or adult for that matter) is the delicious treats that pop up everywhere.
The centerpiece for your Christmas dinner is a great turkey or ham, but the side dishes are just as important.
A Christmas cake is the centerpiece of your holiday meal. After you're stuffed with turkey and all the fixings, the only thing...
Christmas has this tendency to sneak up on us each year. It approaches at a fast rate and before we know it the big day has...
Decorating the tree always gets me into the mood for the holidays. As soon as the tree is up I'm in full force Christmas mode.
When the holidays roll around the first order of business is setting up the Christmas tree and decorations.
Snacks are crucial for everyone. They keep us full in between meals and quench our cravings.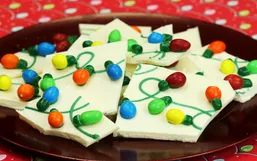 Chocolate barks are my absolute favorite go-to for large batch treats you can store for weeks and hand out as needed to neighbors,...