Dessert is and has always been the highlight of any holiday dinner, and this year is no exception. If you're tired of serving the same predictable desserts you've served for countless years try switching things up this season and wow your guests with one of these unique and fabulous ideas!
1. No-Bake White Chocolate Peppermint Cheesecakes
Silky and smooth with a touch of peppermint, these mini cheesecakes are dainty yet flavorful. Each bite is heavenly and your guests will remember these delectable treats for many years to come. This is also a no-bake recipe which makes dessert preparations quick and easy!
2. Chocolate Mousse And Brownie Shot Glass Dessert
These adorable mini trifles are the perfect size for health-conscious individuals looking to curb their sweet tooth. They're delicious and easy to whip up, making them the perfect dessert for busy hosts looking to save time without compromising deliciousness.
3. Coconut Cream Tarts With Macadamia Nut Crust
These beautiful little tarts will not only impress your guests with their appearance but also with their taste. A nice, light dessert to cap off a filling dinner, these single-serving treats won't last long on your dessert table.
4. Sticky Date Christmas Pudding
Looking to spice up a Christmas staple? This is the perfect dessert for you! Sweet dates and caramel turn traditional spiced fruit pudding into a new Christmas classic that will leave all of your guests wanting more.
5. White Chocolate Peppermint Fudge
When you think about Christmas desserts, fudge doesn't always come to mind. However, if you have this peppermint fudge on your dessert table it is bound to be demolished in minutes! This fudge contains flavors of rich white chocolate and delicious peppermint, what's not to like?
6. Baileys Chocolate Ice Cream Cake
There's nothing better than a nice glass of Bailey's during the holiday season, right? We might have found something better such as this delicious Bailey's ice cream cake! The sweetness of the chocolate and Baileys combined with the cool freshness of the ice cream makes this mouth-watering dessert the perfect choice for any adult at your Christmas dinner table.
7. Salted Caramel Apple Pie Blondies
Apple pie has always been a huge staple during the Christmas season. Are you tired of serving the same boring apple pie year after year but can't bring yourself to remove it from your dessert menu? If so, consider spicing up your dessert table with these salted caramel apple pie blondies. Sweet flavors of apple pie are smothered in a dreamy caramel sauce – sounds delicious, right?
8. Toblerone-Topped Caramel Cheesecake
They had us at caramel cheesecake but add a Toblerone topping to an already mouth-watering dessert and you have a sure hit with your guests this year. Consider making two: Something tells us this cake won't last long!
9. Marble Sugar Cookies
Cookies would be an awesome dessert option, that is clear! However, this recipe puts a unique spin on a traditional sugar cookie recipe to create these marble sugar cookies! To create this effect you'll first need to create the sugar cookie dough. Then split the dough into thirds. Leave one-third plain, add red food coloring to another third and the other green. Create little balls and then press the dough together to create a flat circle. Lastly, use cookie cutters to create fun shapes and then bake them in the oven.
10. Holiday French Macarons With Peppermint Frosting
These holiday macaroons are stunning and decadent. They most definitely deserve a spot on your dessert table this Christmas! Bold red macarons are filled with a creamy peppermint buttercream frosting. Your guests will be amazed that you made these yourself!
11. Cranberry White Chocolate Macaroons
Both macarons and macaroons are delicious, however, contrary to belief, they are entirely different! Macarons are meringue based and macaroons are coconut based. Differences aside, these cranberry white chocolate macaroons would be a lovely dessert to enjoy this Christmas. They're flavored with cranberries and hints of citrus and finished with a delicious white chocolate drizzle.
12. Peppermint Cheesecake Trifle
I love trifle because it's a dessert that offers so many exciting layers with a lot of flavors. This isn't your average Christmas dessert but your guests will go crazy for it! Luscious red velvet cake is layered with a peppermint cream cheese filling and complimented with mint Oreos, Cool Whip, and peppermint candies.
13. Tuxedo Cake
While your Christmas dinner may not be a formal affair, this tuxedo cake still deserves a spot on your dessert table. It's elegant and delicious! First, bake 2 cakes using 9-inch baking pans. While you wait for the cakes to cool you'll want to whip the cream cheese frosting together and prepare the chocolate curls. Then to create all the layers cut each cake in half horizontally and add icing between each layer. Before you know it you'll have a stunning cake to share!
14. Homemade Milk And Cookie Shots
While the kids are setting out their milk and cookies for Santa you can prepare these milk and cookie shots for Christmas dessert! This unique dessert is the best of both worlds all tied up into one exciting treat! To create the cookie shot glasses you'll need to use a mold. Once the cookies have cooled coat the inside with chocolate and decorate the rim with sprinkles of your choice! Lastly, right before serving, fill the shot glasses with milk or Baileys.
15. Apple Pie Nachos
This unconventional way of eating apple pie is both new and exciting! Your guests will love digging into these apple pie nachos and the best part is they'll take you only 15 minutes to make! The "nacho chips" are triangle cut flour tortillas that are tossed in a buttery sugar and cinnamon coating. While the nachos crisp up in the oven you'll want to get started on making the apple topping. Be sure to make a larch batch because these will be a hit!
16. Gingerbread Cheesecake Trifle
Along with peppermint, gingerbread is a wonderful Christmas flavor. This gingerbread trifle is stunning and delicious. In this trifle, you can expect layers of crushed gingerbread cookies, cream cheese frosting, velvety caramel sauce, and whipped cream. This no-bake dessert comes together in a hurry and will be eaten up quickly!
17. Frosted Sugar Cookie Dip
Planning on serving chips and dip for a holiday appetizer? Then why not serve sugar cookie dip for dessert! It'll be a new crowd favorite and everyone will be begging you for the recipe. This sugar cookie dip is made from heavy whipping cream, frosted sugar cookie creamer, and powdered sugar. Garnish the dip with crumbled sugar cookies and sprinkles of your choice and serve with cut-up pound cake.
18. Gingerbread Scones With Cream Cheese Frosting
Scones go perfectly with tea and coffee so this Christmas bake a batch of gingerbread scones to finish off your meal perfectly. Molasses, cinnamon, ginger, and cloves come together to provide these scones with the perfect gingerbread flavor. Garnish the scones with a homemade cream cheese frosting and festive colored sprinkles!
19. No-Bake Eggnog Pie
No-bake desserts are awesome because they can be made in the nick of time! This eggnog pie will only take 7 minutes to prepare. It will need to set in the fridge for at least 4 hours so consider making this dessert the day before. The eggnog pie filling is made from vanilla instant pudding, whipping cream and of course, eggnog! Pour the mixture into a graham cracker pie crust and set in the fridge. Serve the pie with a dollop of whipped cream and a sprinkle of ground nutmeg.
20. Spiked Eggnog Cake
If you love eggnog but don't love pie, there is no need to worry! Try this spiked eggnog cake, it's stunning and delicious. This holiday cake gets an adult makeover and is spiked with rum. The cake is paired with a delicious cream cheese frosting and white chocolate ganache that your guests will go crazy for!
21. Cranberry Trifle
Share a crimson red trifle with your dinner guests and they'll be wowed. This cranberry trifle contains delicate layers of red and white and is flourishing in delicious flavors. You'll layer the trifle with fluffy pound cake, a tart cranberry sauce, and delicious homemade custard. This dessert deserves to be the centerpiece of your table!
22. White Chocolate Cranberry Bundt Cake
Following the cranberry theme, you could also serve your guests this white chocolate cranberry bundt cake. This exquisite dessert is festive and exciting! The cake contains many delicious flavors such as tart cranberries, zest of an orange, vanilla, and almond. While the cake bakes in the oven mix together the homemade white chocolate buttercream frosting. You'll also be provided with instructions on how to create the stunning sugared cranberries!
23. Cranberry Vanilla Cupcakes With White Chocolate Frosting
Cupcakes are perfect for any occasion, in my opinion! Give a classic vanilla cupcake a holiday transformation by following this recipe. These vanilla cupcakes are filled with a sweet cranberry filling and are topped with a swirl of white chocolate frosting. Your guests will be eyeing these cupcakes the moment they step in your door!
24. Fruit Pizza Christmas Wreath
Wreaths are fun decorative items for the front door but a dessert wreath might be even more exciting! This dessert pizza is unlike any dessert you may have experienced before and for this reason, it deserves to be on your holiday table. Sugar cookie makes up the base of this pizza. When finished take it out of the oven and allow it to cool. While you wait, prepare a homemade cream cheese frosting. To decorate cover the crust in the frosting and top with fresh berries and fresh mint leaves to garnish – how divine!
25. Hot Cocoa Cheesecake Minis
These mini cheesecakes are precious and your guests will love them too! Serve them a cup of hot cocoa to go alongside their mini hot cocoa cheesecake. They have a crumbly oreo cookie bottom and a silky chocolate cheesecake on top. The cup handles are made from melted chocolate and will hold their shape in the freezer. Top the cheesecakes with whipped cream, marshmallows, cocoa powder, and crushed candy canes.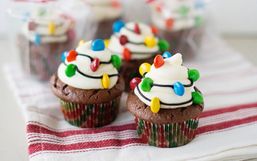 Cupcakes are relished all year round. You can enjoy them for birthdays, holidays, any celebration really, or to treat yourself!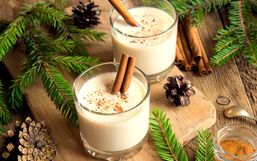 Eggnog can be a hot topic over the holidays. Some tend to think it's a disgusting concoction, while the rest of us are swooned by...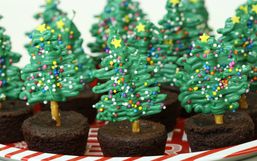 We've all been there. You need to bring a dessert to a Holiday function and you're lacking time, or general baking skills.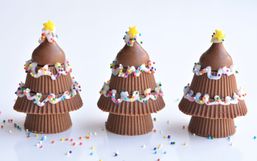 There's something...well...magical...yes, Christmas magical about a Reese's Peanut Butter Cup.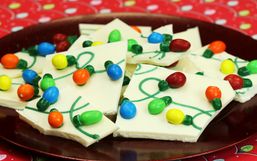 Chocolate barks are my absolute favorite go-to for large batch treats you can store for weeks and hand out as needed to neighbors,...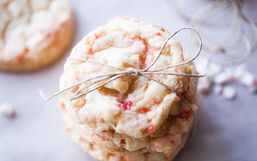 Candy canes are basically a Christmas holidays mascot. The peppermint candy sticks with a hook on the top, so you can hang them on...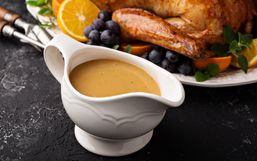 The holidays are known to be the hardest season of the year in terms of the age-old battle of the bulge.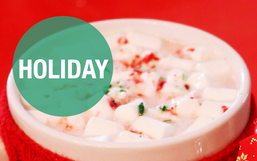 It's that time of year, the season of giving. It's magical and wonderful - and oh, don't forget the mailman!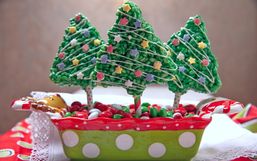 The best part about Christmas for any kid (or adult for that matter) is the delicious treats that pop up everywhere.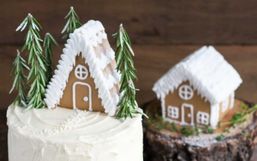 A Christmas cake is the centerpiece of your holiday meal. After you're stuffed with turkey and all the fixings, the only thing...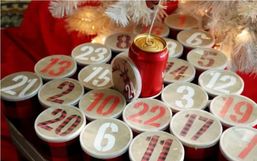 Christmas has this tendency to sneak up on us each year. It approaches at a fast rate and before we know it the big day has...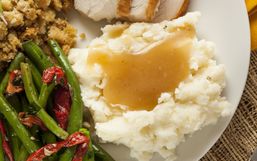 The centerpiece for your Christmas dinner is a great turkey or ham, but the side dishes are just as important.