Dessert is and has always been the highlight of any holiday dinner, and this year is no exception. If you're tired of serving the same predictable desserts you've served for countless years try switching things up this season and wow your guests with one of these unique and fabulous ideas!
Related Topics (Ads):
1. No-Bake White Chocolate Peppermint Cheesecakes
Are you looking for a dessert that looks as good as it tastes? Look no further than this white chocolate peppermint cheesecake recipe. The crust, cheesecake filling, and candy cane toppings are the definition of Christmas in a cup.
This no-bake treat is prepared and served in individual nine-ounce plastic cups. To avoid the dessert from being overwhelmingly flavored, make sure to use real peppermint extract. This recipe yields up to 12 servings and takes just an hour and a half to make. You could even make this dish ahead of time since it needs to be refrigerated until firm. Enjoy!
2. Chocolate Mousse And Brownie Shot Glass Dessert
Is there anything more comforting than an ooey gooey chocolate brownie? This delectable dessert is rich in flavor that always has people asking for seconds. Take your typical brownie to the next level by recreating these chocolate mousse and brownie versions! These brownies are elegantly served in individual shot glasses.
Once you make the brownies and chocolate mousse, all you have to do is layer them into the glasses. You can use a piping bag for the mousse since it will be less messy and give you points on presentation. Top the brownie and mousse layers with some chocolate curls and keep them in the fridge until you're ready to serve.
3. Coconut Cream Tarts With Macadamia Nut Crust
It's always a good call to serve at least one custard-based dessert. This coconut cream tart is a good choice to go with! Its creamy custard is elevated with a coconutty flavor. Plus, the macadamia nut crusts and toasted coconut topping will earn you plenty of presentation points from guests.
The first part of the recipe to complete is the filling since it must chill for three hours. In the meantime, you can get started on making the crust. Once both elements are ready, spoon the custard mixture into the tart shell. Take your dessert to the next level by piping homemade cream onto the tarts along with some toasted coconut. Bon appetit!
4. Sticky Date Christmas Pudding
Anyone wanting to serve their Christmas guests a dessert they don't see very often should try out this sticky date pudding. This recipe delivers a spiced fruit pudding topped with a caramel sauce that will melt in your mouth with each bite. Some of the ingredients include brandy, mixed fruit, and pitted dates.
For those looking to make this an alcohol-free dessert everyone can enjoy, simply replace the brandy with apple juice. What's great is you can prepare this recipe the day before a big get together, saving you time and stress while you're entertaining. It only requires five steps of preparation and takes about an hour and a half to make.
5. White Chocolate Peppermint Fudge
No matter the dessert, adding peppermint will instantly make it perfect for the Christmas season. This white chocolate peppermint fudge recipe is no exception. The fresh peppermint paired with the richness of white chocolate is addicting. Plus, these tasty treats also make for a nice holiday gift.
If you've never made fudge from scratch before, then you may be surprised at how easy it is to do. You only need four ingredients and can spend less than 10 minutes preparing it. The most time consuming part is letting the fudge cool completely before cutting it into pieces.
6. Bailey's Chocolate Ice Cream Cake
Chocolate cake is one of the safest desserts to serve up at Christmas. But if you're looking for a way to elevate chocolate cake into something unforgettable, then try out this Bailey's chocolate ice cream cake. It's two brownies separated by a layer of Bailey's cream — a homemade ice cream sandwich!
This two-part recipe teaches you how to make the ice cream and brownies from scratch. Luckily, both elements can be prepared ahead of time. Stacking the sandwiches will only take about 10 minutes. For a more low maintenance execution, feel free to use a pre-made brownie mix and ice cream.
7. Salted Caramel Apple Pie Blondies
What's the opposite of a decadent chocolate brownie? It's a blondie baked good that delivers a lighter, yet just as chewy, dessert. This recipe customizes a blondie with salted caramel and apple pie flavoring. It's topped with brown sugar pecan streusel and drizzled with salted caramel. It makes your mouth water just thinking about it!
You don't need a mixer to bake up these blondies. The recipe is broken down into three steps to make the blondie base, apple topping, and pecan streusel. It takes just 30 minutes to prepare, 35 minutes to cook, and yields 20 servings. Scoop some vanilla ice cream for extra sweetness and you're ready to serve!
8. Toblerone-Topped Caramel Cheesecake
One type of chocolate you can't avoid at Christmas is Toblerone. It's a filling, nutty, and incredibly chocolatey that is hard to resist. Put your extra Toblerone bar to good use this holiday season by making this Toblerone-topped caramel cheesecake. It's made with an Oreo cookie crumb crust, cream cheese filling, and topped with delicious caramel and chopped Toblerone.
This recipe takes just 40 minutes to make, but you will need to refrigerate it for four hours before slicing and serving. It yields 12 servings when using a nine inch springform pan. Right before slicing, top the cheesecake with caramel and your chocolate garnish.
9. Marble Sugar Cookies
Who doesn't love a good sugar cookie? Christmas and sugar cookies go hand in hand, so there's no reason to forget about them this holiday season. If you're wondering how to elevate your sugar cookies, then check out these marble sugar cookies. These multi-colored goods are pleasing to look at and taste!
After making the cookie dough, you will divide them into four sections. Leave one batch of the dough white and grab food coloring to make red and green batches. The recipe walks you through how to roll the dough into one and to ensure all colors mesh well together for each cookie. Add some sugar sprinkles on the raw dough and they're ready for the oven.
10. Holiday French Macarons With Peppermint Frosting
Nothing says showstopping dessert more than macarons. From it's elegant presentation to the light and flavorful taste, this French delicacy aims to impress. Bake macarons that fit in with your Christmas theme by following this macarons with peppermint frosting recipe. It yields 18 servings and takes about an hour to prepare.
These perfectly portioned bites of heaven may seem difficult to prepare, but will ultimately be worth going through the learning curve. Luckily, the homemade buttercream is equally tasty as it is easy to prepare. These delicate shells will look festive thanks to the red food coloring and will certainly impress guests at your Christmas party!
11. Cranberry White Chocolate Macaroons
Next time you're at the grocery store, make sure to pick up the ingredients for this cranberry white chocolate macaroon recipe. It delivers elegant looking macaroons with a crispy shell and soft filling. Plus, they happen to be gluten-free.
What makes these macaroons so festive for Christmas is the dried cranberries and hints of orange flavoring. The recipe is user-friendly even for baking novices since it can be prepared in less than half hour. You can store macaroons for a few days at room temperature or in the fridge, so feel free to make these ahead of time.
12. Peppermint Cheesecake Trifle
Turn your trifle into a holiday masterpiece by following this peppermint cheesecake trifle recipe! It has layers of red velvet cake, cheesecake filling, peppermint bits, and mint oreos. The cherry on top is a layer of whipped cream — and it's really simple to make from scratch. You can serve it one big bowl or create individual servings using clear plastic cups.
The writer of this recipe has different variations to consider. If you're a chocolate lover, simply add a bit of cocoa powder to the cream cheese layer. Opt for a gluten-free or sugar-free cake mix depending on your preference. You could also use a sugar-free whipped cream to cut down on calories. Enjoy!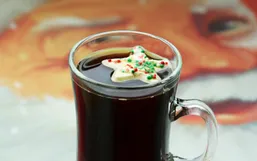 During the holidays, depending on where you live of course, it often involves gathering around with warm beverages in hand.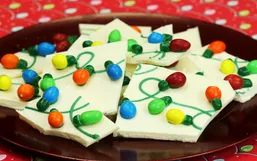 Chocolate barks are my absolute favorite go-to for large batch treats you can store for weeks and hand out as needed to neighbors,...
Candy canes are basically a Christmas holidays mascot. The peppermint candy sticks with a hook on the top, so you can hang them on...
The holidays are known to be the hardest season of the year in terms of the age-old battle of the bulge.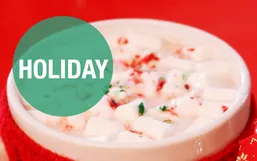 It's that time of year, the season of giving. It's magical and wonderful - and oh, don't forget the mailman!
The best part about Christmas for any kid (or adult for that matter) is the delicious treats that pop up everywhere.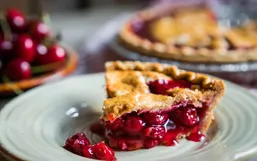 Christmas pies are a delicious addition to the holiday season. While we love the classic pumpkin pie, there are a ton of other...
A Christmas cake is the centerpiece of your holiday meal. After you're stuffed with turkey and all the fixings, the only thing...
Christmas has this tendency to sneak up on us each year. It approaches at a fast rate and before we know it the big day has...
So you've volunteered to host Christmas dinner this year. The initial voluntary statement may have sounded exciting but if you...
When the holidays roll around the first order of business is setting up the Christmas tree and decorations.
There's something...well...magical...yes, Christmas magical about a Reese's Peanut Butter Cup.