The centerpiece for your Christmas dinner is a great turkey or ham, but the side dishes are just as important. They taste delicious on their own, but they serve to complement the main protein. We often enjoy classics like sweet potato pie and stuffing, with some unique dishes like wild rice with bacon and fennel.
We searched high and low and have found some of the most fantastic side dishes. You'll definitely want to make sure one or several of these are on your holiday dinner table this year.
*Click on the bottom link to view the recipe.
20. Roasted Brussels Sprouts
Enjoy a hearty vegetable dish to go alongside your main course. Roasted brussels sprouts are paired with butternut squash, pecans, and cranberries. These wholesome ingredients are all tossed in a delicious sweet cinnamon flavor.
19. Balsamic Roasted Potatoes With Asparagus
Change up your traditional potato dish for these balsamic roasted potatoes and asparagus. Along with some fresh veggies, you'll only need a couple of ingredients to infuse this dish with wonderful flavors. Look forward to garlic-infused olive oil, balsamic vinegar, and a dash of salt and pepper. It's so easy, this recipe is bound to become a new holiday favorite.
18. Maple Roasted Beets And Carrots
Beets are hearty vegetables that have quite the earthy flavor. For this reason, many picky eaters don't enjoy them. Change those picky eaters minds with this delicious recipe! Beets and carrots are roasted to a lovely tender texture and coated in a sweet maple syrup sauce.
17. Cranberry Almond Broccoli Salad
I love broccoli salad because of its fantastic texture. Even if you don't love broccoli you'll surely love this recipe. It's creamy crunchy and comes with a homemade sweet and tangy poppyseed dressing. Your holiday table will most likely have many hearty dishes so it would be a great idea to add something light and bright like this salad.
16. Green bean Casserole From Scratch
You could easily serve regular steamed green beans for a Christmas dinner side dish, but this recipe is a lot more exciting. Green bean casserole is a traditional holiday recipe in my family and if it wasn't in yours, once you try it you'll want to make it each year. Fresh green beans are tossed in a dreamy cream sauce and are topped with fried onions. This is a side dish you won't forget.
15. Creamy Cauliflower Garlic Rice
If you're trying to watch your carb intake this holiday season, you may want to consider making this creamy cauliflower garlic rice side dish. It's healthy, yet incredibly delicious. Chopped cauliflower is combined with a small portion of brown rice that together creates a fun texture. Once cooked it's tossed in an unforgettable homemade creamy garlic sauce.
14. Bang Bang Brussels Sprouts
To be honest, I don't love Brussels sprouts. They're a hearty vegetable and their flavor is what turn so many people off. However, I wanted to explore Brussels sprouts again, so I made this dish for Thanksgiving and it was a serious hit! You can most certainly bet I'll be making it for Christmas dinner too. The sauce is the perfect balance of creamy and spicy and completely masks the flavor of Brussels sprouts. Trust us, make this once and you'll be making it time and time again.
13. "Stuffins": Stuffing Muffins
These stuffing muffins are amazing because of their single-sized portions. They'll look lovely on your dinner table and will be easy to pass around. Better yet, if you're lucky enough to have leftovers, you can pack these away for a few effortless lunches even days after the big dinner.
12. Instant Pot Mashed Potatoes
If you were one of the lucky ones to be gifted an Instant Pot for Christmas last year or you decided to treat yourself, make sure to add this recipe to your Christmas menu. This recipe will put that Instant Pot to good use as it shows you how to create mashed potatoes effortlessly and quickly. In just 20-minutes you enjoy a creamy and fluffy bowl of mashed potatoes.
11. Easy Cheesy Scalloped Potatoes
The great thing about potatoes is that you can turn them into so many different kinds of tasty dishes. Instead of or in addition to mashed potatoes you could try making these easy cheesy scalloped potatoes. You'll have this delicious dish put together in under an hour from start to finish. It's irresistibly creamy and cheesy. It will definitely be a crowd favorite.
10. Cranberry Brie Bites
Side dishes don't have to take a lot of effort to be fantastic! Try these cranberry brie bites for a quick and easy side dish this Christmas dinner. You'll need only a few ingredients such as store-bought crescent dough, brie cheese, cranberry sauce, and rosemary sprigs. A muffin tin will help to shape them and you'll have them ready in no time.
9. Classic Sweet Potato Casserole
This traditional Christmas side dish is a sweet potato pie topped with both marshmallows and crunchy cornflakes. It seems strange to top a savory dish with marshmallows but somehow it all works together. Alternate with cornflakes and marshmallows to give two different tastes to the dish.
8. Crispy Potato Roast
Potatoes are a must for Christmas dinner. Mix up the normal mashed potatoes with these crispy yet creamy roast potatoes. This recipe takes a while to cook fully, but if you have your turkey in the oven, they can cook at the same temperature. The result is a show-stopping side dish that looks beautiful.
7. Pear and Pomegranate Christmas Salad
A salad is an excellent option for a Christmas side dish. You will be eating rich foods, so fresh vegetables will be very welcome. This recipe uses pears and pomegranates for a beautiful color and a delicious flavor. When buying pomegranates, look for a deep red color and no bruising or browning. You can also sometimes find the shelled fruit in your salad section.
6. Green Beans With Mushrooms and Bacon
Green bean casserole is a classic holiday dish. This fresh bean side dish is a play on the tradition. Bacon and mushrooms are added with cooked green beans. Use some of the bacon oil to make a dressing for the dish. You can use any type of mushrooms you want in this side dish.
5. Brown Butter and Sage Carrots
This unique carrot recipe will give you fantastic results. They are slow roasted in the oven to really bring out their natural sweetness. Then they are tossed in browned butter with fresh sage and maple syrup. The result is a stunning side dish that everyone will want the recipe for.
4. Wild Rice With Bacon and Fennel
Wild rice is a great side dish for Christmas. It has a lovely nutty taste and great chewy texture. This recipe brings together winter flavors that will pair beautifully with a roasted turkey. Cook the rice the night before to make cooking easier the day of Christmas dinner.
3. Potatoes Au Gratin
Potatoes au gratin is a delicious side dish for Christmas dinner. It goes great with any protein, but we love it best with a huge honey ham. The creamy potatoes work brilliantly with the chewy and salty ham.
2. Cranberry Christmas Stuffing
We don't recommend cooking a turkey with stuffing inside, as it's hard to get the internal temperature to safe levels. What we like to do instead is cook the stuffing outside, as dressing. This cranberry stuffing has all the flavors of Christmas in one dish!
1. Baked Onions
These baked onions are a unique but delicious side dish for Christmas dinner. Pearl onions or shallots are used in the recipe. If you can't find these, choose a large yellow onion and slice into thick rings. Cut back the sugar to your personal preference.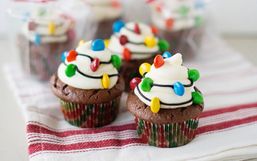 Cupcakes are relished all year round. You can enjoy them for birthdays, holidays, any celebration really, or to treat yourself!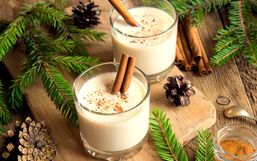 Eggnog can be a hot topic over the holidays. Some tend to think it's a disgusting concoction, while the rest of us are swooned by...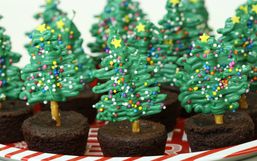 We've all been there. You need to bring a dessert to a Holiday function and you're lacking time, or general baking skills.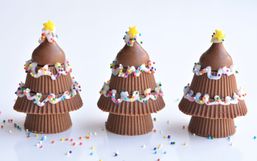 There's something...well...magical...yes, Christmas magical about a Reese's Peanut Butter Cup.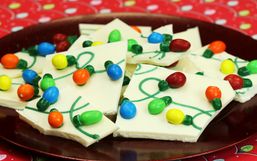 Chocolate barks are my absolute favorite go-to for large batch treats you can store for weeks and hand out as needed to neighbors,...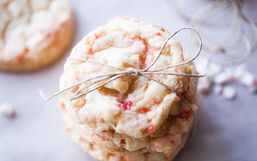 Candy canes are basically a Christmas holidays mascot. The peppermint candy sticks with a hook on the top, so you can hang them on...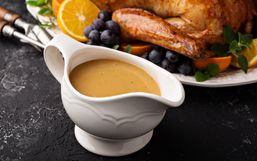 The holidays are known to be the hardest season of the year in terms of the age-old battle of the bulge.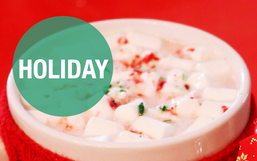 It's that time of year, the season of giving. It's magical and wonderful - and oh, don't forget the mailman!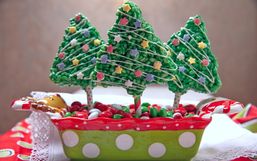 The best part about Christmas for any kid (or adult for that matter) is the delicious treats that pop up everywhere.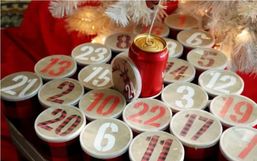 Christmas has this tendency to sneak up on us each year. It approaches at a fast rate and before we know it the big day has...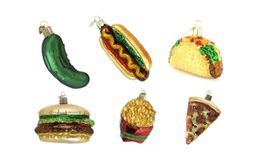 Decorating the tree always gets me into the mood for the holidays. As soon as the tree is up I'm in full force Christmas mode.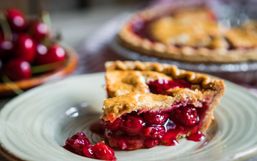 Christmas pies are a delicious addition to the holiday season. While we love the classic pumpkin pie, there are a ton of other...