Big or small, kitchen pantries are a serious game-changer when it comes to storage space. Unfortunately, unless organized properly, our pantries can become a big cluttered mess quickly! So we're sharing how you can effortlessly organize your pantry so that it's in good working order!
These organization ideas are not only helpful but they're budget-friendly too! All of these storage ideas and hacks can be found at your local dollar store. You'll love opening a clean and organized pantry, and your wallet will love the extra cash!
1. Pantry Makeover with Matching Bins
One of the easiest ways to make your pantry look neat and tidy is to purchase matching bins. The dollar store has a large assortment of storage bins that range in all different sizes and colors!
Use these bins to store pantry staple's and consider labeling the bins so you know exactly what is inside. In addition, this may help your kids find their snacks quickly and will prevent the dreaded "MOOOOM, I'm hungry".
2. Glass Jars
Next, why not transfer pantry staples into glass jars. The dollar store often has a large assortment of glass jars that range in all different sizes. Use small glass jars for spices, and bigger ones for nuts, dried foods, flours and more!
This idea is esthetically pleasing but also serves a practical purpose. The glass jars allow you to see all the items and their quantity effortlessly.
3. Dry Food Storage Containers
Much like the glass jars, these clear dry food storage containers would be another excellent organizing idea for your pantry. You can transfer dried pet food, boxed cereals, and assorted snacks into these dry food storage containers.
You'll be able to clearly see what is inside, how much you have left, and allows you to have a cohesive design in your pantry. Keep in mind, these containers can hold up to 50 ounces.
4. Labels
Now that you've established an assortment of matching bins, glass jars, and clear containers, you're going to want to label these containers. Thankfully, the dollar store carries labels and in an assortment of colors, patterns, and designs!
Labels will not only help you but they will help your entire family navigate through the assorted pantry items! Alternatively, you could pick up a washable paint marker from the dollar store and write on each container instead.
5. Repurposed Pencil Holders
Pencil holders are certainly useful in the office but have you ever thought about utilizing them in your pantry? Maximize every square inch of space by screwing these wire baskets to the wall.
You'll only need 2 screws per basket and you'll be pleasantly surprised to discover how quickly they can be installed. Consider storing spices, food packages, or anything you would like.
6. Hanging Wire Baskets
Another great way to maximize the wall space in your pantry is to install wire baskets from the dollar store. Besides the baskets, all you'll need are hooks to hang the baskets. Depending on what you're planning on storing, you could use a hook that screws into the wall or an adhesive hook – your choice!
Consider storing fruit, potatoes, onions, or any assorted pantry snacks in these baskets. This helps to keep food off the counter, and off the floor!
7. DIY Lazy Susan
Lazy Susans are great for the kitchen table but they are also awesome storage tools for the pantry! This tutorial will walk you through how to make your own lazy Susan using cake pans and marbles from the dollar store.
This lazy Susan comes together in minutes and is a heck of a lot cheaper than most store-bought lazy Susans. You could consider storing overstock salad dressing bottles, canned foods, and more!
8.  Dollar Store Lazy Susan
In contrast, some dollar stores carry ready-made Lazy Susan's and if that's the case you could skip the DIY hack and try implementing this idea! You can use a lazy Susan in your pantry as well as many different areas in your kitchen.
If you're able to find one you could use it in the pantry to store canned goods, pet food, baby snacks, spices, baking essentials and more! For more ways to use it in your kitchen check out these Unique Lazy Susan DIY Hack Ideas: 15 Simple Ways To Organize Your Kitchen.
9. Over-the-Door Metal Racks
If you're lucky enough to have a walk in pantry, odds are you have a door that could also be used as storage space! In that case, add this over-the-door metal rack to the back of your door.
You could hang brooms, dustpans, aprons or anything else you can think off. This idea keeps everyday cleaning items neatly tucked away while still keeping them easily accessible.
10. Spice Rack Shelf
Don't have a fancy spice rack? No problem! This idea will help to neatly store your spices tucked away in your pantry.
This spice rack shelf has 3 tiers. The steps will elevate the spices in the back so that you can easily see each row. Alternatively, you can use the rack to store small cans and other jars too.
11. Stackable Containers
Stackable containers are a great way to maximize the shelf space in your pantry. Instead of installing additional shelves just use these containers!
The dollar store has a variety of different sizes and colors that will suit your taste and your needs. Consider storing snacks, canned goods, soup packets, and more!
12. Shelf Liners
Shelf liners serve a practical purpose but they can also really jazz up your space! Thankfully shelf liners come in an assortment of different colors and patterns – there is truly something for everyone!
Head to your local dollar store and pick up a roll (or 2) of your choice. They're easy to install and will keep all your items in place while looking pretty too.
13. Food Wrap Storage
Keep your food wrap neatly tucked away while still being able to easily access it. This tutorial proves how a wooden dowel and a few adhesive hooks can turn into a food wrap storage station.
The original idea was implemented on the back of a cupboard door but you can apply the same idea on your pantry wall, or on the back of your pantry door. Apply this idea to boxes of cling wrap, parchment paper, and tin foil!
14. Can Storage Organizer
Are your canned goods sitting on a shelf in a disarray? Get organized and utilize this awesome can storage organizer.
It'll fit nicely on a shelf in your pantry and can hold quite a few cans at a time. Consider strategically placing cans with older dates near the front so they are prioritized and used first!
15. Wire Cabinet Shelves
Instead of installing more shelves in your pantry, use these wire cabinet shelves! The wire shelves fit nicely on top of your existing pantry shelves and instantly create an additional row of storage.
These shelves would be great for storing spices, cans, boxed food items, or any pantry staples. Once you see how useful they are in your pantry you'll want to use them in more places too!
16. Paper Towel Holder
Paper towels are a necessity in the kitchen! Unfortunately, using a traditional paper towel holder can take up sacred counter space.
Instead, implement this awesome paper towel holder in your pantry and keep them tucked away yet still accessible. This idea requires string or ribbon and adhesive hooks from the dollar store. It can be installed and ready to use in minutes!
17. Over-the-Door Snack Organizer
Shoe organizers can be used for so much more than just storing shoes! Head to your local dollar store and pick up an over-the-door shoe organizer and use it in your pantry.
This idea neatly tucks away snacks, assorted food packets and more! Consider storing snacks for your kids in the bottom rows. This will allow your children to easily access their snacks on their own!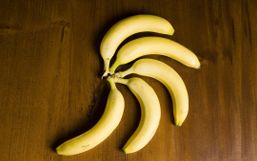 If you're like most working families, there isn't opportunity to go grocery shopping several times in the week to keep...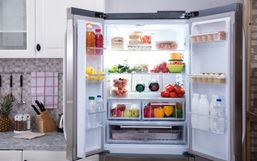 Refrigerators may be one of the most important appliances in our homes. After all, the fridge is the lifeline for our food.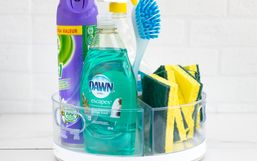 It's time to put your lazy susan to work! We've got a super handy, easy hack for you to help you organize your under-the-sink...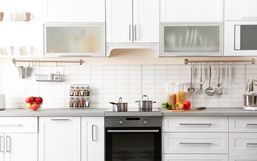 A messy kitchen is the worst! Studies show that clutter can wreak havoc on our mental state so let's get organized together!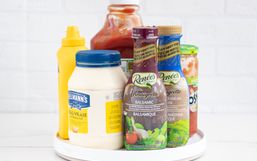 It's time to put that lazy susan to work! We've got a super practical, super simple hack for you to help organize your fridge and...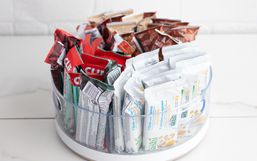 It's time to put your lazy susan to work! We've got a super fun, easy hack for you to help you organize your cupboard or...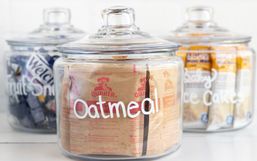 This is an easy hack to help organize your kitchen in the cutest way! It's super simple and completely customizable!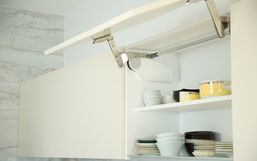 If there's one thing is our kitchen that seems to never get organized, it is definitely our cupboards!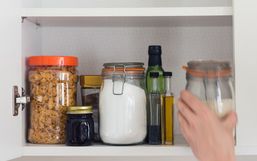 Keeping the house organized can make all the difference in living more stress-free.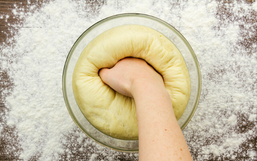 Carbs - the spice of life, am I right? And there is perhaps no carb the world collectively loves more than bread.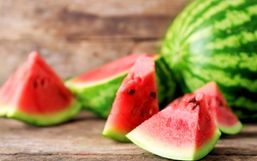 Nothing quite beats biting into a big juicy slice of watermelon -- especially on a hot summer day!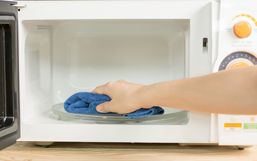 The microwave is an amazing kitchen appliance. It can heat up leftovers quickly, help make delicious snacks like popcorn, and so...