Holidays are the hardest times of the year to stay on track with your diet. This is because so many holidays revolve around good conversation, and of course, amazing food. Many of us want to unwind and relax and that means not having to worry about what you're eating. However, staying on track with your diet can be easy if you show up to a holiday dinner prepared.
Thanksgiving is one of my most favorite holidays because of course, quality time, but also because of the food. Sugar and cinnamon can really pull at my heartstrings. These flavors are warm and inviting and are perfectly fitting for a holiday where we give thanks. We're digging deep to find you some of the best Thanksgiving keto desserts. Make one (or several, we're not judging!) of these recipes for Thanksgiving. You can stay on track with your diet and those you share it with won't even realize it's "diet" food.
1. Keto Pumpkin Cheesecake Mousse
While everyone is bragging about their pumpkin pies for Thanksgiving have peace of mind that you'll be contributing an even better dessert. This cheesecake recipe is flavored with a traditional Thanksgiving ingredient, pumpkin.
It's made with cream cheese and heavy cream that increase the overall fat content. Then, vanilla extract, pumpkin spice, unsweetened pumpkin puree, and confectioners erythritol will make this dessert perfectly sweet without cheating on your diet.
2. Keto Pecan Pie Tarts
Along with pumpkin pie, pecan pie is also a Thanksgiving classic. It's sweet and rich and has timeless flavors that remind me of Fall.
There's no question as to why pecan pie wouldn't be allowed on the keto diet but with this recipe, you can indulge in the classic flavors you love but guilt-free. Coconut flour and almond flour will help keep this dessert low carb while butter, and egg and heavy cream will make it high in fat.
3. Keto Pumpkin Pie Pudding
Ditch the crust because you don't need it! The best part about pie is the filling anyway. You'll get to create this dessert in your Instant Pot (or any pressure cooker) which makes this dessert extremely easy and incredibly quick to create.
To provide an authentic pumpkin pie flavor you'll add pumpkin puree and pumpkin pie spice. Next, you'll need just a small handful of other ingredients and then you'll have a wonderful dessert made in no time.
4. Fudgy Pumpkin Brownies
Instead of bringing a pie or another classic Thanksgiving dessert add variety to the dessert table with these fudgy pumpkin brownies. They're perfectly spiced with flavors of Fall and as a bonus, they're healthy too.
These keto brownies are free of sugar and definitely low carb. They contain so much flavor and ooey-gooey texture your friends and family will be astounded that these fall in line with a diet.
5. Keto Pumpkin Snickerdoodle Cookies
Another great alternative to pie is a plate of cookies, they're desserts too!  Snickerdoodles are a special type of cookie that is coated in a sugary cinnamon coating. These snickerdoodles, however, are extra unique because they contain Fall flavors of delicious pumpkin.
There are a few ingredients that will transform an ordinary snickerdoodle recipe into one that is keto-friendly. Almond flour makes these cookies low carb while erythritol and liquid stevia give them a deliciously sweet flavor.
6. Keto Almond Carrot Cake
If you love simple then you'll love this cake recipe. This recipe is so easy to throw together, you just throw all the ingredients together, mix and then bake.
Another element that makes this recipe so easy is that it requires minimal ingredients too. Apple pie spice gives these cakes an Autumn flavor and shredded carrots will help the dessert taste like an authentic carrot cake. You can bake these in a muffin tin or any other pan that can create the perfect single sized portions.
7. 10 Minute Keto Cinnamon Sugar Donuts
Who knew you could still indulge in something like a donut while following the ketogenic diet, after all, donuts kind of scream carbs! This recipe proves with the right substitutions and ingredients you can indulge in the perfect keto-approved delicious donut.
Gourmet donuts are all the rage right now which is why having them for a Thanksgiving dessert would be a great idea. These particular donuts are coated in a savory sweet and cinnamon coating that even those who don't follow the keto diet, will love.
8. Low Carb Pumpkin Chai Mug Cake
I love relaxing with a cup of tea, especially chai tea. It's warm and perfectly spicy and fragrant. There's no wonder why the delicious flavors of chai tea would make an excellent ingredient for a cake.
For this cake, flavors of chai are paired with pumpkin and together they create a delicious Fall-flavored treat. This is a microwave mug cake recipe which means you can make single-sized servings for your guests (or just yourself) in a hurry!
9. Low Carb Chocolate Peanut Butter Dirt Cake
Pumpkin flavored desserts aren't for everyone and that's okay. This cake would be great for every chocoholic or anyone looking to try something new.
It has delicious layers that make this cake so addictive. It starts with a crumble cookie crust layer, topped with a peanut butter layer and then finished with a chocolate pudding layer. This is a quick and easy no-bake recipe that is incredibly easy to throw together and most importantly, keto-approved.
10. Keto Coconut Macaroons
Following one diet may seem hard enough but add in additional dietary restrictions of another diet and something like a dessert may seem next to impossible. This recipe is not only keto-friendly but also vegan-approved.
There is no trace of dairy, refined sugars or high carb ingredients in this recipe. Instead, this recipe using ingredients like almond flour, aquafaba, erythritol and dairy-free, sugar-free dark chocolate to keep that allow this dessert to fall in line with your diet. The ingredients sound bizarre but follow the recipe and you'll quickly discover how incredibly simple it actually is.
11. Keto Chocolate Chip Cookies
I've yet to meet someone who doesn't like ooey-gooey chocolate chip cookies. Although creating a chocolate chip cookie that is soft and chewy that also falls in line with the keto diet seems impossible, this recipe proves that it can be done.
This recipe also provides several tips and tricks if you need to make substitutions. For example, if you choose to substitute almond flour for coconut flour you'll need to use less coconut flour because a direct substitute with the same measurements can actually dry out the cookies. Make a delicious plate of chocolate chip cookies and share them with your friends and family for Thanksgiving.
12. Keto Chocolate Silk Pie
Believe it or not, you can still enjoy a delicious flaky crust while on the keto diet. This recipe might not appear diet approved but we assure you it is.
The crust is created with almond flour, granulated stevia, butter, an egg, and just a couple other ingredients. Once the crust has reached a beautiful golden color you'll know it's finished baking. Then, once the crust has fully cooled you can fill it with the delicious silky chocolate filling.
13. Keto Dessert Bark
Satisfying your sweet tooth and share a plate of dessert bark this Thanksgiving. This keto-approved treat is sweet, delicious and definitely high in healthy fats.
Coconut oil and peanut butter will skyrocket the fat content of this dessert. Dark chocolate and stevia will transform this recipe to be deliciously sweet. The best part is that this dessert stores well in the fridge for weeks so you can make this dessert well in advance.
14. Low Carb Apple Fritters
Apple fritters are a delicious treat and most definitely remind me of the season of Fall. I didn't think I would see a carb-loaded pastry like an apple fritter fall in line with the keto diet, but alas here it is.
Like many other desserts, these apple fritters remain low carb thanks to a combination of coconut flour and almond flour. To ensure they taste authentic to a true apple fritter they contain chunks of apple and are sweetened with keto-approved sweeteners.
15. Keto Peanut Butter Chocolate Bars
If you love Reese's peanut butter cups or all things chocolate and peanut butter then you will love these keto peanut butter chocolate bars. This treat will surely satisfying any sugar craving and would be a great addition to the Thanksgiving dessert table.
This dessert starts with a creamy peanut butter layer and is topped with melted sugar-free chocolate chips. It's rich and delicious and a great dessert choice that won't derail you from your diet.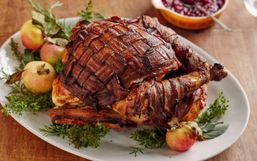 Thanksgiving preparation is hard enough, add in dietary restrictions and then the level of complications keeps rising.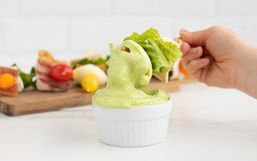 Let me start by answering the question I know you're wondering - "Is this dressing good enough that I should actually take the...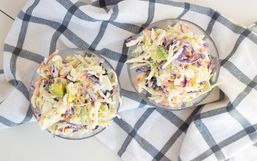 Coleslaw might be on the most beloved summer salads in North America. Why you ask? I have no idea.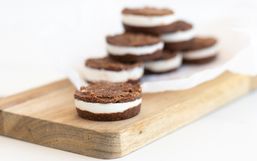 Fat bombs are an essential part of the Keto diet, allowing you to intake a large amount of healthy fats in just a couple of bites.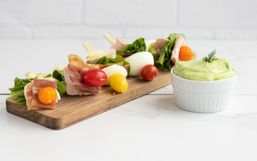 These little Cobb Salads on a Stick are all the deliciousness of a loaded cobb salad without the mess or need to sit down to enjoy...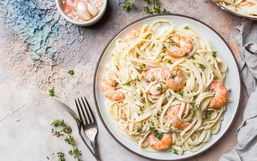 Some may have been lured into the keto diet for weight loss, while others may have been attracted to the idea of indulging in...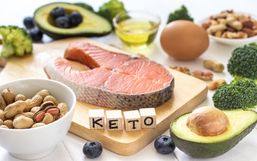 In short, the goal of the keto diet is to fuel your body with the right foods so that your body can enter a metabolic state called...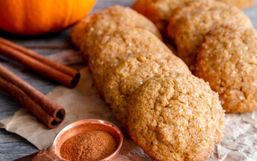 There is a lot to look forward to in fall. For starters, the crisp air brings on beautiful changing leaves, apples are ready to be...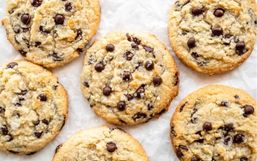 Following any diet alone can be hard but if you're able to encourage the entire family to participate you may be more inclined to...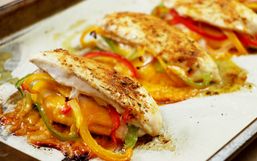 Following the keto diet means that you've committed to eating a diet that is high in fat, low in carbs and moderate in protein.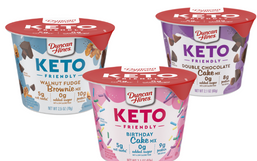 There's nothing better than the convenience of cake mix, especially for those that don't have that natural baking skill!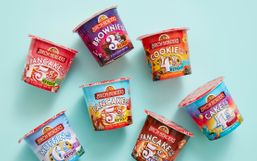 Attention keto-dieters, Birch Benders has a new lineup that you don't want to miss!