Thanksgiving preparation can be both exciting and exhausting. This lovely holiday is a chance for us to share a meal with those we love and take a moment to give thanks for everything we have. To prevent draining dinner preparations we have found some incredibly easy recipes! We'll cover recipes that range from sauces, appetizers, side dishes, and even desserts. What makes these recipes so easy is that they all require 5-ingredients or less! You'll love the shorter shopping list and the easier preparation too. Now, let's get cooking!
1. Cranberry Orange Sauce
Cranberry sauce is a must-have item at the Thanksgiving dinner table. Even if you don't love it someone at your table definitely will. Ditch the store-bought cans and make a homemade version.
It's sweet, and delicious and is easy to put together. You'll need only 3 ingredients for this recipe. These include oranges, fresh cranberries, and sugar. If you like to save yourself time, you could even create the cranberry sauce the night before and let it sit in the fridge until the big feast!
2. Easy 4-Ingredient Turkey Gravy
Right next to cranberry sauce, you're definitely going to need a savory gravy to pair with the Thanksgiving meal. This turkey gravy is so easy and only requires 4 ingredients, one of which is the turkey drippings. However, if you don't have enough drippings, don't fret you can use chicken stock too!
The turkey drippings will hold enough flavor that the only other seasoning you'll need is a bit of salt and pepper. It's thick, creamy and everyone will drown their plates in it.
3. 5-Ingredient Dinner Rolls
I mean, you could go to the store and buy store-bought dinner rolls, but there's something about homemade that is a lot more satisfying to make and to eat.
On the chance that you're feeling adventurous and want to create your own dinner rolls for Thanksgiving make sure you try this recipe. This no yeast recipe is incredibly easy and only requires 5 ingredients
4. Garlic Parmesan Roasted Broccoli
Creating epic side dishes is key to making a memorable Thanksgiving feast. To start you'll want to whip up these easy garlic parmesan roasted broccoli florets.
You'll need just 4 ingredients, broccoli, olive oil, parmesan cheese, and garlic. They'll roast on a sheet pan and will be perfectly cooked in just 15 minutes.
5. 5 Ingredient Corn Casserole
This 5-ingredient corn casserole is next to impossible to mess up! Essentially how it works is you take the 5 simple ingredients, mix them together, and transfer to a greased baking pan.
This dish is like corn muffins and creamed corn meet each other and morph into one exciting bite. Once you try it, it'll surely become a new traditional Thanksgiving dish.
6. Oven Roasted Butternut Squash
Roasted butternut squash might seem basic but trust us, it needs to be on your Thanksgiving table. It's so easy and the oven does all the work for you!
I love how simple this recipe is. There are no fancy seasonings or instructions all you need is a dash of salt and pepper, a bit of EVO, and a baking sheet. Once cooked, serve the fluffy baked squash with a dollop of butter.
7. Honey Roasted Carrots
Including a variety of vegetables with your Thanksgiving spread is important to pleasing multiple palates. For another enticing veggie side dish make sure to make these honey roasted carrots.
They're a lot more exciting than ordinary roasted carrots and are effortless to make. All you'll need for this recipe is sliced carrots, olive oil, honey, fresh parsley, and salt and pepper.
8. 3-Ingredient Cheesy Potato Casserole
This cheesy potato casserole is unlike any mashed potato dish you've had before. It's so easy you'll only 3 ingredients. This recipe also has a convenient make-ahead option that will make your Thanksgiving prep that much easier.
First, you'll boil the potatoes until their tender and then you'll peel off the skins. Once cooled you'll use a cheese grater to shred the potatoes. Mix with the other two ingredients and you'll have yourself a creamy cheesy casserole quickly.
9. 5 Ingredient Butternut Squash Fritters
Roasted butternut squash isn't for everyone. With that said get creative and enjoy a fall harvest vegetable such as squash in a new and unique way.
These butternut squash fritters so delicious everyone at your dinner table will gobble them up. To make the fritters you'll combine shredded butternut squash with egg, flour, and a few seasonings. They cook on the stove which means they won't take up precious space in the oven.
10. Green Bean Casserole
If green bean casserole isn't a staple dish at your Thanksgiving dinner then you need to make it one. It's creamy from the sauce and crunchy from the beans and fried onions.
Unfortunately, many green bean casseroles have a long ingredient list but thankfully we have found a simple recipe that requires just 4 ingredients! It's so easy it only takes 5 minutes to prep and you'll have this dish made quickly!
11. Lemon And Rosemary Roast Potatoes
Hasselback potatoes are awesome because this cutting technique allows all the flavors to seep into each layer of the potato. These mini roasted potatoes are thriving in flavor and texture.
They're seasoned with a melted butter, bold lemon, and fragrant rosemary. They're also crunchy and tender on the outside and soft on the inside, what is not to like?
12. Maple Cinnamon Roasted Sweet Potatoes
Searching for healthier side dishes? Then this recipe has your name on it. This simple recipe combines flavors of cinnamon and pure maple syrup and turns it into a drool-worthy glaze.
To roast the sweet potatoes you'll first want to cut them into cubes and cook in the oven on a sheet pan. That's the kind of simple we need in our lives.
13. 5-Ingredient Crock Pot Chicken And Stuffing
This recipe puts a fun spin on traditional stuffing. It is conveniently made in the slow cooker and only calls for 5-ingredients.
To build the layers in the crockpot you'll begin with boneless chicken breasts. Then you'll add shredded cheese, cream of chicken soup, and then finish by sprinkling stove top stuffing mix. This would be a great option if you're opting out of a turkey this year or even in addition to the big bird!
14. No-Bake Triple Layer Pumpkin Spice Pudding Pie
Dessert is an important part of the big Thanksgiving meal. We have found a couple desserts that are not only easy but are also only 5-ingredients.
To start we're sharing a no-bake recipe. It has exciting layers and a creamy pudding filling that everyone will love. The pumpkin spice flavors would be a lovely way to end your Thanksgiving dinner.
15. Easy 5-Ingredient Pumpkin Pie
Secondly, we're sharing a classic pumpkin pie recipe. Unlike some other recipes, this one is extremely simple and you'll only need 5 ingredients.
To save time, effort and ingredients you'll use a store-bought pie crust. Then, for the filling, all you'll need is canned pumpkin, sweetened condensed milk, eggs, and pumpkin pie spice. This dessert will come together effortlessly and will be a crowd favorite.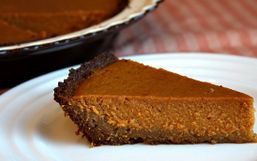 Living with celiac disease means gluten is your enemy. There is a social stigma that gluten free individuals chose to live that...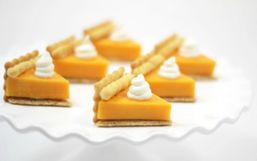 Thanksgiving is a time to connect with your family, friends, and loved ones.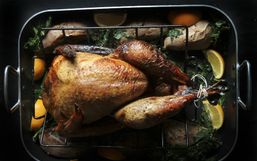 Turkey is really the star of the Thanksgiving meal. All the side dishes and desserts are there to complement the bird.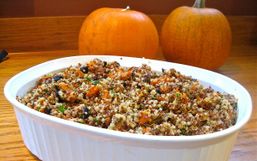 Thanksgiving is right around the corner, but it can be a difficult time for those with Celiac disease or who eat gluten free.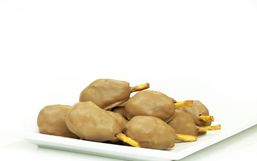 Easy bite sized dessert that can A) feed a crowd B) be made in advance C) look as cute as all get out on your Thanksgiving...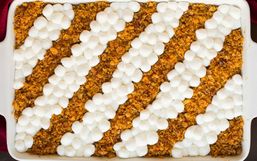 Thanksgiving is a time for family and friends to come together and share the bounty of the season, and of course to give thanks...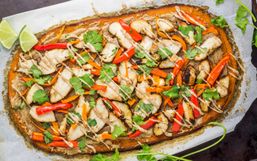 Thanksgiving is all about spending time with family and friends. Before you tuck into a big dinner, there are many appetizers to...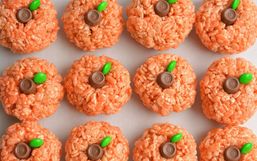 I love holidays because it gives everyone a chance to unwind and spend quality time with those you love.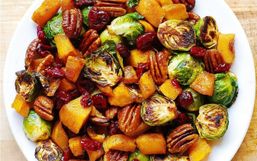 Like many holidays, Thanksgiving is an opportunity to spend quality time with friends and family.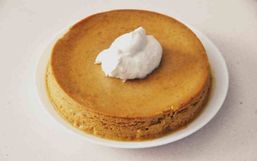 Holidays are the hardest times of the year to stay on track with your diet.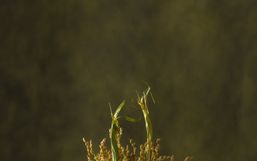 Have you volunteered to host Thanksgiving this year? If you answered yes, then we are here to help you!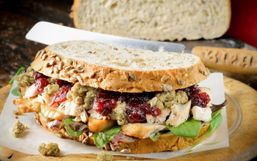 In addition to family time, one of the best things about a holiday like Thanksgiving is the food.