It's winding down, Christmas is nearly here. When it comes to the difficult to shop for, there's always a need for kitchen gadgets because whether they're a chef or just a foodie, there's a gadget that they're going to want or need. Each year more inventions come forth, some just for hilarity's sake, and some are legit a great kitchen tool. Regardless, this is going to be your stocking stuffer, Secret Santa, gift exchange party, unable-to-please-Mother-In-Law gift list!
1. Refrigerator Storage Mini Bins
These clip on drawers help everyone stay organized and happy with this often cluttered and frustrating part of the home.  Fridge organization!? That's a real thing? Woohoo!
2. Dishwasher Sign
No longer accidentally putting that coffee mug upside down on the top rack, only to have it drip down onto clean dishes because oops! you didn't realize it was a clean load of dishes. So basically, saving relationships everywhere.
3. Butter Crock
Keep your butter room temperate and fresh with a butter crock! Simply fill the "lid" of the crock with softened butter and the bottom bowl with fresh water. The water seals the butter's surface without absorbing, making fresh toast-worthy butter every single day.
4. Clever Tongs
These are the tongs you didn't know you needed!  With a non-slip surface, you'll be able to grip it and flip it or scoop it and serve it. To store, you simply lock the ring in place so that the food tongs stay in a closed position.
5. 8-In-1 Kitchen Tool
It's literally everything you could ever need. Also, don't take us saying "literally" too literally. But this is a pretty amazing tool. Between grading, measuring, funneling, mashing, separating and all the "ings" this will make anyone with a kitchen, a happy camper. Oh, and it can be a vase too!
6. Multi-Tier Oven Rack
So you've got a turkey, a pie, a casserole or two and only one oven. Hold your "uggghhhhs", there's a solution here!! Holiday dinners never went so smoothly.
7. Silicone Egg Yolk Separator
Tired of broken eggshells falling into your cake batter? Separate egg yolks with ease using this YolkFish egg yolk separator. It's easy to use and when you're done you can toss it in the dishwasher to clean!
8. Kitchen Gizmo Snap N' Strain Strainer
Take the strain out of straining and ditch the bulky strainers altogether because this kitchen Gizmo Snap N' Strain Strainer needs to be in your kitchen. Made with heat resistant silicone, this gadget will ensure your food is fully strained without having to transfer the food out of the pot.
9. Air Fryer
You've probably heard all the buzz about air fryers lately, and it's for good reason – it simply "fries" your food with circulated air. No more deep frying in high-fat oils!
10. Dual Breakfast Sandwich Maker
Who needs the drive-thru when you can make your own breakfast sandwich at home with the help of this Hamilton Beach Dual Breakfast Sandwich Maker. This gadget can have breakfast ready in as little as 5 minutes! It fits English muffins, most bagels, and biscuits.
11. Avocado Slicer
It may seem like a small little something, but it can make a world of difference for the avocado lover. Plus, it makes food much more #foodgram worthy when it comes out perfectly every time.
12. Electric Spiralizer
Spiralizers hit mainstream a couple of years back with a wave of people giving up carbs and swapping them for veggies. While spiralizing is a pretty easy thing to do by hand, it can be time-consuming when making a large batch. This electric gadget will definitely come in handy for the busy, but health-conscious on your list.
13. Silicone Boil Over Safeguard
Are you tired of your pots boiling over? Say no to mess and use these silicone boil-over safeguards. These safeguards will help you cook pasta, rice, soup and more without the mess or stress!
14. Taco Holder
Turn taco night into a fiesta with these innovative taco holders. They help you build your tacos but without the mess!
15. Retro Breakfast Station
Know someone who's always hustling out the door in the morning? Simplify their life, with this retro kitchen appliance. It can brew coffee, toast your bagel, and cook a freshly cracked egg all in one!
16. Vegetable Chopper
Say hello to perfectly cut fries, chopped onions and more! This vegetable chopper will help you cut veggies with ease and even comes equipped with a 1.2-liter container that allows you to chop, and serve!
17. Clean Dreams Kitchen Sponge Holder
Every sponge needs a resting place right? While this gift may make your bestie laugh, it's still practical! Once your dishes are sparkly clean you can lay your sponge to rest for a good night's sleep! The bed fits any standard size sponge and is even dishwasher safe.
18. Soap Opera Sponge Holder
As if the sponge holder bed wasn't cute enough, you can gift your bestie this adorable Soap Opera Sponge Holder! Keep your scrubbers dry and clean!  This fun and functional gift will surely be a hit.
19. Customizable Cookie Stamp
This is a year-long tool that helps the baker stay seasonal and personalized with every batch. Ours would all be stamped with instructions: "only eat one"!
20. Herb Savor Pod
Don't let your fresh herbs and asparagus go to waste and store them in a Prepara Herb Savor Pod! The pod allows the herbs to breathe at perfect hydration levels which will help prolong their life. With a built-in tethered filler cap, you'll be able to provide your herbs with freshwater effortlessly — no more replacing that damp cloth!
21. Bag Sealer
How many drawer spaces are you going to free up when you toss all those chip clips and elastics in exchange for this little gadget. Heat sealing the bags back together ensures fresh snacks inside, every time. This also helps when you are trying to limit yourself from eating an entire bag of chips because "you don't want to waste food".
22. Instant Pot
If you don't have an Instant Pot by now, it's about darn time that you get one! The new innovative Instant Pot's are nothing like your grandmother's pressure cooker. Not only are they safer but they have tons of other features too such as can replace your slow cooker, rice cooker, sauté pan, steamer basket, and they can even make yogurt too!
23. Fruit And Vegetable Slicer
Slice bananas, cucumbers, and more with ease using this fruit and veggie slicer. You could even use this helpful gadget to slice sausages effortlessly. It's easy to use as you simply have to place the banana in the middle, squeeze the handle, and voila you'll have perfect and even cut slices.
24. Bicycle Pizza Cutter
Every pizza-lover will love this fun and practical gift. Made of high-quality stainless steel, this bicycle pizza cutter will slice your pizza with ease! Better yet, once you're done throw it in the dishwasher to clean it effortlessly.
25. Food Chopping Scissors
This innovative design combines a cutting board, a knife, and a pair of scissors into one impressive kitchen gadget! Chop and slice veggies, fruits, cheese, meat and more in seconds.
26. Instant Pot Vortex Air Fryer Oven
The Instant Pot Vortex is more than an air fryer, it can bake, roast, toast, broil, dehydrate, and rotisserie too. This small oven will fit perfectly on your countertop and unlike a convection oven, the Vortex won't heat up your kitchen!
27. Watermelon Slicer
Watermelon is delicious but it isn't easy to cut! Slice watermelon with ease using the Yueshico Watermelon Slicer. As a bonus, this comes with a melon baller scoop so you can create a restaurant-quality presentation!
28. Angry Mama Microwave Cleaner
Clean your microwave effortlessly with the Angry Mama Microwave Cleaner! Simply fill her up with vinegar and splash of lemon juice to steam clean your microwave. Once finished, you'll be able to wipe your microwave clean effortlessly — no more elbow grease!
29. Ninja Foodi
The Ninja Foodi is a multi-cooker that can air fry and pressure cook! So not only can you pressure cook your food to lock in savory juices but you can also crisp your food to perfection after. More than that you can also steam, bake/roast, slow cook, sear/sauté, and make yogurt! Finally, a gadget that can do it all!
30. Master Pan
Truly, the master of them all…with the ability to cook all different kinds of foods on one pan, with a divider between each section. It also comes with the added bonus of no kids whining saying "ew that foods touching the other food!".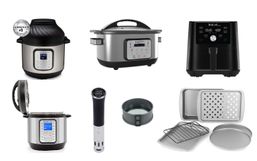 It seems like everyone and their best friend has an Instant Pot these days.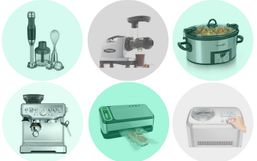 Kitchen gadgets are some of the most fun and exciting tools to buy for your home.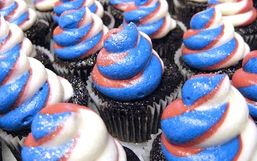 Fourth of July is just a few weeks away and many people have already started their party planning for this festive holiday.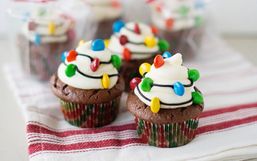 Cupcakes are relished all year round. You can enjoy them for birthdays, holidays, any celebration really, or to treat yourself!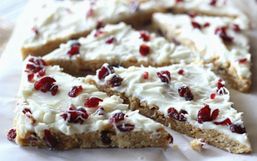 Call me eager but as soon as Halloween is over I'm ready for Christmas!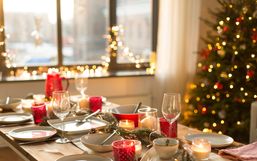 So you've volunteered to host Christmas dinner this year. The initial voluntary statement may have sounded exciting but if you...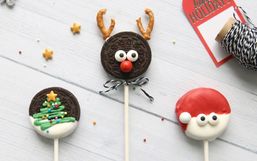 Snacks are crucial for everyone. They keep us full in between meals and quench our cravings.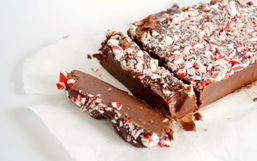 My favorite thing about the holidays is time spent with family, however, my second favorite thing has to be the delicious food!
The holiday season seems to creep up on us each year.  After all, we're busy gift shopping, grocery shopping and preparing menus...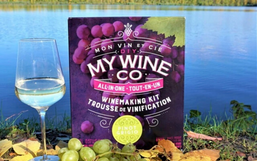 Touring a winery is not only a fun outing but will make you appreciate your beloved wine that much more.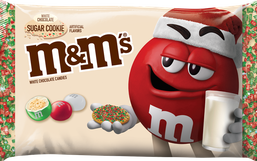 Merry Christmas... in July?! Yes, Mars, Incorporated wants to get you in the holiday spirit early this year!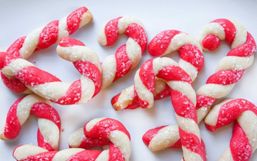 Looking for Christmas-themed food ideas for the annual office potluck party?