Candy canes are basically a Christmas holidays mascot. The peppermint candy sticks with a hook on the top, so you can hang them on your trees are a traditional held for 250 years if you can believe it! They began as a straight sugar candy stick, with the wintergreen and peppermint flavors being integrated in the 1900's. The story of their shape and why they have that "cane" appearance varies, but the tradition remains. Candy canes at Christmas. It's just, tradition is cool and everything – but we can always improve on a good thing! These recipes combine the tradition, with baking, drinking, celebrating and a whole lot of Christmas spirit.
1. Candy Cane Vodka
Of course I'm going to start the list here. I mean, lets get the party started – am I right?! And yes, it's as easy as it sounds – candy canes and vodka in a jar. Mason jars are for more than just storing spaghetti sauce you know.
2. Candy Cane Reindeer
An easy no-bake recipe the kids can join in on too. If the kids are joining and you're a little OCD about how perfect these should look, please refer to recipe #1.
3. Chocolate Cupcakes With Candy Cane Buttercream Frost
Time to get smashy!! Break up those candy canes and use them as a sprinkle topping on these incredibly delicious cupcakes. Chocolate and peppermint never looked so good, and festive.
4. Candy Cane Hot Cocoa Pops
Go grab those dixie cups from your bathroom counter and get these bad boys whipped up. Wrapped they make the perfect little handout, perhaps a party takeaway, bake sale item, neighbor treat or cookie/treat exchage. Each receiver then can make a hot chocolate using the pops with an edible treat at the end – a candy cane! It's the gift that keeps on giving.
5. Candy Cane Chocolate Pops
Awwww, well look at that sweetness. Two candy canes equals, a heart! They also make for the perfect mold for little white chocolate pops! Simple and easy, but charming and impressive. Who doesn't want to grab one of these?
6. Candy Cane Drop Cookies
I love drop cookies! The "drop" means: no rolling, no cutting, no talent required. Stop, drop, and bake! The candy canes crushed up adds the special crunch in each bite.
7. Candy Cane Fudge
Hold on, one big thing to note here – besides it being freaking fabulous fudge…with candy canes…it's made in fiiiiive freaking minutes. Yes, 5!
8. Slow Cooker Candy Cane Cocoa
Set it, and forget it…but you won't be able to forget it, and neither will your guests. This hot cocoa is made in large batch form in a crock pot in a couple of hours of slow cooking delight and served up with whip, and crushed candy canes.
9. Candy Cane Cake
The triple "C"! How absolutely incredible will this look as the centerpiece/star-of-the-show at your holiday dessert table?
10. Candy Cane Truffles
Truffles always look so impressive, don't they? When in reality, they can be an very simple treat to whip up. Rolled in crushed candy canes, it makes them look flawless, festive and fun. Plus, a peppermint chocolate finish to any meal is exactly what everyone wants and needs. Peppermint is good for digestion, and chocolate is good for the soul. It's practially medicine, guys.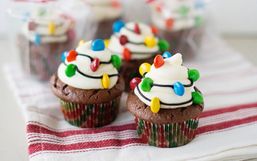 Cupcakes are relished all year round. You can enjoy them for birthdays, holidays, any celebration really, or to treat yourself!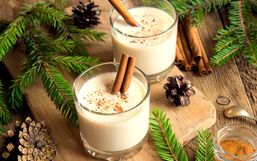 Eggnog can be a hot topic over the holidays. Some tend to think it's a disgusting concoction, while the rest of us are swooned by...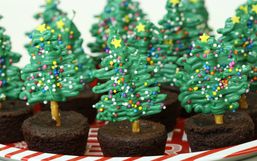 We've all been there. You need to bring a dessert to a Holiday function and you're lacking time, or general baking skills.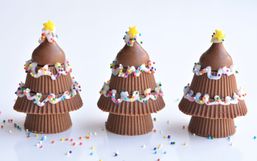 There's something...well...magical...yes, Christmas magical about a Reese's Peanut Butter Cup.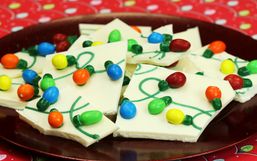 Chocolate barks are my absolute favorite go-to for large batch treats you can store for weeks and hand out as needed to neighbors,...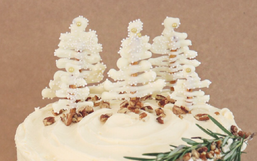 Last year, we created these adorable festive Christmas Tree Brownies, and well...the video recipe for them went viral overnight!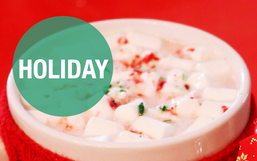 It's that time of year, the season of giving. It's magical and wonderful - and oh, don't forget the mailman!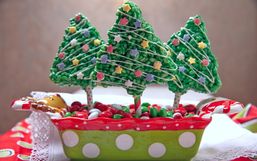 The best part about Christmas for any kid (or adult for that matter) is the delicious treats that pop up everywhere.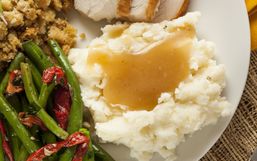 The centerpiece for your Christmas dinner is a great turkey or ham, but the side dishes are just as important.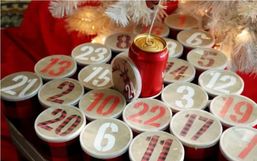 Christmas has this tendency to sneak up on us each year. It approaches at a fast rate and before we know it the big day has...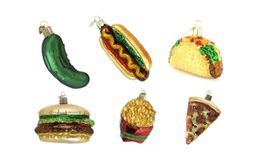 Decorating the tree always gets me into the mood for the holidays. As soon as the tree is up I'm in full force Christmas mode.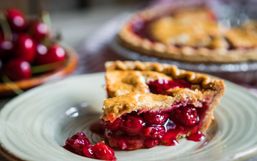 Christmas pies are a delicious addition to the holiday season. While we love the classic pumpkin pie, there are a ton of other...