If you're looking for something tasty but healthy, while being easy to make and serve – this one's for you. I recently served this dish for a weeknight dinner party (which, is a challenge in and of itself coming home after work, and with kids running about, so an easy recipe is key to success here!) and this curry, it was devoured. With, I might add – rave reviews. Phew. Exactly what every home cook needs to hear – that THAT was a kick*ss dinner. With a fairly simple amount of prep, and just some simmer time on the stove (the perfect amount of time to pour some wine, and get the table set) this dinner will be served up family dinner style, right from the pot you cooked it in. The only other dishes you'll be making are the one's you eat off of. Try this vegan Thai curry tonight, you definitely won't regret you did. Heck, I made this twice in one week…and ate the leftovers for lunch!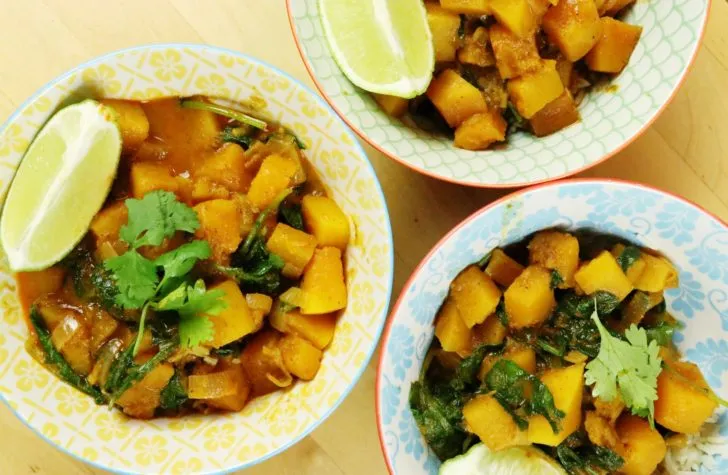 Ingredients
1 tbsp coconut oil
1/2 red onion or 2 small shallots, chopped
2-3 cups butternut squash, cubed
1 tbsp freshly grated ginger
3 tbsp Thai red curry paste
2 tsp yellow curry powder
1 (15oz) can coconut milk (regular or light is fine)
3/4 cup vegetable broth
2 tsp maple syrup
4 cups fresh baby kale (chopped regular kale, stems removed is also great)
Basmati Rice (or cauliflower rice for low-carb), Lime wedges, Cashews & Cilantro for garnish *optional*
Equipment
Large stove top skillet
Aluminum Foil
Method
In your skillet, melt your coconut oil over a med-high heat. Add in the chopped shallots/onion and saute until they are slightly translucent and golden. Add in the fresh ginger and butternut squash and stir to coat in the coconut oil.
Add the red curry paste and the powdered yellow curry and mix until your butternut squash is well coated. Cook for another 2-3 minutes.
Add in your broth, coconut milk and maple syrup. Let the sauce come to a simmer, then cover with foil and let it continue to cook on a low-medium heat until the squash is tender (approx 20-25 minutes).
Uncover, and stir in your kale and cook until it's wilted.
Optionally, serve over basmati or cauliflower rice, top with cilantro, lime wedges and crushed cashews.
The paleolithic diet, also known as the paleo diet, the caveman diet, or the stone-age diet is a meal plan that predominately...
Being paleo means no grains, being vegan means no animal by-products. Well, frig.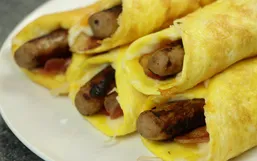 Game changer recipes are my absolute favorite. One simple concept, that absolutely changes the way you cook forevermore.
Sweet potatoes are definitely an all-year-round vegetable to enjoy, but somehow it's just much more popular in the fall and winter...
Whole30 is an eating plan that can actually become a lifestyle depending on how you approach it.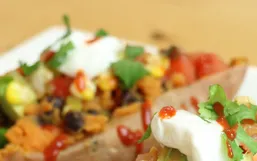 For starters, we are not trying to claim that this recipe somehow mimics a hard shell crunchy meat taco with all the fillings.
Two years ago I received a Dutch oven as a Christmas gift. To be honest, I wanted one because they were a trendy piece of cookware...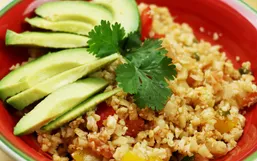 Not long ago we ventured into swapping cauliflower for rice while trying out the oh-so-popular ketogenic diet (read more about it...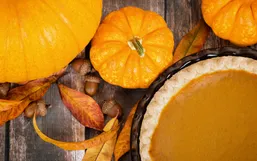 When I think about pumpkins I often find myself reminiscing or wishing it was the season of Fall.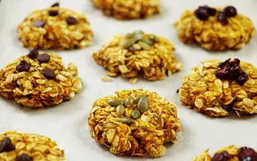 When we think of pumpkins we are often quick to bring our minds to fond memories of pies, lattes and carvings, right?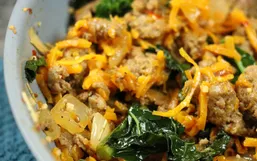 First things first, do you own a spiralizer? If you don't, now's the time to scoop one up. Go ahead, "add to cart"...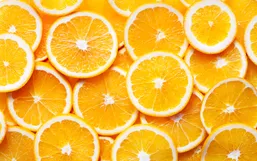 Surely you've heard the word antioxidant thrown around time and time again.