Game changer recipes are my absolute favorite. One simple concept, that absolutely changes the way you cook forevermore. Nothing better. Using cooked eggs as the wrap of your breakfast sandwich, because it holds together perfectly (I mean, we use eggs as a "binding agent" in baking recipes all the time!). You cut the carbs (so long, tortillas!) and you still get all the breakfast goodies you know and love. If you're a keto-dieter, this one is perfect. High fat, high protein, low carb.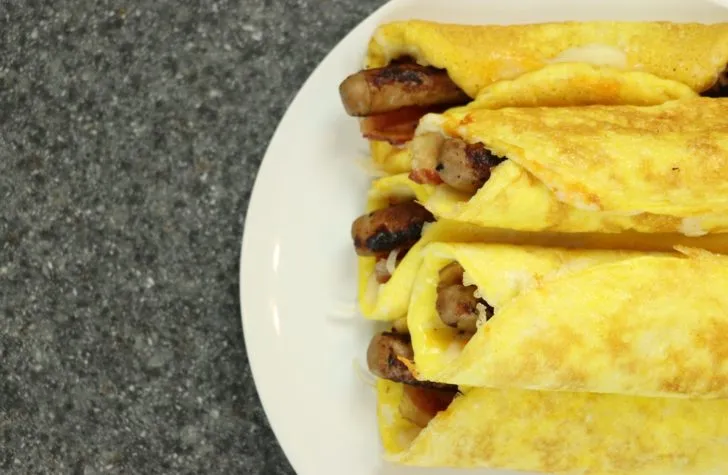 One thing we really fell in love with, was when making these – they worked perfectly for batch cooking. Make 5 of these rolls, enjoy one on Monday, and freeze the rest for a week of easy breakfasts. Cook once, eat 5 times. WIN.
I wish I could say that I ate all 5 of these, but my son got bacon and sausage heart eyes at these, and suddenly they were gone…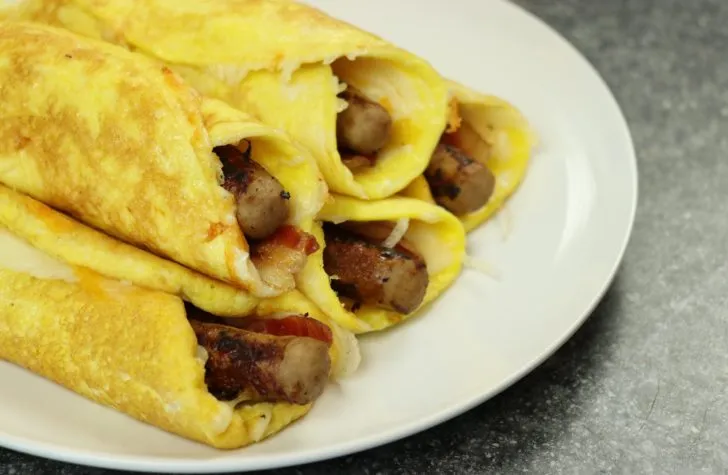 Ingredients
10 eggs
10 pre-cooked breakfast sausages
5 slices pre-cooked bacon
1-2 cups shredded cheese
Non-Stick cooking spray
Equipment
Small round frying pan (with lid for faster cooking)
Ziploc bag (if storing for later)
Method
Spray your pan with non stick cooking spray and pre-heat to a medium high. Two at a time, whisk your eggs and pour into a small round frying pan (this is key so it keeps a smaller wrap sized shape). Let the eggs cook without flipping (covering with a small pan or pot lid will help here).
Once the eggs are cooked, top with shredded cheese while still hot (again to make this faster - use a pot lid to melt the cheese).
In the center, place one strip of bacon, and two breakfast sausages. Let cool enough to handle.
Lifting at one side, begin to roll the egg wrap. The cheese will help "seal" the edges.
Enjoy immediately, or let cool completely and store in the freezer for easy microwave-friendly breakfasts.
The paleolithic diet, also known as the paleo diet, the caveman diet, or the stone-age diet is a meal plan that predominately...
Being paleo means no grains, being vegan means no animal by-products. Well, frig.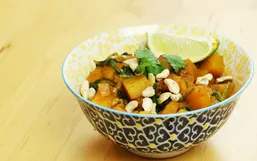 If you're looking for something tasty but healthy, while being easy to make and serve - this one's for you.
Sweet potatoes are definitely an all-year-round vegetable to enjoy, but somehow it's just much more popular in the fall and winter...
Whole30 is an eating plan that can actually become a lifestyle depending on how you approach it.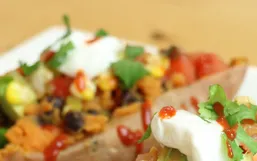 For starters, we are not trying to claim that this recipe somehow mimics a hard shell crunchy meat taco with all the fillings.
Two years ago I received a Dutch oven as a Christmas gift. To be honest, I wanted one because they were a trendy piece of cookware...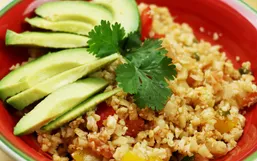 Not long ago we ventured into swapping cauliflower for rice while trying out the oh-so-popular ketogenic diet (read more about it...
Nothing quite compares to a good ole homecooked meal but sometimes life gets busy. That's where fast-food comes in!
Alright Taco Bell fans, you're in for a treat today! You can now take your favorite Taco Bell flavors on the go with you with the...
Following a low-carb ketogenic diet is no easy feat especially when temptation is everywhere from fast-food restaurants to the...
Following a diet is never easy -- it requires planning, motivation, and most of all, dedication.