Christmas breakfast and brunch are a great family tradition. Christmas morning is chaotic, with children waking up early to see what Santa has brought them. It can be hard to find time for a good breakfast when you're busy unwrapping presents and getting ready for guests later that day. We love the idea of a Christmas brunch family tradition, where everyone has to sit down and eat together. To make breakfast faster, and still special, we adore casseroles and quick recipes.
We collected our top 10 user submitted Christmas breakfast and brunch recipes. What is your Christmas morning tradition?
*Click on the image to view the recipe.
10. Hot Cross Buns
Hot cross buns are a Christmas classic. These soft buns are lightly spices and are speckled with dried currants and other fruit. Buying them from the store can be expensive, so impress everyone by making these at home. They'll be even tastier!
9. Breakfast Casserole
Breakfast casserole is a great option for Christmas morning. You can whip it up in a snap, and it freezes great for later. Add vegetables and spices to make it unique. We think a Tex-Mex flavor would be great. Make the sausage with taco seasoning, and top with peppers and salsa.
8. Chocolate Pancakes
Pancakes are a great breakfast. They're filling and relatively fast to make. These chocolate pancakes are a unique and delicious play on the classic dish. Top with fruit, chocolate sauce, or chopped nuts.
7. Tomato and Feta Tart
This savory dish would make a great breakfast. Roasting the tomato really brings out the flavors, which is a great option for tasteless winter tomatoes. Feel free to fill the tart with your favorite fillings.  Make it even richer with an egg filling.
6. Eggnog Pancakes
These pancakes are light and fluffy on the inside and just shy of crispy on the outside. They're loaded with the sweet, custard-y flavor of eggnog. Try them with cranberry syrup for an extra Christmas-y flavor.
5. Salmon Eggs Benedict
Eggs Benedict are a great choice for Christmas brunch. They're filling and luxurious, with the luscious Hollandaise sauce. To make breakfast even faster, you can buy powdered Hollandaise sauce that's a cinch to whip up without fear of failure.
4. Oatmeal Cookie Pancakes
This pancake recipe is a play on the comforting flavor of oatmeal cookies. This would be a great Christmas breakfast for young children who can be really picky. Serve with real maple syrup for a dish both kids and adults will adore.
3. Ham and Cheese Breakfast Bake
This ham and cheese breakfast bake recipe is a great starting point for making your own signature variation. The bread soaks up the egg mixture, making a cross between stuffing and french toast. Add in vegetables to make it even more filling.
2. French Toast Bake
This creamy, decadent French toast casserole is a great choice for feeding family and guests. Serve topped with a dollop of whipped cream for a delicious breakfast that tastes more like dessert! The hands-on time is only about 15 minutes, so this is easily prepared the night before serving.
1. Ham and Swiss Quiche
We love quiche for breakfast and brunch. The creamy egg custard makes it a really special dish. The recipe calls for half and half, which is a light cream of 10%-13% fat. You can make this ingredient yourself by mixing half heavy cream with half milk.
Cupcakes are relished all year round. You can enjoy them for birthdays, holidays, any celebration really, or to treat yourself!
Eggnog can be a hot topic over the holidays. Some tend to think it's a disgusting concoction, while the rest of us are swooned by...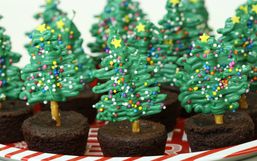 We've all been there. You need to bring a dessert to a Holiday function and you're lacking time, or general baking skills.
There's something...well...magical...yes, Christmas magical about a Reese's Peanut Butter Cup.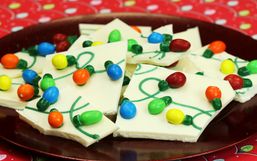 Chocolate barks are my absolute favorite go-to for large batch treats you can store for weeks and hand out as needed to neighbors,...
Candy canes are basically a Christmas holidays mascot. The peppermint candy sticks with a hook on the top, so you can hang them on...
The holidays are known to be the hardest season of the year in terms of the age-old battle of the bulge.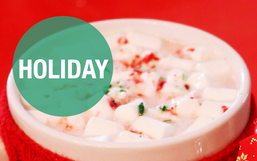 It's that time of year, the season of giving. It's magical and wonderful - and oh, don't forget the mailman!
The best part about Christmas for any kid (or adult for that matter) is the delicious treats that pop up everywhere.
A Christmas cake is the centerpiece of your holiday meal. After you're stuffed with turkey and all the fixings, the only thing...
Christmas has this tendency to sneak up on us each year. It approaches at a fast rate and before we know it the big day has...
Christmas pies are a delicious addition to the holiday season. While we love the classic pumpkin pie, there are a ton of other...