Let's face it, Starbucks is highly addictive. With their long lists of beverages and delicious meals and snack bar, they have everything to make your on-the-go needs that much better. Their luxury food items are delicious but do come with a pretty price tag.
For some Starbucks is a special treat but for those who make it a daily routine, those dollars can quickly add up. Copycat recipes allow the luxury of being able to make a delicious favorite in the comfort of your own home! Who wouldn't find that absolutely appealing? We have found 15 Starbucks copycats that you can start making at home. Enjoy your favorites while saving money!
1. Passion Tea Lemonade
Starbucks Refreshers are one of the most refreshing (obviously) drinks on the menu. They often come in a variety of flavors that can seriously quench your thirst and make you dream of Summer regardless of what season it is. Among the many flavors, Passion Tea Lemonade is one of the most popular.
This Starbucks copycat is so easy you'll only need 4 ingredients plus some water. To make it as authentic as possible you'll want to start by purchasing Tazo Passion tea bags which you can find at several supermarkets. Then it's as easy as boiling the water, steeping the tea with sugar and honey (agave for vegan) and then refrigerating to chill. The last step is to combine lemonade with the cold brewed tea for a true passion tea lemonade copycat.
2. Cranberry Bliss Bar
Have you ever enjoyed the popular Cranberry Bliss Bar? If you have, you know how darn good and addictive they are. This recipe makes for a great replica, and if you serve them to friends and family they'll most likely think you picked them up the real deal.
What makes these bars so special is their sweet flavor and soft texture. The base is made up of flour, white chocolate chips, craisins, a bit of vanilla and orange extract and a few other enticing ingredients. The icing on the cake is the sweet frosting. This is made from cream cheese, powder sugar, and a couple other simple ingredients. These bars not only looking stunningly beautiful but they taste wonderful too.
3. Iced Caramel Macchiato
Caramel Macchiatos taste fantastic both iced and warm at Starbucks. But in this case, the copycat is an amazing recipe for the iced variety. This drink is so appealing because it has layers of espresso, creamy milk and the best part of the drink, a caramel drizzle on top.
This drink starts with a cup of ice and you'll want to add vanilla syrup for flavor and added sweetness. Now to make this recipe convenient for everyone you can use instant espresso, after all, not everyone has an Italian chef-approved espresso maker. Before you add in the espresso you'll want to add the creamy layer of milk. This recipe even provides tips and tricks to pour the espresso perfectly without depleting the beautiful layers.
4. Instant Pot Starbucks Copycat Egg Bites
For many, Starbucks is their go-to morning stop before work. On those rushed mornings where you don't have time to make breakfast Starbucks often comes to the rescue with their food menu. Their food items are delicious but once again combine that with a beverage and you're looking at an expensive pit stop.
This recipe is a replica of Starbuck's popular Egg Bites filled with fire-roasted red peppers, spinach, and cheese. To make things even faster and convenient these Egg Bites are made in your Instant Pot with only require a few simple ingredients. Plau, they keep in the fridge for a full week, so make them on the weekend for easy on the go breakfasts for those busy mornings!
5. Peppermint White Chocolate Mocha
For special occasions or holidays, Starbucks will often release a specialty drink for a duration of time. This recipe is a copycat for their holiday Peppermint White Chocolate Mocha beverage. By making this recipe at home you will not only save money but you can enjoy it any time of the year too.
To achieve the perfect Peppermint White Chocolate Mocha you'll want to combine espresso with milk and peppermint white chocolate syrup. There's even a recipe to make the peppermint white chocolate syrup so you won't have to purchase the store-bought variety. Don't forget the whipping cream and sprinkle of crush peppermint candy to garnish your drink!
6. Starbucks Spinach Feta Wrap
Starbucks has many food items that are great for breakfast, lunch or on-the-go snacks. One of those popular food items happens to be their Spinach Feta Wrap. This copycat recipe only calls for 6 ingredients and will come together in just 7 minutes.
The wrap starts with a flour tortilla that is filled with wholesome and flavorful ingredients. Some of those ingredients include cooked egg whites, creamy mozzarella, feta cheese, sundried tomatoes and fresh spinach.
7. Pumpkin Spice Latte
Pumpkin Spice Lattes, aka the PSL, are another specialty at Starbucks and might just be the most popular one of all. When fall rolls around everyone is quickly lining up to get their pumpkin spice fix. However, with this recipe, you'll be able to make this whenever you want!
This beverage contains pumpkin puree that provides an authentic flavor. You'll want to make this latte on the stovetop in a saucepan so all the ingredients can morph together to create a sweet and savory drink. To finish the beverage you could even add a dollop of whipped cream and sprinkle pumpkin spice or cinnamon to garnish.
8. Pumpkin Spice Scones
To pair with your Pumpkin Spice Latte you'll have to try these copycat Pumpkin Spice Scones. Starbucks does an excellent job at creating delicious desserts that keep you coming back for more. Although, there's something special about baked goods that come from your own kitchen and not to mention will save money in your wallet too.
Scones are relatively easy to make and these pumpkin spiced flavored ones surely won't disappoint. The scones contain real pumpkin puree, no artificial pumpkin flavors invited here! The pumpkin spice flavors come from cloves, ginger, nutmeg, and cinnamon.
9. Caramel Apple Spice Cider
Caramel Apple Spice Cider is another fall favorite at Starbucks. The common Starbucks drink uses apple juice instead of actual cider but if you have the cider on hand you can go ahead and use it! If apple juice is all you have then that is ok too.
In this recipe, you'll also find a homemade cinnamon syrup recipe that will seriously enhance the drink. You can make this drink either on the stovetop in a saucepan or in the microwave, whatever is easier for you. Once your apple juice (or cider) is heated you'll want to transfer it to a mug, add a generous helping of whip cream and top it off with an easy-to-make caramel sauce.
10. Lemon Loaf
Along with Starbucks many treats they offer, the Lemon Loaf is among some of the most famous ones they make. What makes lemon loaves so exciting is its cheerful flavor and soft bread like texture. The icing just puts it over the top and keeps you coming back for more.
With this recipe, you can make your own Starbucks copycat Lemon Loaf at home. The secret to creating a soft and moist loaf is to add greek yogurt. This loaf also includes lemon pudding mix to make it extra sweet and flavorful. Save it for yourself or share with the whole family!
11. Mocha Frappuccino
My biggest weaknesses are coffee and chocolate. If you're like me then the Mocha Frappuccino is a dream come true. It combines coffee and chocolate and blends it up into a slushie-like cold beverage that you'll be dreaming about time and time again.
This recipe keeps things simple when recreating a Starbucks classic. To create the Mocha Frappuccino you'll blend espresso with sugar, milk, dark chocolate syrup and ice. The secret ingredient, if you choose to include it, is xantham gum. It's commonly used as a thickening agent. Then, add whip cream to finish off your perfect copycat drink.
12. Bacon, Egg, Gouda Breakfast Sandwich
When it comes to Starbucks, another popular breakfast item is the Bacon, Egg and Gouda Sandwich. They may be delicious but their convenience comes with a hefty price tag that can add up over time. It's made of simple ingredients which makes it an awesome copycat recipe to try at home.
This recipe promises the same fluffy eggs and ooey-gooey cheese. Don't forget to add the salty bacon all combined onto a crusty roll. Once you see how easy it is to make, you'll be bound to make this recipe on repeat.
13. Oat Bar
Oat bars are one of my favorite treats from Starbucks. They're great because they're perfect for snacks but filling enough to be a quick on the go breakfast bar too. Oat bars don't exactly appear very exciting with their beige color, however, it's the flavor is what truly shines.
They contain simple ingredients like brown sugar, almond milk, quick oats and a few other ingredients yet they still offer a rich bite. Make sure to blend the oats in a food processor until they resemble a fine flour to ensure your oat bars achieve the right consistency. What makes this recipe awesome is you can make them once and enjoy all week long.
14. Roasted Tomato Mozzarella Panini
Roasted Tomato Mozzarella Paninis are another Starbucks classic. It's a simple sandwich where the fresh ingredients are squished in between to fluffy pieces of bread. The simplicity and bold flavor are what make it so desirable. Considering it's so easy to make you can save your money and make this one at home.
You can purchase store bought bread or you can make your own homemade focaccia bread that is included within this recipe. The underlying delicious flavor comes from a basil pesto that is spread onto each piece of bread. You won't want to skip the step of baking the tomatoes because this will add a deliciously roasted tomato flavor to your sandwich. Then all you'll need is fresh spinach leaves and mozzarella cheese to complete this sandwich. To make it extra ooey-gooey delicious bake the sandwich for 5-10 minutes after you've assembled it.
15. Unicorn Frappuccino
Remember when Unicorn Frappuccinos were all the rage? Well really, they're still being talked about. This Instagram-worthy drink is stunning but does come with a ton a sugar so you might just want to make this one for a special treat. It may have been a limited-edition but with this recipe, you can make them whenever you please.
For those that had the opportunity to try this remarkable drink know how sweet they were. This recipe takes on the same flavors of the unicorn frap but alters a few ingredients to help make it a little healthier. For example, you'll sub dairy milk for coconut and almond milk and the white chocolate drizzle for a homemade coconut honey drizzle. This recipe also uses all-natural color powders, the less artificial colors, and flavors the better!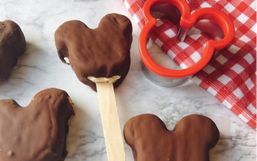 When planning a Disney vacation it's important to plan a well thought out itinerary.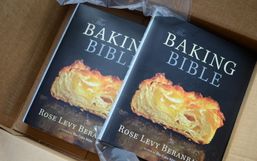 If there's one thing I never feel guilty about buying it's cookbooks, after all they serve a pretty important purpose right?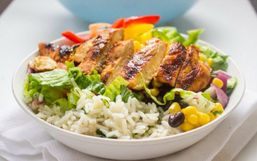 Have you ever gone out for supper, eaten the best food you could think of and then crave it for weeks to come?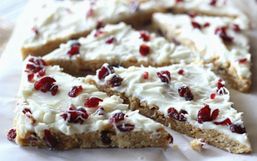 Call me eager but as soon as Halloween is over I'm ready for Christmas!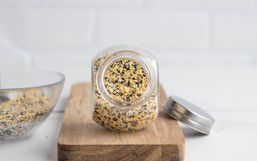 Purchasing boxed/bagged food products from the grocery store is convenient, however, I truly believe nothing compares to the...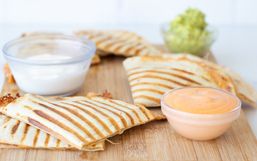 One of my favorite takeout meals is burritos. I love that you get to totally customize a burrito to your liking - from the...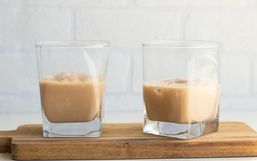 Bailey's Irish Cream anyone? So delicious. Irish Cream Liqueur is a summer drink staple, whether it's in your coffee at the...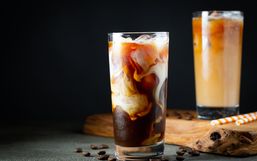 Summer is the most anticipated season of the year! We can enjoy the outdoors, dig into delicious BBQ, and of course, indulge in...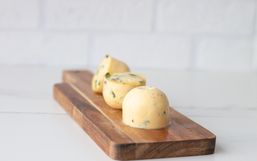 Many of us start our day with a trip to Starbucks and fuel our day with a cup of coffee.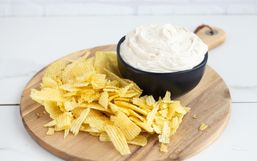 Is anybody else obsessed with Heluva Good Dip? I'm seriously addicted.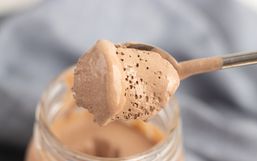 We love a good copycat recipe here at Forkly and this Wendy's chocolate frosty is no exception!
Has anyone else been seeing versions of Big Mac Sauce popping up at the grocery store? I sure have.