You don't have to spend hours in the kitchen to achieve a drool-worthy breakfast! Casseroles come to the rescue to help us eat lavishly without all the work. Instead of babysitting a stovetop, you'll merely toss your ingredients into a casserole dish and bake your delicious breakfast in the oven!
Related Topics (Ads):
We've searched high and low to find you some of the most enticing breakfast casseroles out there! We'll cover tasty casseroles that range from sweet to savory flavors. Prepare these casseroles for breakfast or brunch and eat like champions!
1. Instant Pot French Toast Casserole
We're going to start off with a truly Instagram-worthy casserole! Our lovely French toast casserole is made with croissants and fresh berries.
It's also an Instant Pot recipe which makes the preparation easy and helps to cut down on the cooking time. Once cooked, serve with a drizzle of maple syrup and sprinkle of icing sugar.
http://www.forkly.com/recipes/instant-pot-french-toast-croissant-casserole/ PHOTOS AND RECIPE HERE: FORKLY
2. Cheesy Overnight Hashbrown Breakfast Casserole
Casseroles are delicious, but they do require a little bit of work! If you know you're going to have a busy morning prepare this cheesy overnight hashbrown casserole!
You'll be provided with instructions so that you can prep your casserole the night before so that in the morning you simply have to toss it in the oven. This lovely casserole is made with hashbrowns, black forest ham and loads of ooey-gooey cheese!
https://thefoodcharlatan.com/easy-breakfast-casserole-with-potatoes-and-ham-2/ PHOTOS AND RECIPE HERE: THE FOOD CHARLATAN
3. French Toast Casserole
French toast is certainly brunch-worthy, however, prepare this french toast casserole and prepare to blow your family away. Cubed sandwich bread is mixed with chopped pecans and tossed in a fragrant egg mixture.
In addition to the casserole, you'll also be provided with instructions to prepare a dreamy topping that really sets this casserole over the top. Serve hot with maple syrup and powdered sugar!
https://adventuresofmel.com/french-toast-casserole/?utm_medium=social&utm_source=pinterest&utm_campaign=tailwind_tribes&utm_content=tribes&utm_term=562389520_20445864_106221 PHOTOS AND RECIPE HERE: ADVENTURES OF MEL
4. Croissant Breakfast Egg Casserole
This recipe puts a savory spin onto a croissant breakfast casserole! The casserole begins with a crescent roll bottom and is topped with meat, eggs, and cheese.
Toss this casserole in the oven for just 25 minutes and then dig into a truly delicious breakfast! You'll love how easy it was to prepare and your family will go crazy for all the alluring flavors.
https://www.somewhatsimple.com/croissant-omelet-breakfast-casserole/ PHOTOS AND RECIPE HERE: SOMEWHAT SIMPLE
5. Cinnamon Roll French Toast Casserole
Quench your cinnamon bun craving with this lavish cinnamon roll French toast casserole. This is an overnight casserole recipe which means you prep the dish the night before, set in the fridge while you sleep and when you wake toss in the oven!
You'll love not having to prep anything the moment you wake up! This casserole is so luxurious it's fit for any breakfast, brunch, or holiday!
https://lilluna.com/overnight-cinnamon-roll-french-toast-bake/ PHOTOS AND RECIPE HERE: LIL LUNA
6. Breakfast Burrito Casserole
I'm sure you've dug into delicious burritos for dinner but have you ever thought about enjoying those same flavors for breakfast? This casserole recipe shows how you can transform these lovely flavors into the perfect morning treat.
Seasoned breakfast sausage is sandwiched between layers of soft flour tortillas and loads of cheese. This tasty casserole is exploding in flavor and intriguing textures too!
https://www.homemadeinterest.com/breakfast-burrito-casserole/?utm_medium=social&utm_source=pinterest&utm_campaign=tailwind_smartloop&utm_content=smartloop&utm_term=13174160 PHOTOS AND RECIPE HERE: HOME MADE INTEREST
7. Overnight Blueberry French Toast Casserole
Who knew a French baguette could be used for more than a side at dinner! This casserole combines slices of a French Baguette with sweet cream cheese and fresh blueberries.
This is another overnight recipe so go ahead and prepare this casserole the night before and throw it in the oven the next morning. While the casserole is cooking in the oven, prepare the lovely sweet topping on the stovetop and then serve together.
https://thesaltymarshmallow.com/easy-overnight-blueberry-french-toast/ PHOTOS AND RECIPE HERE: THE SALTY MARSHMALLOW
8. Sausage Hashbrown Breakfast Casserole
Breakfast sausage comes together with hash browns and a few veggies to create an unforgettable casserole. This lovely casserole begins on the stovetop and is finished in the oven.
You'll need to prepare the breakfast sausage, pepper, and onion in a skillet. Once cooked mix with remaining ingredients and bake in the oven until the eggs are set.
https://meaningfuleats.com/sausage-hashbrown-breakfast-casserole/?utm_medium=social&utm_source=pinterest&utm_campaign=tailwind_tribes&utm_content=tribes&utm_term=525308848_19051324_105349 PHOTOS AND RECIPE HERE: MEANINGFUL EATS
9. Apple Pie French Toast Casserole
Why not eat dessert for breakfast! This French toast casserole is infused with flavors of apple pie. Raisin bread, warm spices, and apple pie filling come together to create a sumptuous casserole.
If you don't love raisin bread, this recipes provides you with tips on alternative loaves of bread that would work wonderfully in this casserole. In addition, you'll also be provided with instructions on how to freeze this casserole if you'd like to enjoy it later!
https://www.simplystacie.net/2015/10/apple-pie-french-toast-casserole/ PHOTOS AND RECIPE HERE: SIMPLY STACIE
10. Baked Western Omelet
Why stand by the stovetop to babysit an omelet when you can toss the ingredients into a casserole dish and bake it in the oven! This baked Western omelet will not disappoint.
This lovely omelet is made with ham, veggies, cheese, and cream! It'll take you all of 15 minutes to prep and then simply toss in the oven, enjoy a cup of coffee, and before you know it you'll have a lovely breakfast casserole ready to dig into.
https://www.theseasonedmom.com/baked-western-omelet/?utm_medium=social&utm_source=pinterest&utm_campaign=tailwind_tribes&utm_content=tribes&utm_term=482031432_17024392_105349 PHOTOS AND RECIPE HERE: THE SEASONED MOM
11. Maple Waffle Breakfast Casserole
Combine two popular breakfast items, sausage, and waffles, and create a delicious casserole! Further, this tasty casserole only requires 6 simple ingredients in total.
To help make this recipe even easier, you'll use Eggo waffles, however, if you're feeling adventurous, you could make your own! Maple sausage and maple syrup provide a wonderful flavor and all the ingredients are bound together with eggs and cheese!
https://cookswellwithothers.com/2018/11/12/maple-waffle-breakfast-casserole/ PHOTOS AND RECIPE HERE: COOKS WELL WITH OTHERS
12. Peach Cream Cheese Cinnamon Roll Casserole
Enjoy a fresh casserole filled with sweet peaches, cream cheese, and insanely delicious cinnamon rolls. This recipe uses simple ingredients such as frozen sliced peaches and store-bought refrigerated cinnamon rolls.
Simply toss the ingredients together and bake in the oven! Once cooked, drizzle the icing that was provided with the cinnamon rolls over top the casserole.
https://bunnyswarmoven.net/peach-cream-cheese-cinnamon-roll-breakfast-casserole/ PHOTOS AND RECIPE HERE: BUNNY'S WARM OVEN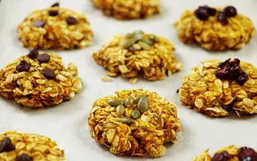 When we think of pumpkins we are often quick to bring our minds to fond memories of pies, lattes and carvings, right?
Breakfast is the most important meal of the day, but it can also become the most uninspiring meal when you have limited time to...
It's been said a million times and it will continue to be said a million times more: Breakfast is the most important meal of the...
French toast is such a simple recipe. Eggs, milk, bread. It's an easy and impressive breakfast to whip up. It's just that...
It can be relatively easy to find dinners and meal prep lunches to go along with a healthy lifestyle you're working for.
Easter is just around the corner and there's one essential item on everyone's Easter dinner menu: hard-boiled eggs.
Mothers Day is coming up and let's be honest, not everyone is prepared to make a huge spread of delicious food for breakfast.
Rise and shine! It's an early morning before work and you sleepily walk into the kitchen, grabbing whatever food is within reach.
Eating a hearty breakfast will set you up for a day filled with energy and positivity.
It wasn't until recently that a friend and I went out for Brunch and I was introduced to Eggs Benedict for the first time - ever.
In case you have a hard time deciding which cereal to eat every morning, Kellogg's is releasing a mashup cereal featuring two of...
The cereal aisle is a beautiful place. It's full of extravagant choices from chocolate and marshmallows to cinnamon swirls and of...