So, it would seem that Popeye was onto something. Spinach is most definitely a super food, after all. It's low in calories, high in protein, rich with iron, and good for everything from your skin to hair & nails (so yes, even your outside will be seeing the benefits of spinach). It's just that this leafy green isn't exactly appetizing as-is. Popeye is on his own there. So finding ways to use spinach in your daily diet and enjoy it? There's the challenge. A challenge I happily take on, because the more spinach in your diet, the more benefits you can gain from it. From pastas, to salads, muffins and smoothies, there's some really incredible ways to "eat your greens".
1. Pineapple Spinach Green Smoothie
It's healthy, refreshing, and chalked full of that good-for-ya spinach, but you won't taste it! I think many people see a green smoothie and assume it tastes like liquid grass, but when paired with pineapple and bananas it actually overpowers the mild taste of spinach, so you'll get all of the benefits and cool green color (and none of the taste of grass).
http://www.garnishandglaze.com/2017/03/07/pineapple-spinach-green-smoothie-recipe/ Photo by: Garnish & Glaze
2. Spinach Balls
An easy thing to whip up, then enjoy as an appetizers, over pasta or freeze for later as an easy on the go snack. These are easily made ahead of time, and with only 5 ingredients, including 6 full cups of spinach!
https://www.sweetashoney.co.nz/spinach-balls/ Photos by: Sweet as Honey
2. Spinach White Bean Soup
Winter or summer, this is a all-year-round kind of soup. With only 30 minutes of time you can have this healthy & hearty soup full of that spinach you seek.
http://damndelicious.net/2015/01/26/spinach-white-bean-soup/ Photo by: Damn Delicious
3. Quinoa & Spinach Power Salad
Woo! Yes! POWER! That sounds…powerful. This salad is no starter. It's a complete meal if you want it to be. With two super foods together, and finished off in a lemon vinaigrette, this will be one you can keep in your fridge for days and enjoy on it's own or with an assortment of protein and vegetable additions.
http://www.aheadofthyme.com/2016/02/quinoa-spinach-power-salad-with-lemon-vinaigrette/ Photo by: Ahead Of Thyme
4. Mandarin Pomegranate Spinach Salad
This salad lacks for nothing. With a base of baby spinach, it's complimented with pomegranate seeds, mandarin oranges, avocados and nuts, then tossed in a poppy seed dressing that will tie all these crunchy, sweet pops of flavor together.
http://www.cookingclassy.com/mandarine-pomegranate-spinach-salad-poppy-seed-dressing/ Photos by: Cooking Classy
5. Creamy Spinach Enchiladas
Enchiladas stuffed with three types of cheese, an an entire package of spinach (thawed), this is smothered in enchilada sauce and topped with more cheese. Oh my. Spinach never looked so comforting.
http://www.sixsistersstuff.com/2016/05/creamy-spinach-enchiladas.html#_a5y_p=5399848 Photos by: Six Sister Stuff
6. Pasta With Spinach & "Cheese"
Why is that word "cheese" in quotations?! Because this recipe is a vegan and gluten free recipe, breaking all the rules of a cheesy pasta, then adding spinach to the mix for a damn delicious dinner.
http://theprettybee.com/2016/03/pasta-with-spinach-and-cheese.html Photos by: The Pretty Bee
7. Green Smoothie Muffins
Our very own creation, these smoothie muffins get all their green color from…you guessed it – SPINACH!! These are so tasty, they're kid approved by our taste testers (ahem, my spawn).
http://www.forkly.com/recipes/kid-approved-green-smoothie-muffins/ Photo by: Forkly
8. Mini Spinach Feta Quiche
Crustless mini quiches that are perfectly portioned savory little cups. They are the perfect on-the-go breakfast, or snack.
http://divaliciousrecipes.com/2017/02/06/mini-spinach-feta-quiche/ Photo by: Divalicious Recipes
9. Skillet Sausage & White Beans With Spinach
Whenever I'm looking to add more greens to my dinner, wilted spinach is the way to go. Tossing handfuls in, it wilts down into a small bits in your meal that actually can compliment a tasty dinner, not destroy it (like you'd imagine when trying to eat more greens). This skillet recipe is full of spinach, and it looks amazing.
http://www.fromvalerieskitchen.com/skillet-sausage-and-white-beans-with-spinach/ Photo by: From Valerie's Kitchen
10. Butternut Squash & Spinach Lasagna
I love recipes that think outside the box. With a lasagna that skips the ground meat, and the tomato sauce – can it still be a lasagna? Well, to answer that simply – yes! It can! With butternut squash as the sauce, and spinach layered between those classic lasagna noodles, you have a whole new spin on a traditional comfort meal.
http://juliasalbum.com/2014/11/butternut-squash-and-spinach-lasagna/ Photos by: Julia's Album
Salads aren't just for those on a diet anymore. Properly made, they can be a filling and delicious meal.
When you think of summertime, what's the one fruit that stands out to you as THE fruit of the summer?
Hey Forkly Followers! As a writer at Forkly, I try to walk the walk when it comes to what I make at home.
Having a backyard garden is one of the amazing ways you can cut down on your grocery costs while filling your body with fresh,...
When everyone is back at school and extra curricular activities kick in, it can be difficult to find time to have an after school...
Looking for a meat-free alternative to a classic chicken salad sandwich? We've got it for you.
Finding the right protein bar that isn't packed with sugar and additives can be a difficult task.
Chickpeas are always thought of as the ingredient required to make hummus and a bunch of other healthy foods.
Suppertime can be the best time or a time of chaos and dread. Why?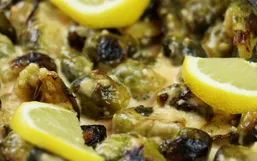 I remember when someone told me their favorite vegetable dish was Roasted Brussels Sprouts. I was not only shocked, but disgusted.
Cooking vegetables can be as simple or as complicated as you make it but at the end of the day, you want a delicious dish with the...
Have you been walking the grocery aisles and seeing "organic this, organic that"?