Zucchini has quickly become a very popular vegetable (although, botanically, it is an immature fruit, according to Wikipedia). As most of you know, this tasty vegetable is equally as healthy as it is delicious. Furthermore, it's incredibly affordable and has become a staple in many household dinners.
If you're looking for ways to incorporate zucchini into your meals, consider making one (or more) of these 9 recipes below!
1. Zucchini Oven Chips
These flavorful, crispy zucchini chips are so delicious that, just like their potato counterparts, I bet you won't be able to eat just one! They're a healthy side dish for just about any meal.
2. Baked Gnocchi with Zucchini and Tomatoes
My Grandma's Italian zucchini recipe baked to perfection with tender, potato gnocchi and fresh mozzarella cheese. It's warm and hearty, yet still healthy and flavorful. It's a family favorite that everyone will enjoy!
3. Grilled Zucchini Rolls with Bacon and Cheese
These delicious appetizers are a great alternative to jalapeno poppers (or addition to jalapeno poppers if you're looking to grill more than one appetizer at once) and the zucchini adds a unique twist.
4. Baked Zucchini Mac and Cheese
Those of us with picky eaters know how hard it can be to get kids to eat their green vegetables. Sneaking veggies into a kid favorite like mac and cheese is a perfect way to trick them into eating things they wouldn't normally. In this recipe, shredded zucchini is baked right into mac and cheese. It's delicious, and your kids will gobble it up!
5. Zucchini Soup
This is the time of year when you start looking for ways to use the over-abundance of zucchini that comes your way. Soup always makes for a great meal and zucchini soup is no exception. Try this recipe for a warm and comforting meal tonight.
6. Zucchini and Summer Squash Gratin with Parmesan and Fresh Thyme
Take advantage of the beautiful vegetables summer has to offer and make this beautiful and delicious dish tonight! The flavors of the fresh veggies pair so nicely with the thyme, parmesan and caramelized onions, this may just become your new favorite side dish.
7. Zucchini Wrapped Pork Chops with Pesto Tomato and Mozzarella
Boneless pork chops are wrapped with strips of zucchini and topped with pesto, tomato, and cheese in this healthy, simple recipe. This method also works well with chicken. If you're in the mood for a sandwich, go ahead and put one of the pork chops on a toasted bun. Delicious!
8. Easy Zucchini Parmesan
I found this recipe on pinterest and it was delicious. If you are needing a quick and healthy snack or appetizer than you have to try this. This is a guiltless treat!
9. Vegetarian Stuffed Zucchini
Most stuffed zucchinis are made with ground beef or sausage, but this version is meat-free, so it's a lot healthier. And this stuffed zucchini is so delicious and filling, you won't even miss the meat!
Salads aren't just for those on a diet anymore. Properly made, they can be a filling and delicious meal.
When you think of summertime, what's the one fruit that stands out to you as THE fruit of the summer?
Hey Forkly Followers! As a writer at Forkly, I try to walk the walk when it comes to what I make at home.
Having a backyard garden is one of the amazing ways you can cut down on your grocery costs while filling your body with fresh,...
When everyone is back at school and extra curricular activities kick in, it can be difficult to find time to have an after school...
Looking for a meat-free alternative to a classic chicken salad sandwich? We've got it for you.
Finding the right protein bar that isn't packed with sugar and additives can be a difficult task.
Chickpeas are always thought of as the ingredient required to make hummus and a bunch of other healthy foods.
Suppertime can be the best time or a time of chaos and dread. Why?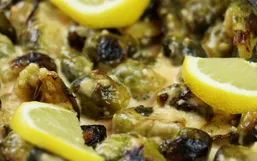 I remember when someone told me their favorite vegetable dish was Roasted Brussels Sprouts. I was not only shocked, but disgusted.
Cooking vegetables can be as simple or as complicated as you make it but at the end of the day, you want a delicious dish with the...
Have you been walking the grocery aisles and seeing "organic this, organic that"?