Watermelon might just be the most refreshing summer fruit out there. On a hot, sunny day there's nothing better than reaching for a slice of this cool, refreshing fruit and not having to feel the guilt that comes with other cool summer treats like ice cream and frappuccinos. Of course the most popular way to eat your watermelon is straight up, but here are a few interesting suggestions you probably haven't tried before:
1. Watermelon Cake
Who says a cake has to be baked? Have some delicious summery watermelon refreshment without losing the visual appeal of a cake. Bring this to any summer party and you're sure to impress all the guests!
http://www.kraftrecipes.com/recipes/watermelon-cake-167158.aspx?cm_mmc=Social-_-Pinterest-_-Ahalogy-_-65567#_a5y_p=1978735 Photo by: Kraft
2. Tomato Watermelon Gazpacho
Traditionally, the cold Spanish soup known as gazpacho is made primarily of tomatoes and cucumber, along with other raw veggies. This super summery version adds watermelon to the mix for a bit of summer sweetness.
http://www.loveandoliveoil.com/2015/08/tomato-watermelon-gazpacho-pistachios-basil-oil.html Photo by: Love and Olive Oil
3. Watermelon Sandwich
If you love a slice of cool refreshing tomato on your sandwiches, try swapping out the tomato for a slice of crisp, cool watermelon for a taste combination that will take your sandwich from ordinary to extraordinary.
http://www.alive.com/recipe/grilled-chicken-and-watermelon-sandwich/ Photo by: Alive
4. Watermelon Jerky
This next idea is proof that jerky isn't just for meat anymore. Watermelon jerky is surprisingly easy and delicious! It makes a great snack for those times when you want some melon but storage and mess are a factor.
http://www.dashofbutter.com/2014/05/16/watermelon-jerky/ Photo by: Dash of Butter
5. Watermelon Pizza
This inventive way to serve watermelon can be done in both sweet and savory versions depending on your mood. For a sweet version, top slices of watermelon with whipped cream, strawberries, blueberries, nuts and a drizzle of honey. To go savory. Try sprinkling with crumbly feta cheese, marinated olives, fresh basil and a drizzle of balsamic glaze.
http://www.skinnytaste.com/watermelon-feta-and-balsamic-pizzas/ Photo by: Skinny Taste
6. Watermelon Salsa
You can never go wrong with chips and dip, but sometimes plain old salsa can get a little boring and predictable. Liven up your salsa and take your chip and dip game to the next level with this watermelon salsa recipe which combines juicy watermelon, sweet mangoes and spicy jalapeno pepper for an amazing taste sensation.
http://thepioneerwoman.com/cooking/watermelon-pico-de-gallo/ Photo by: The Pioneer Woman
7. Grilled Watermelon
If you haven't grilled a watermelon you haven't lived. We never hesitate when it comes to grilling vegetables, but fruit often gets overlooked for the flame treatment, which is a real shame because grilling brings out so many great flavors in fruit. There are so many ways to use grilled melon; you can simply glaze with honey or balsamic vinaigrette and serve on its own or combine with peaches and pineapple to make some amazing grilled fruit kabobs.
http://www.albertsons.com/grilled-watermelon-the-fruit-of-summer-gets-a-makeover-from-annessa-chumbley/ Photo by: Albertsons
8. Watermelon Pudding
Watermelon pudding is a refreshing spin on the classic Sicilian dessert gelo de melone, in which watermelon puree is made into a fun jellied pudding. This easy dessert is perfect for a summer dinner al fresco; it uses minimal ingredients and requires minimal prep work.
http://www.mondopalermo.it/ricette-tipiche-prepariamo-il-gelo-di-mellone/ Photo by: Mondo Palermo
9. Watermelon Bruschetta
This is another cool, creative idea to take a traditional appetizer food and make it something special by substituting watermelon where tomato is normally used. Watermelon bruschetta is so easy to make, all you really need is melon, feta, balsamic glaze, fresh basil and a good crusty baguette, and your guests will be amazed.
http://hostthetoast.com/watermelon-bruschetta-with-whipped-feta-basil-and-balsamic-drizzle/ Photo by: Host the Toast
Salads aren't just for those on a diet anymore. Properly made, they can be a filling and delicious meal.
When you think of summertime, what's the one fruit that stands out to you as THE fruit of the summer?
Hey Forkly Followers! As a writer at Forkly, I try to walk the walk when it comes to what I make at home.
Having a backyard garden is one of the amazing ways you can cut down on your grocery costs while filling your body with fresh,...
When everyone is back at school and extra curricular activities kick in, it can be difficult to find time to have an after school...
Looking for a meat-free alternative to a classic chicken salad sandwich? We've got it for you.
Finding the right protein bar that isn't packed with sugar and additives can be a difficult task.
Chickpeas are always thought of as the ingredient required to make hummus and a bunch of other healthy foods.
Suppertime can be the best time or a time of chaos and dread. Why?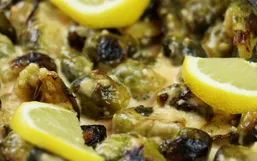 I remember when someone told me their favorite vegetable dish was Roasted Brussels Sprouts. I was not only shocked, but disgusted.
Cooking vegetables can be as simple or as complicated as you make it but at the end of the day, you want a delicious dish with the...
Have you been walking the grocery aisles and seeing "organic this, organic that"?