Ah, avocados. Nature's butter. They're much loved for their soft, creamy texture, blendability, good fats and oils, not to mention they are delicious to boot. Breakfast, lunch and dinner, avocados have climbed the ranks in our menus, surpassing their former glory as "the stuff that guacamole is made out of". Not to mention, when you buy avocados, it can sometimes be unpredictable to determine when they will ripen, leaving you scrambling for options to use them up before they go black, because everyone knows that with avocados, you have a very small window between "ripe" and "garbage". So here are some trendy recipes to keep you from being bored of avocados, and expanding your horizons on the ever so popular fruit (yes, it's a fruit and not a vegetable, but we won't go there today).
1. Avocado Fries
Battered in panko breadcrumbs and baked, these are crunchy on the outside, velvety on the inside and are sure to please the masses. The complimenting chipotle dip makes this one unreal appetizer or to serve up alongside your next taco dinner. This is a great way to use up a Costco-sized bag of avocados that are, of course, simultaneously all ripe as well (lesson in not buying everything in bulk right here).
http://gimmedelicious.com/2016/01/20/healthy-baked-avocado-fries-chipotle-dipping-sauce/ Photo by: Gimmie Delicious Food
2. Chocolate Chip Avocado Muffins
When it comes to fats in our diets, it can be hard to find healthy substitutes for something like butter or shortening which are incredibly instrumental in the baking world. Now, while one fat can never truly replace another, with the right ingredients, you can easily make the change and add nutritional value to something often considered a "treat". Any way to guiltlessly indulge, right?
http://www.thehealthymaven.com/2016/01/healthy-chocolate-chip-avocado-muffins.html Photo by: The Healthy Maven
3. Avocado Egg Salad
Egg salad is traditionally a mix of hard boiled eggs, mashed with mayonnaise. However, in a similar way that avocado can be swapped in for butter in baking, it can also replace mayonnaise in a salad! Its creamy rich texture and mild flavor blend perfectly with the egg to make a unique egg salad to amp up your lunch. Green eggs and ham, anyone?
http://www.theroastedroot.net/avocado-egg-salad-mayo-free/ Photo by: The Roasted Root
4. No-Bake Avocado Lime Cheesecake
Bet you didn't see this one coming! An homage to Mexican cuisine, where lime and avocado are staples to many Mexican dishes, this recipe is sure to please. Since it's also a no-bake cheesecake, it takes less than half an hour to make, with easy steps the anyone can do. Just make sure you have a ripe avocado, to avoid those lumps and bumps in your cheesecake. With the addition of the avocado, you also don't need to use any artificial food coloring to give this green cheesecake its "wow" factor. Forks ready?
http://www.chefsheilla.com/2015/06/no-bake-avocado-lime-cheesecake/ Photo by: Chef Sheilla
5. Avocado Corn Cakes
Woah breakfast, you just got a sweet avocado upgrade. These avocado corn cakes are likely different than anything you've ever tried – but believe me, you need to. The recipe suggests even trying them with syrup, sour cream, or hot sauce, or extending them right into dinner, with fried chicken. However you choose to enjoy them, these easy corn cakes take only 10 minutes to prepare for your family.
http://www.createdby-diane.com/2014/07/avocado-corn-cakes.html Photo by: Created by Diane
6. Five Ingredient Easy White Chicken Chili
Come fall you'll be glad you pinned this one. Scratch that, this is delicious any time of year, and being a crockpot recipe you won't even need to turn on your stove! The "white" comes from swapping out traditional tomato and beef based chili for a far more lighter and, well, greener chili. With only 15 minutes of prep and the addition of creamy chopped avocados, this is a home run chili for sure.
http://www.gimmesomeoven.com/5-ingredient-easy-white-chicken-chili-recipe/ Photo by: Gimme Some Oven
7. Avocado Buns
Seeking a lower carb lifestyle? This recipe gives you .9gr of carbs and 5gr of protein! With really simple ingredients like psyllium husk powder, eggs, almond flour and more, these whip up in no time and have only 80 calories! While these are slightly flatter in appearance to regular burger buns, they are still a happy medium between lettuce wraps, and big ol' buns.
http://www.sweetashoney.co/oopsie-bread-recipe-low-carb-avocado-burger-buns/ Photo by: Sweet As Honey
8. Avocado Margarita
Looking to have a little Mexican fiesta and want to impress your guests with something completely unreal and delish to accompany their dinners? This is your drink. With classic margarita ingredients blended with avocado, you have a creamy refreshing drink that will have you balancing cocktails with heart-healthy benefits of avocado.
http://www.cookincanuck.com/2013/04/kicked-up-avocado-margarita-recipe-for-cinco-de-mayo/ Photo by: Cookin Canuck
9. Avocado Breakfast Pizza
In a rush, but want a healthy, delicious, protein rich breakfast to get you out the door in time? With very few ingredients, a crust made out of a whole grain tortilla, sauce of avocado and a sunny side up egg on top this may even be something you're happy to repeat for lunch and dinner!
http://skinnyms.com/avocado-breakfast-pizzas/ Photo by: SkinnyM's
10. Avocado Pasta Sauce
There are few food combinations in history that are so game-changing that you can't believe you didn't try it sooner. Avocado pasta sauce is one of those things. It makes SO much sense too. Its creamy texture, its blendability with other flavors and oils, the fact that it's an avocado and they're delicious, and so on. It also replaces cream in the sauce, without compromising on taste. This one will even win over the pickiest of eaters (yes, even though it's green).
http://damndelicious.net/2014/06/20/avocado-pasta/ Photo by: Damn Delicious
Salads aren't just for those on a diet anymore. Properly made, they can be a filling and delicious meal.
When you think of summertime, what's the one fruit that stands out to you as THE fruit of the summer?
Hey Forkly Followers! As a writer at Forkly, I try to walk the walk when it comes to what I make at home.
Having a backyard garden is one of the amazing ways you can cut down on your grocery costs while filling your body with fresh,...
When everyone is back at school and extra curricular activities kick in, it can be difficult to find time to have an after school...
Looking for a meat-free alternative to a classic chicken salad sandwich? We've got it for you.
Finding the right protein bar that isn't packed with sugar and additives can be a difficult task.
Chickpeas are always thought of as the ingredient required to make hummus and a bunch of other healthy foods.
Suppertime can be the best time or a time of chaos and dread. Why?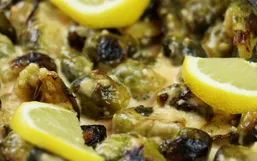 I remember when someone told me their favorite vegetable dish was Roasted Brussels Sprouts. I was not only shocked, but disgusted.
Cooking vegetables can be as simple or as complicated as you make it but at the end of the day, you want a delicious dish with the...
Have you been walking the grocery aisles and seeing "organic this, organic that"?