Matcha powder is high quality green tea, in powder form. Green tea is known for it's health benefits, including being a quality antioxidant. The matcha form gives off 137 times more antioxidants than a regularly brewed green tea. Since matcha uses the entire green tea leaf, you receive 100% of the benefits from it. It's just, well…it tastes rather strong. So you're going to need some delicious ways to incorporate it into your daily diet, and receive those antioxidant benefits! Smoothies are a great way to serve it up. Along with other super foods such as avocados, bananas, and more – this smoothie is a reliable on-the-go bevvie for your diet. Plus, Mama said eat yo greens.
Ingredients
1 cup almond milk (sweetened, or unsweetened)
1/2 tsp matcha powder
1/2 banana, sliced
1/2 ripe avocado
1 tsp cinnamon
1 cup ice
Optional - garnishes such as blackberries, kiwi and unsweetened coconut flakes
Optional - if you prefer to make it sweeter, you can add a tbsp of maple syrup
Method
Starting with the almond milk, place all of your ingredients into the blender, and blend until smooth.
Pour into a drinking glass, top with any garnishes (such as blackberries, kiwi and coconut flakes) and enjoy!
Salads aren't just for those on a diet anymore. Properly made, they can be a filling and delicious meal.
When you think of summertime, what's the one fruit that stands out to you as THE fruit of the summer?
Hey Forkly Followers! As a writer at Forkly, I try to walk the walk when it comes to what I make at home.
Having a backyard garden is one of the amazing ways you can cut down on your grocery costs while filling your body with fresh,...
When everyone is back at school and extra curricular activities kick in, it can be difficult to find time to have an after school...
Looking for a meat-free alternative to a classic chicken salad sandwich? We've got it for you.
Finding the right protein bar that isn't packed with sugar and additives can be a difficult task.
Chickpeas are always thought of as the ingredient required to make hummus and a bunch of other healthy foods.
Suppertime can be the best time or a time of chaos and dread. Why?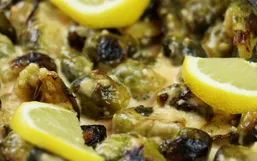 I remember when someone told me their favorite vegetable dish was Roasted Brussels Sprouts. I was not only shocked, but disgusted.
Cooking vegetables can be as simple or as complicated as you make it but at the end of the day, you want a delicious dish with the...
Have you been walking the grocery aisles and seeing "organic this, organic that"?