There are countless reasons why chicken is a go-to food for every meal. Not only is it delicious, it's also easy to prepare and (especially when you get it on sale) fairly inexpensive, at least compared to most of the alternatives. When it comes to meal planning, there are two key elements to finding success: Timing and variety. If you don't mix things up, everyone in your family will get bored of eating the same thing week to week. Balancing variety with timing (sometimes you only have a few minutes to throw together a meal before heading out to soccer, dance or other weeknight commitments that leave you strapped for time) can sometimes seem like an impossible task. Luckily, we're here to help. There are so many ways to spice up chicken breasts. From salads and stir-fries to pasta dishes and wraps, there are plenty of quick and easy meal ideas that will please everyone in your family and leave you with time to spare.
Here are some delicious chicken dinners in under 30 minutes:
1. Chicken Stir-Fry
A stir fry is an excellent way to eat lots of crunchy vegetables with plenty of vitamins retaining their original texture and flavor. This recipe combines fresh vegetables with juicy chicken to create the perfect healthy and delicious dinner. PHOTOS AND RECIPE HERE: Oh So Sweet Basil
2. Grilled Chicken Wrap
This is a super quick meal you can make in a flash with just a few ingredients. It makes a great lunch or even a light dinner. I like to serve mine with a fresh salad. Add in any of your favorite veggies or even switch up the dressing. There are so many possibilities with this versatile recipe. PHOTOS AND RECIPE HERE: Cooking Classy
3. 30-Minute Instant Pot Orange Chicken Dump Dinner
The name says it all! Start to finish, this citrusy sweet dinner is done in less than 30 minutes. Just throw the ingredients in your Instant Pot, lid it, and walk away. At-home Asian cuisine at its finest!
4. Bruschetta Chicken Pasta Salad
A bruschetta pasta paired with grilled chicken and balsamic glaze. Serve immediately while warm, or let it cool for a perfect chilled chicken pasta salad. The perfect weeknight meal (and the perfect next-day lunch if you happen to have leftovers). PHOTOS AND RECIPE HERE: Cade Delites
5. Chicken Parmesan Pasta
With chicken breasts simply dredged and breaded in panko and cheese, smothered in savory marinara and topped with more cheese, it only gets better as it's served along with roasted broccoli. It's baked all on one-pan, too! RECIPE HERE: Forkly
6. Instant Pot Chicken Pot Pie
From cooking the fillings on the stove top to rolling out the pie dough to baking the whole dish in the oven – just thinking about making traditional chicken pot pie is exhausting! While it was one of my favorite meals as a child, my now busy lifestyle doesn't accommodate labor-intensive recipes! With that said we set out to find a way to make this family-favorite meal easy, without sacrificing flavor. Thanks to the Instant Pot, we have the perfect solution.
7. Easy Chicken Cheesesteaks
Nothing fancy or complicated here — just delicious, simple chicken cheesesteak sandwiches, jazzed up with a few different kinds of peppers. These are requested frequently in my house, and I hope you love them as much as we do! Serve with or without the bun. PHOTOS AND RECIPE HERE: Easyhealth Living
8. Almond Crusted Chicken and Peach Salad
This is the perfect weeknight dinner! The kids love it, because there are chicken fingers involved, but the chicken fingers are "grown up" enough, that the adults love it too! Simple, and light, it makes a perfect meal any night of the week. PHOTO AND RECIPE HERE: Chew Nibble Nosh
9. Spicy Piri Piri Chicken.
Piri Piri (also spelled Peri Peri) is a popular spice in Portuguese food and is becoming more and more popular in North America. This recipe gives step by step instructions on making your own piri piri sauce which is the cooking base to this recipe! PHOTO AND RECIPE HERE: Taste.com.au
10. Instant Pot Kung Pao Chicken
Takeout is delicious, but nothing beats the satisfaction of knowing exactly what goes into your meal by preparing it yourself and this Kung Pao Chicken will take less time than takeout delivery – we promise!
11. Easy Sweet and Spicy Chicken
This is a tasty and easy dish to prepare. It's also paleo and gluten-free, but can also be served with rice or pasta. PHOTO AND RECIPE HERE: Allrecipes 
12. Chicken Piccata
A delicious take on a classic dish, this Chicken Piccata can be ready to serve in under 30 minutes! The sauce is perfectly lemony, rich, and buttery, and sure to please the whole family.
13. Cassie's Smothered Chicken
Paired with either cooked orzo, rice, or quinoa, this chicken is smothered in diced tomatoes, chilies and queso cheese. The is beyond easy, and combined and melted in the microwave in only 30 seconds. PHOTO AND RECIPE HERE: Plain Chicken
14. Quick & Easy Instant Pot Tuscan Chicken Pasta
This Tuscan Chicken Pasta is creamy, filling, and absolutely packed with flavor. But best of all, it's quick and easy to make!
15. Cheesy Tex Mex Chicken Penne
A skillet recipe that is made with a quick and easy salsa sauce loaded with flavor. This chicken breast & cheesy pasta recipe is one you're going to keep on the weekly rotation. PHOTO AND RECIPE HERE: Kraft Canada
16. Fattoush Salad With Chicken
This traditional Lebanese salad is infused with such unique flavors over the chicken and the salad, making it one incredible (easy) recipe. Flavors of mint, sumac, cilantro and parsley make this an unforgettable dinner. PHOTO AND RECIPE HERE: Jo Cooks
17. Grilled Lemon Thyme Chicken
This is a high protein, clean, yummy lemon thyme chicken, made all in one pot! The flavor is light and delicious. It's a versatile dish that can be used to add to many recipes (sandwiches, salads, sauces, burritos, etc.). PHOTO AND RECIPE HERE: Bake Eat Repeat
18. Thai Basil Chicken
This is a clean-tasting Thai-influenced dish that isn't too spicy and has tons of flavors you'll love with a homemade marinade and a quick pan-cooked dinner. PHOTO AND RECIPE HERE: Skinny Taste
19. Caprese Chicken
Basil always adds the perfect fresh touch to any dish, and this Caprese chicken is no exception! Topped with rich cheese and tangy balsamic reduction, this meal will look like it took forever to make, but it really only takes 30 minutes! PHOTOS AND RECIPE HERE: Foodiecrush
20. Paleo Orange Chicken
Chinese food can be a little unhealthy, but with this healthy option, you'll have a more wholesome meal ready to go faster than ordering take out! PHOTO AND RECIPE HERE: Food Faith Fitness
21. Easy Coconut Curry Chicken
Make a delicious coconut curry chicken with some purple cabbage and rice for a hot, filling supper. A squeeze of lime takes it from great to amazing! PHOTOS AND RECIPE HERE: Le Creme De La Crumb
22. Blackened Chicken and Avocado Salad
Needing a healthy lunch for work? This blackened chicken and avocado salad is the perfect fit for lunch time. With a flavorful dressing, juicy chicken and fresh avocado, this meal can do no wrong. PHOTOS AND RECIPE HERE: North South Blonde
23. Mozzarella Chicken In Home Made Tomato Sauce
Mmmmm skip the cans and use your own tomato sauce for this scrumptious recipe. It's so delicious, your family and friends will definitely be jumping up and down for seconds. PHOTOS AND RECIPE HERE: Little Spice Jar
24. Sesame Chicken Noodle Stir Fry
This stir fry is one of those meals where you can toss everything together in a matter of minutes and know you will be getting one amazing meal every time. PHOTOS AND RECIPE HERE: Gimme Some Oven
25. Honey Garlic Chicken Stir Fry
Skipping carbs today? This stir fry caters to your eating needs and also to your tastebuds! Packed with flavor, this supper will not disapoint, and it makes great leftovers too! PHOTOS AND RECIPE HERE: The Recipe Critic
26. Creamy Parmesan Herb Mushroom Chicken
Sometimes, there's nothing like a super creamy meal that will warm your soul and fill up your hungry belly. PHOTOS AND RECIPE HERE: The Recipe Critic
27. Healthy Maple Mustard Chicken
Combining salty and sweet has been a favorite flavor combination for a long time now, and it's not going away anytime soon! This one pan meal will be ready quickly and without any hassle – perfect for a weeknight. PHOTOS AND RECIPE HERE: The Clean Eating Couple
28. Easy Weeknight Leftover Chicken Quesadillas
These quesadillas use leftover or rotisserie chicken to make a quick dinner that's oh so easy and cheesy and toasted up just perfectly into little triangles for the whole family to devour.
29. Whole30 Chicken Salad Boats
Needing a light supper on the go? This avo-chicken boat will fill your mouth with flavor and your stomach with all those good fats and proteins. PHOTOS AND RECIPE HERE: The Movement Menu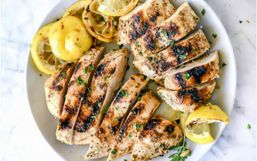 One of the best parts about summer is deliciously grilled meals straight from the barbecue.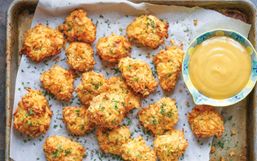 Encouraging your kids to eat more than noodles and sauce can be difficult.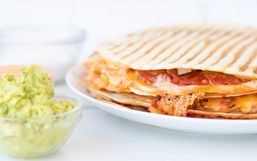 Quesadillas are such an underrated meal! They're simple, delicious, inexpensive, and kid and adult friendly.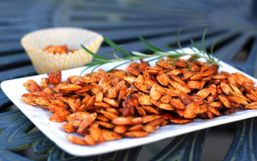 Those of us who are celebrating Halloween are getting ready to carve the pumpkins!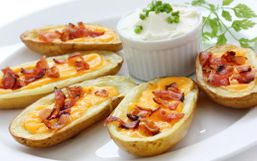 Whether you're throwing a party or just hanging out at home, appetizers are an easy way to add variety to your meals and make them...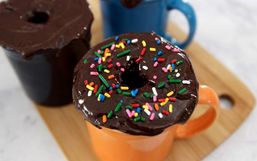 I can only imagine what it must have been like when the microwave was invented.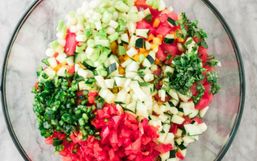 Who loves food? US! And who loves coming home and working in the kitchen after a long day at work? Not us!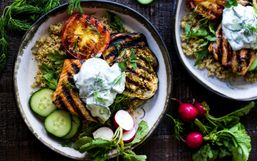 These past few months, life has been flying by faster than usual. I make it home in time to whip up something quick for supper and...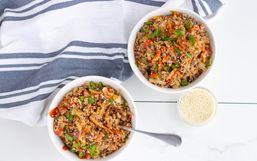 Let's face it, we all live busy lives and with those busy nights come stressful dinner times.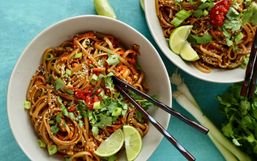 The last thing we want to do after a busy day is to spend hours in the kitchen prepping, cooking, and cleaning up dinner.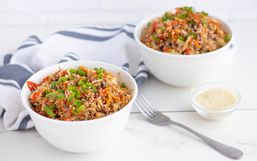 Following a new diet can be both exciting and daunting and following through with that diet is never easy!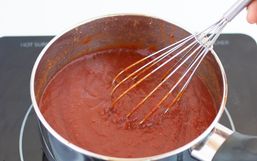 Barbeque sauce is a summer staple, but it's a hard one to get around if you're on the Keto diet since it's generally packed full...