I love cooking with chicken. It's a go-to grocery store item that I absolutely must have in my shopping cart. The problem is, finding ways to cook with it differently without buying a whole bunch of ingredients I'll only use once. I prefer recipes that have minimal ingredients but are still super yummy and unique. To help myself, and all you other minimalist cooks, I've put a list together of the best recipes using 5 ingredients or less. There are enough options here to have a new recipe every night for two weeks, so be sure it hit up the grocery store and prepare for a LOT of delicious chicken.
1. Lemon Chicken with Asparagus
This recipe is SO good. Pack in some fresh green asparagus seasoned with that tangy lemon juice and you have yourself a healthy and satisfying meal.
2. White Chicken Chili
Great for a rainy or CHILI day. Get it?! So funny. Anyway, most chili recipes require you to go to the canned food aisle and pack your cart with a million and one ingredients. With this simple chili, you'll be able to whip it up in no time and maybe even make some fresh bread to go with it.
3. Chicken Feta Pasta
How amazing does this look? It comes from a great recipe book that is packed with quick and easy meals for busy or minimalist cooks. Packed with whole wheat noodles, salty feta cheese and fresh produce, this pot of pasta will be well loved by every family member.
4. Creamy Chicken Taco Alfredo
Another pasta dish, but this time, we are merging two of your favorite foods into one incredible meal. Tacos and Pasta may seem like two very different foods, but what they both have in common, is that they are delicious. So why wouldn't they go together? Okay, don't apply that theory to all of your favorite foods because you may end up with one disgusting dish. In this case though, it works!
5. Hawaiian Chicken Burgers
When everyone wants to eat beef burgers, present a healthier, sweeter option that will fill your belly with Hawaiian goodness and satisfy your need for some good BBQ'd food.
6. Hummus Crusted Chicken
I've never thought about adding Hummus to the outside of chicken before! It sounds amazing – I would even whip up a little Tzatziki sauce to go with it and a greek salad.
7. Chicken Tikki Masala
I'm making this tonight! It looks so delicious and creamy, I won't be able to get enough of it. This recipe is lighter than most because yogurt is used in place of heavy cream. A lot of times at restaurants, they will use Whipping Cream in Indian dishes to increase the creamy flavor. The problem is the nutrition facts are terrifying! Save some money and dine in tonight with Chicken Tikki Masala.
8. Slow Cooker Garlic Rosemary Chicken
A classic chicken recipe that will be ready for you when you come home from a busy day at work. Pair with some mashed potatoes and a crisp garden salad for a well rounded traditional family supper.
9.  Pesto Chicken Kabobs
Grill time! Put together these easy-as-can-be kabobs that are packed with protein and sweet tomatoes. They are a great twist on the typical BBQ food and will be a huge success with any crowd.
10. Slow Cooker Rotisserie Chicken
Swiss Chalet has such good chicken! So how to do you make it at home? With 5 ingredients or less! Put this thing in the slow cooker and head out to run some errands. When you come home, this delicious meal will be waiting. Enjoy!
11. Instant Pot Whole (Faux) Rotisserie Chicken
You can also cook a perfect rotisserie chicken using an Instant Pot! The secret to achieving the perfect flavor is to cook the chicken in a couple cups of chicken broth along with the perfect seasonings. Throw in a few fresh lemon slices, onion, and rosemary sprigs for added flavor — it's so easy!
12. Honey Mustard Chicken Thighs
These easy peasy chicken thighs will be ready for you in no time. Their salty and sweet seasoning is irresistable and will have you reaching for seconds. Don't forget to garnish with fresh thyme and maybe even some parsley.
13. Slow Cooker Pulled Chicken Peanut
Another slow cooker recipe, another day with less stress. Am I right?! This nutty and delicious meal gives you the satisfaction of feeling like a restaurant meal, but without the added unhealthy fats. You can also serve on Quinoa or Brown Rice for added energy.
14. Chicken Guacamole Taquitos
This is such a good party food! If you have family or friends coming over, try creating this amazingly easy dish for people to snack on as they enjoy a weekend drink of choice. TGIF!
15.  Pesto Chicken Bake
This is very similar to the Kabob recipe, but can be made in a dish when skewers are no where to be found. You can even serve this in a fresh bun as a chicken sandwich or add to pasta noodles with additional pesto.
16. Chicken Quesadilla Casserole
It's colorful, healthy and oh so easy! The added ingredients make this dish over five ingredients, but we highly recommend making your sixth ingredient an avocado – it will take this casserole to the next level.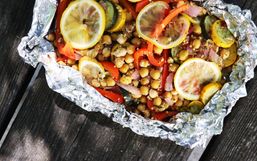 As someone who now eats a mostly plant-based diet, I've found myself stumped on how to enjoy BBQ meals this summer.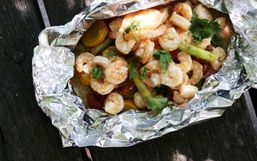 To me, summer and grilling are synonymous. By that, I mean my husband, grilling, and summer are synonymous because I have yet to...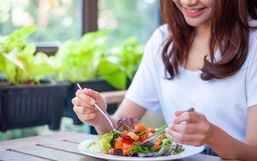 Are you tired of making the same meals over and over again? Perhaps you're feeling uninspired in the kitchen.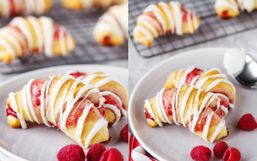 You can never go wrong with buttery flaky crescent rolls but did you know a tube of crescent roll dough can be so much more than...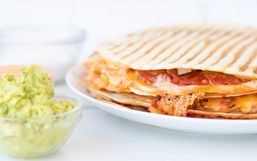 Quesadillas are such an underrated meal! They're simple, delicious, inexpensive, and kid and adult friendly.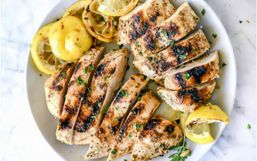 One of the best parts about summer is deliciously grilled meals straight from the barbecue.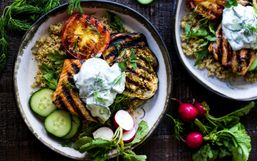 These past few months, life has been flying by faster than usual. I make it home in time to whip up something quick for supper and...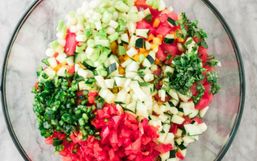 Who loves food? US! And who loves coming home and working in the kitchen after a long day at work? Not us!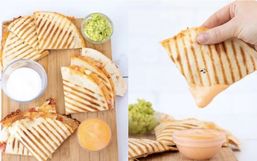 There are countless reasons why chicken is a go-to food for every meal.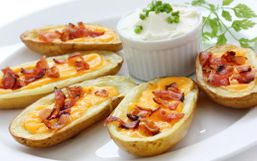 Whether you're throwing a party or just hanging out at home, appetizers are an easy way to add variety to your meals and make them...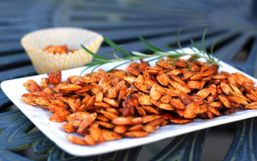 Those of us who are celebrating Halloween are getting ready to carve the pumpkins!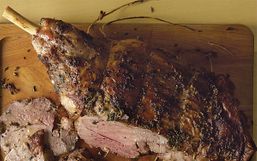 Easter is less than a week away and men and women everywhere are eagerly searching for the best Easter dinner ideas online.