Cooking is half the battle when it comes to busy weeknights. Washing the dishes is the other dreadful task. These are the last things we want to do after a long day at work. So what's the perfect solution? Well, cooking dinner in foil packs of course!
Foil pack dinners allow you to cook a whole dinner in one convenient pack. Also, you can prepare the perfect serving sizes in each pack so that dinner is served straight from the grill or oven, no serving dishes required! We compiled some of the most delicious dinner ideas that you can make effortlessly in a foil pack.
1.  Garlic Steak & Cheesy Bacon Potato Hash Foil Packs
Dive into a juicy garlic steak and cheesy potato hash for dinner using this recipe. But wait, it gets even better, the whole dinner is topped with crispy bacon!
This recipe not only provides instructions on how to cook these foil backs on the grill but the on the stovetop and in the oven too! Keep in mind, this recipe works best if you prefer your steaks medium-rare to well-done.
2. Foil Pack Philly Cheesesteak Dinners
Do you have a craving for Philly cheesesteak? Make sure this delicious dinner is on your menu this week! This easy foil pack dinner comes together in 35 minutes or less!
This foil pack is made up of green peppers, mushrooms, ground beef, and potatoes! It doesn't matter where you are because this recipe comes with instructions on how to prepare it on the grill, in the oven and even over a campfire! Finish the dinner by adding provolone cheese and enjoy as is or transfer the delicious fillings onto a  bun, your choice!
3. Low-Carb Keto Italian Sausage and Veggie Foil Packets
Attention keto dieters, this delicious foil pack dinner has your name written all over it! This low-carb dinner is loaded with flavor and nutrient-rich ingredients.
The great thing about foil packs is you can customize them your liking. Simply omit or replace any of the veggies to whatever you like! This Italian seasoned dinner is made with spicy Italian smoked sausages, mushrooms, peppers, asparagus, and enough seasonings to make you fall in love!
4. Bacon Ranch Chicken Foil Packets
If you're looking for a truly comforting and savory dinner then you need to try these bacon ranch chicken foil packs! This sinfully delicious dinner is loaded with cheese and salty bacon!
For the ranch flavor, all you'll need is a packet of ranch dressing mix. Along with that, you'll also enjoy tender chicken, baby potatoes and bacon bits!
5. Foil Pack Italian Chicken and Veggies
Along with Italian sausage, you can also enjoy delicious Italian chicken and veggies. This recipe provides you with instructions on how to make a homemade blend of Italian Seasoning. It's so easy and a great way to make it in bulk so that you can always have it on hand.
For this foil pack, the Italian seasoning is paired with baby potatoes, chicken breasts, bell peppers, and carrots. You can cook these foil packs on the grill or in the oven and either way they will come out tasting great!
6. Grilled Greek Chickpea Foil Packets
Our grilled chickpea foil pack dinner is an excellent vegetarian and vegan option! Chickpeas are a great source of protein and that is why they are a perfect substitute for meat. They're also loaded with other amazing vitamins and minerals such as vitamin K, folate, and fiber!
This chickpea dinner is loaded with delicious Greek flavors. To make it a full meal you'll cook sliced zucchinis and red pepper along with the chickpeas. Once cooked, serve hot in a pita!
7. Herb Butter Salmon and Asparagus Foil Packs
Experience cooking salmon in a foil pack and you'll never want to go back to your older cooking methods. This salmon is paired with tender asparagus and lemon slices and then is wrapped into a lovely foil pack.
The dinner comes together in about 30 minutes. You're seriously going to love the buttery herb flavors and the lovely textures of this dinner!
8. Chili Lime Steak Fajitas in Foil Packs
Try something different this Taco Tuesday and whip up these delightful steak fajita foil packs. If you have the time, enhance the flavors of the steaks by marinating them for up to 24 hours. However, 15 minutes will do just fine if you're pinched for time!
In the foil pack, you'll cook, sliced flank steak with bell peppers, yellow onions and loads of wonderful seasonings. Once cooked, serve in a tortilla and top with sliced avocado, sour cream or any of your favorite fajita toppings!
9. Quick and Easy Lemon Garlic Foil Packet Shrimp
Lemon Garlic shrimp is the dreamiest spring dinner! All you have to do is combine raw shrimp with Roma tomatoes, zucchinis, and asparagus.
The seasonings are what make this dinner stand out! Some of these lovely flavors are garlic, dijon mustard, and butter.
10. Teriyaki Salmon Foil Packets
The next time you have a craving for takeout be sure to give this delicious foil pack dinner a try. Flaky salmon and fresh veggies are engulfed in a delicious Asian-inspired sauce.
The Teriyaki sauce is homemade and you'll love how fragrant and delicious it truly is. You'll also be provided with instructions on how to cook this dinner on the grill and in the oven.
11. Pineapple BBQ Chicken Foil Packets
Try something different and whip up these sweet and savory pineapple BBQ chicken foil packs. This simple dinner is made with fresh summer veggies, sweet pineapple, and tender chicken!
The sauce is made from prepared BBQ sauce and a few additional seasonings. These foil packs cook quickly in the oven which means they're perfect for a busy weeknight!
12. Cajun Shrimp Boil Foil Packets
This Cajun shrimp boil foil pack will make you feel like you just took a trip to Louisianna. To help make this recipe easy you can use store-bought Cajun or Creole seasoning.
Along with the delicious seasonings, you'll need shrimp, cooked andouille, and a few veggies. They cook in just 10 minutes on the grill 0r 15-20 minutes in the oven. Either way, they'll turn out delicious!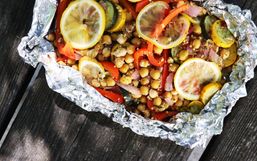 As someone who now eats a mostly plant-based diet, I've found myself stumped on how to enjoy BBQ meals this summer.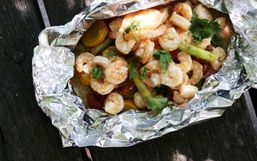 To me, summer and grilling are synonymous. By that, I mean my husband, grilling, and summer are synonymous because I have yet to...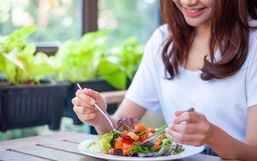 Are you tired of making the same meals over and over again? Perhaps you're feeling uninspired in the kitchen.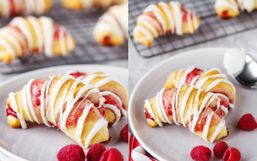 You can never go wrong with buttery flaky crescent rolls but did you know a tube of crescent roll dough can be so much more than...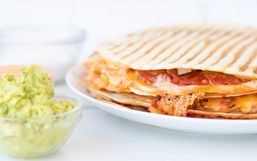 Quesadillas are such an underrated meal! They're simple, delicious, inexpensive, and kid and adult friendly.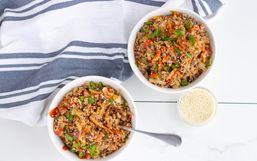 Let's face it, we all live busy lives and with those busy nights come stressful dinner times.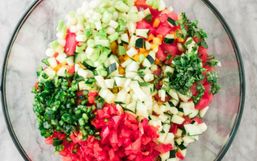 Who loves food? US! And who loves coming home and working in the kitchen after a long day at work? Not us!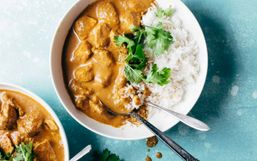 I love cooking with chicken. It's a go-to grocery store item that I absolutely must have in my shopping cart.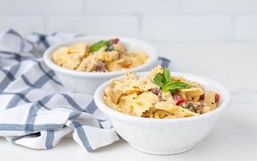 There are countless reasons why chicken is a go-to food for every meal.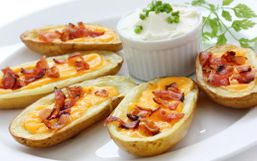 Whether you're throwing a party or just hanging out at home, appetizers are an easy way to add variety to your meals and make them...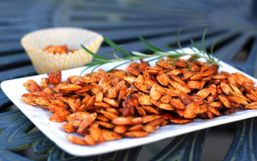 Those of us who are celebrating Halloween are getting ready to carve the pumpkins!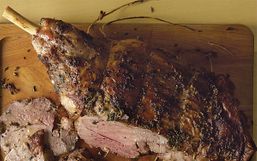 Easter is less than a week away and men and women everywhere are eagerly searching for the best Easter dinner ideas online.