We seem to have breakfast and dinner covered but what about lunch? If you're used to eating boring lunches it is time to spark your love for this mealtime all over again! This time we're serving lunch on a stick! This fun idea is great for busy weeks, to encourage picky eaters to actually eat their lunch, and would be great for parties too!
We've searched the web to find you some of the most delicious ideas. You'll discover salad on a stick, sandwiches on a stick, pizza and more! The best part is that all of these recipes are quick and easy which means your meal prep will be a breeze! So let's dig in and enjoy a whole week of delicious and fun lunches!
1. Sandwich On A Stick
Sandwiches don't get enough attention. But if you serve them on a stick they'll surely capture everyone's attention.
This recipe provides you with not 1 but 4 awesome and delicious ideas. You could enjoy a club sandwich on a stick, peanut butter and jelly, turkey and salami, and a veggie option too! Keep your lunches exciting by trying a new flavor every day.
https://www.twopeasandtheirpod.com/sandwich-on-a-stick/ PHOTOS AND RECIPE HERE: TWO PEAS AND THEIR POD
2. Quick and Easy Charcuterie Kabobs
Charcuterie boards are so popular right now and for good reason! I mean, who doesn't love nibbling on delicious finger foods like decadent cheeses, savory meats, and fresh veggies!
Serve up those enticing ingredients on a stick and enjoy it for lunch! This idea is so exciting and very customizable which means your lunch will surely not disappoint.
http://www.forkly.com/recipes/quick-and-easy-party-pleasing-charcuterie-kabobs/ PHOTOS AND RECIPE HERE: FORKLY
3. Cobb Salad on a Stick
Are you tired of boring salads? Serve it up on a stick and enjoy all the same healthy ingredients but in a fun new way!
This cobb salad on a stick contains all the ingredients you love! Enjoy lettuce with bacon, avocado, a hard-boiled egg, cherry tomatoes, and turkey! You'll also be provided with a dreamy homemade dressing that taste wonderful drizzled on top!
https://www.carrieelle.com/cobb-salad-stick-homemade-dressing/ PHOTOS AND RECIPE HERE: CARRIE ELLE
4. Pizza on a Stick
Pizza served in a whole new way, on a stick! Who wouldn't get excited about this? This simple recipe is so easy that it comes together in less than 30 minutes!
In addition to the quick time, this recipe requires simple ingredients such as store-bought pizza crust. Further, if you have kids at home, you could even encourage them to make their own delicious pizza on a stick for lunch! Be sure to serve it with your favorite pizza sauce.
https://www.thecookierookie.com/pizza-on-a-stick/ PHOTOS AND RECIPE HERE: THE COOKIE ROOKIE
5. Easy Low-Carb Big Mac Bites
The next time you're craving a Big Mac, don't head to the drive-thru on your lunch break, instead, make these delicious Big Mac bites! They come together quickly and can be prepared ahead of time.
This low-carb version skips the bun, but we promise you won't miss it! To make this a true Big Mac experience we've also equipped you with an insanely delicious copycat Big Mac sauce recipe.
http://www.forkly.com/recipes/easy-low-carb-keto-big-mac-bites/ PHOTOS AND RECIPE HERE: FORKLY
6. Meatball Sub on a Stick
Who needs takeout subs when you can have these delicious meatball subs on a stick! This easy idea combines homemade turkey meatballs with store-bought breadsticks.
The meatballs are full of lovely flavors such as basil, parmesan cheese, and spicy red pepper flakes. Finish the skewers with a sprinkle of shredded mozzarella cheese and serve with your favorite marinara sauce!
https://cookiesandcups.com/meatball-sub-on-a-stick/#_a5y_p=1309858 PHOTOS AND RECIPE HERE: COOKIES AND CUPS
7. Caprese Salad on a Stick
Another excellent salad on a stick idea would be Caprese salad! This simple salad may only require 4 ingredients but it does pack a ton of flavor.
The fresh flavors of cherry tomatoes, mozzarella, and basil are amazing but what sets this lunch over the top is the balsamic reduction. The balsamic reduction only takes about 15 minutes on the stove-top which means you can dig into a delicious lunch in 20 minutes or LESS!
https://therecipecritic.com/caprese-skewers/ PHOTOS AND RECIPE HERE: THE RECIPE CRITIC
8. Shrimp and Scallop Kabobs
This quick and easy lunch idea looks like a gourmet dinner. Your coworkers will be drooling once they see what you're having!
This lunch on a stick recipe combines scallops with shrimp, sliced zucchini, and red onion. What transforms this lunch from good to amazing is the homemade garlic chili sauce!
https://thefoodcafe.com/shrimp-and-scallop-kabobs/ PHOTOS AND RECIPE HERE: THE FOOD CAFE
9. Grilled Chicken Fajita Skewers
There are so many delicious skewer ideas out there! So be sure to enjoy some of the best like this fiesta on a stick!
These fajita skewers surely will not disappoint. Prep these the night before and then reheat when you're at work. Fair warning though, your coworkers may beg for a bite!
https://realhousemoms.com/grilled-chicken-fajita-skewers/ PHOTOS AND RECIPE HERE: REAL HOUSE MOMS
10. Tornado Dogs
Who needs street hot dogs when you can have these delicious tornado dogs! This simple lunch requires 2 ingredients and ketchup for dipping!
Follow the tutorial to discover how easy it is to create tornado dogs! Keep this delicious lunch all for your self or make them with the whole family. Your kids will surely love playing chef in the kitchen.
http://www.uncommondesignsonline.com/tornado-dogs-hot-dogs-with-a-twist/ PHOTOS AND RECIPE HERE: UNCOMMON
11. Hawaiian Steak Kabobs
Who says you have to save steak for dinner! Enjoy it for lunch with this steak dinner on a stick recipe!
These delicious kabobs are layered with fresh pineapple, bell peppers, and tender steak pieces. You'll also be supplied with a wonderful Hawaiian steak marinade that truly transforms the flavor of these kabobs.
https://www.savorytooth.com/hawaiian-steak-kabobs/?utm_source=pinterest&utm_medium=social&utm_campaign=2 PHOTOS AND RECIPE HERE: SAVORY TOOTH
12. Caprese Tortellini Skewers
This lunch on a stick idea may look simple but it's exploding in delicious flavor. Plus it's the definition of quick and easy because this lunch comes together in 15 minutes and requires just 4 ingredients.
You'll love the fresh flavors and the alluring ingredients will have you feeling satisfied until dinner time! Additionally, consider preparing a large batch on the weekend so that your lunch is prepped and ready for your busy week ahead!
https://mildlymeandering.com/caprese-tortellini-skewers/ PHOTOS AND RECIPE HERE: MILDLY MEANDERING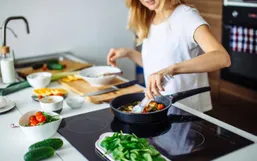 Cooking and eating with loved ones is one of life's greatest pleasures, but choosing what to cook isn't always easy.
Summer is one of the most anticipated seasons of the year! I mean, why wouldn't you love it?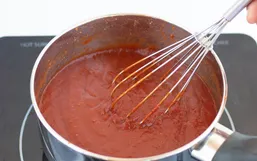 Barbeque sauce is a summer staple, but it's a hard one to get around if you're on the Keto diet since it's generally packed full...
Encouraging your kids to eat more than noodles and sauce can be difficult.
The last thing we want to do after a busy day is to spend hours in the kitchen prepping, cooking, and cleaning up dinner.
Cooking is half the battle when it comes to busy weeknights. Washing the dishes is the other dreadful task.
One of the best parts about summer is deliciously grilled meals straight from the barbecue.
Who loves food? US! And who loves coming home and working in the kitchen after a long day at work? Not us!
I love cooking with chicken. It's a go-to grocery store item that I absolutely must have in my shopping cart.
Whether you're throwing a party or just hanging out at home, appetizers are an easy way to add variety to your meals and make them...
Those of us who are celebrating Halloween are getting ready to carve the pumpkins!
Easter is less than a week away and men and women everywhere are eagerly searching for the best Easter dinner ideas online.