In 2011, there were an estimated 1,596,670 new cancer cases in the US (cancer.org). This disease is becoming an increasing concern for many individuals and has led many to take action when it comes to their health. A few small changes to your diet can have a significant impact on your overall health and can help decrease your likeliness of contracting this deadly disease.
The best foods for fighting cancer are those rich in antioxidants. Many of us consume foods high in antioxidants every day without even knowing it. Being aware of which foods offer high levels of antioxidants will help to ensure you're doing the best you can to avoid this deadly disease.
Below is a list of 30 of the best antioxidant-rich foods, broken down by food group:
---
Fruits:

1. Blueberries2. Raspberries

3. Apples

(red delicious, granny smith or gala)

4. Blueberries

5. Blackberries

6. Strawberries

7. Red Grapes
---
Legumes:

8. Small Red Beans9. Black Beans10. Pinto Beans11. Kidney Beans
---
Vegetables:

12. Spinach13. Kale14. Green Leafy Lettuce15. Artichokes

16. Asparagus

17. Cooked Yellow Onions

18. Red Potatoes

19. Cooked Red Cabbage

20. Cooked Broccoli

21.. Cooked Tomatoes

22. Red Peppers
---
Breads and Grains:

23. Hulled Barley24. Brown / Wild Rice25. Buckwheat26. Quinoa

27. Oats

28. Whole Wheat Bread / Pasta
---
Desserts / Drinks:

29. Dark Chocolate30. Green / Black Tea
A new year is beginning and, like millions of other people around the world, you've probably vowed to make this year healthier and...
When you think of summertime, what's the one fruit that stands out to you as THE fruit of the summer?
Hey Forkly Followers! As a writer at Forkly, I try to walk the walk when it comes to what I make at home.
Having a backyard garden is one of the amazing ways you can cut down on your grocery costs while filling your body with fresh,...
When everyone is back at school and extra curricular activities kick in, it can be difficult to find time to have an after school...
Looking for a meat-free alternative to a classic chicken salad sandwich? We've got it for you.
Finding the right protein bar that isn't packed with sugar and additives can be a difficult task.
Chickpeas are always thought of as the ingredient required to make hummus and a bunch of other healthy foods.
Suppertime can be the best time or a time of chaos and dread. Why?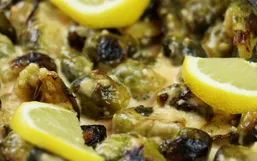 I remember when someone told me their favorite vegetable dish was Roasted Brussels Sprouts. I was not only shocked, but disgusted.
Cooking vegetables can be as simple or as complicated as you make it but at the end of the day, you want a delicious dish with the...
Have you been walking the grocery aisles and seeing "organic this, organic that"?