Having a healthy dinner is an important step to living a healthy lifestyle. Unfortunately it can be hard to think up delicious and healthy recipes. The key to making a flavorful healthy meal is the liberal use of spices and seasoning. Use herbs, lemon, and salsa to amp up the flavor of bland dishes. If you're watching your salt content, there are great seasoning mixes that are salt free. Try cooking without using a lot of butter and oil by using nonstick skillets or by baking on parchment paper.
Check out these 7 amazing healthy dinner recipes submitted by Half Hour Meals users.
*Click on the image to view the full recipe.
7. Five Spice Glazed Salmon
One dish dinners don't often get as quick and easy as this one! The salmon is marinated in a quick Asian marinade and the beans are roasted right alongside it in the oven. Quick and easy and perfect for a weeknight dinner! Salmon is a healthy protein choice because it's low in calories, high in flavor, and has omega 3 fatty acids.
6. Sassy Stuffed Peppers
Stuffed peppers are a flavorful and healthy dinner. The meat inside is packed with spices and garlic. Use lean ground meat for a lower fat content and to save some calories. Try using different types of meat for different flavors. Ground chicken or turkey is a great alternative!
5. Steamed Salmon
Steaming fish is a brilliant way to save some calories but keep in all the natural juices and flavors. This luxurious dish is topped with a blueberry balsamic reduction. Just a little of this sauce goes a long way, so you can save a lot of calories by using it sparingly.
4. Chicken Noodle Soup
There's nothing better on a cold, sniffly day than a bowl of homemade chicken noodle soup. It's not difficult, but does take a little time to put together. Once you try to make it yourself, you'll never pop open a can again! Canned soups are full of sodium and preservatives.
3. Greek Quinoa Salad
This Greek-style quinoa is loaded with fresh, crisp veggies and tossed in a tangy dressing. Make an entire batch of it on Sunday, and have a healthy, delicious lunch for every day of the work week! Add a broiled chicken breast to make a filling and healthy dinner.
2. Pork Chops With Peach Ginger Chutney
This quick and easy chutney tastes great with the pork chops in the recipe, but why stop there? You could throw the chops on the grill instead, or use the chutney with pork roast, tenderloin, or even chicken! Make your own chutney to save on the salt that store brands are full of. Pork is a great lean protein option for dinner.
1. Fall Minestrone
This healthy, hearty soup combines beans with tons of autumn vegetables and pasta. It's absolutely delicious, the perfect meal for a chilly autumn evening, and something you can feel really good about eating. Add in cooked sausage or meatballs to amp up the protein, or keep it without for a vegetarian meal.
Salads aren't just for those on a diet anymore. Properly made, they can be a filling and delicious meal.
When you think of summertime, what's the one fruit that stands out to you as THE fruit of the summer?
Hey Forkly Followers! As a writer at Forkly, I try to walk the walk when it comes to what I make at home.
Having a backyard garden is one of the amazing ways you can cut down on your grocery costs while filling your body with fresh,...
When everyone is back at school and extra curricular activities kick in, it can be difficult to find time to have an after school...
Looking for a meat-free alternative to a classic chicken salad sandwich? We've got it for you.
Finding the right protein bar that isn't packed with sugar and additives can be a difficult task.
Chickpeas are always thought of as the ingredient required to make hummus and a bunch of other healthy foods.
Suppertime can be the best time or a time of chaos and dread. Why?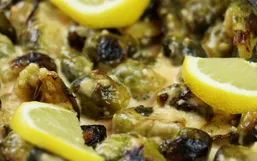 I remember when someone told me their favorite vegetable dish was Roasted Brussels Sprouts. I was not only shocked, but disgusted.
Cooking vegetables can be as simple or as complicated as you make it but at the end of the day, you want a delicious dish with the...
Have you been walking the grocery aisles and seeing "organic this, organic that"?