Listen, I get it. I'm a working mother of 3 with a love for good, healthy food that I can easily feed my family without having to spend the entire night in the kitchen preparing it and then spending additional time doing the dishes. No thank you. So, one-pan dinners are. my. jam. A fact I have stated before, but always bears repeating. I will not succumb to take out, boxed dinners, or microwaved meals (at least not every night). My budget can't afford it, my family's health and well-being shouldn't be the give in a crammed schedule. So for us, this is the kind of thing that works. With a zesty balsamic marinade for the chicken along with a vegetable medley this recipe is quickly created, cooked and served with only a single dish to wash when you're done serving it. Plate it over rice or quinoa, or enjoy on it's own. This is a lean mean chicken dinner that is most definitely a winner (frig, I'm sorry…I'm a sucker for that saying…just let me get it out of my system "winner winner chicken dinner!" phew, all good. Now onto the recipe…)
Ingredients
4 chicken breasts (approx 1.25lbs)
2/3 cup balsamic vinegar
2/3 cup fat free Italian salad dressing
1 head of broccoli, stalks removed and chopped
1 cup baby carrots
2 cups Brussels sprouts, halved
1/2 pint cherry tomatoes
2 tsp Italian seasoning
3 tbsp olive oil
1 tbsp minced garlic
salt & pepper
Equipment
Mixing Bowl
Non-Stick Baking Sheet (or parchment lined)
Method
Preheat your oven to 400 degrees F. If not using a non stick pan, line with non-stick foil or parchment paper.
In a large mixing bowl, combine the balsamic vinegar and Italian dressing (we used a fat-free variety, but use whatever you have on hand).
Add your chicken and veggies to the mix and toss until everything is well coated in the marinade. Optionally, you can set aside for 30 minutes to give it more flavor, but if you're short on time, don't worry about it!
Place the chicken on the pan first, then surround it with the vegetables and drizzle any extra marinade over everything.
Roast in your pre-heated oven for 20-30 minutes. Double check to make sure the chicken breast is fully cooked, if not, continue roasting for 5 minutes at a time.
Serve over rice or quinoa, or on it's own!
Spring has finally sprung and we are all about it. While winter had us craving hearty, comfort food-esque dinners, springtime...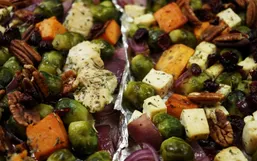 After trying the plant-based diet, my biggest struggle was being able to feed those in my home that are still meat loving humans.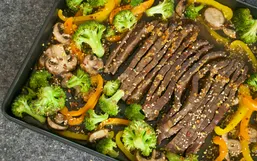 Grilling season is upon us! Unfortunately, not everybody has a barbeque.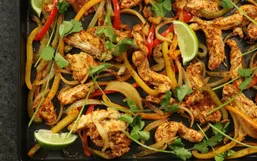 Pretty much the easiest way to make chicken fajitas at home while optimizing on flavor and saving you time, dishes and energy!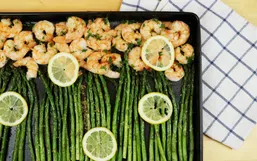 Oh. My. Gosh. This dinner. Let. Me. Tell. You. Shrimp is such a delicious lean protein (meaning you can eat lots of them for...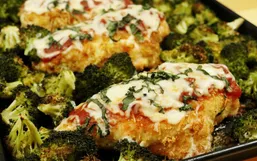 A simple chicken parm recipe for even the most inexperienced of chefs.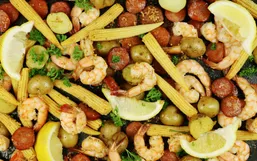 Shrimp boils are traditionally a one-pot prepared dinner with the corn, potatoes, sausage and shrimp all boiled together to make a...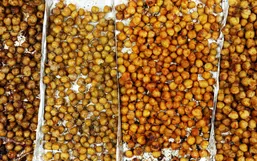 Chickpeas are an amazing plant-based protein that is easily seasoned and roasted to create an on-the-go healthy snack!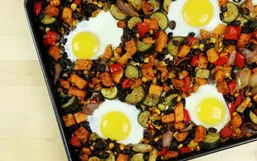 To be honest, I'm not a big breakfast eater. It's too early for me to have an appetite.
Summer is here, and with summer comes fun family road trips! If you're anything like me, I start getting tired of having to pick...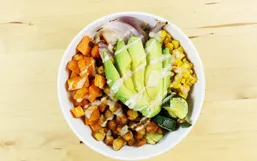 Buddha bowls are all the rage right now, and not just because they're so instagram-worthy.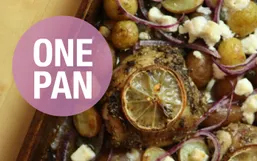 Most of us love to cook a whole well-rounded meal for our friends and family, but the reality is - we often just lack time and...