You never know when a craving might hit you throughout the day. Sometimes it's at lunchtime when you wish you could munch on a cookie after your salad, or maybe it's while you're watching a movie and you could really go for a burger and fries. No matter what the occasion, we always need to leave a little room every once in a while for that special treat that will hit the spot. Next time you're about to head to McDonald's for fries, consider getting a little adventurous and trying out something like fried Peaches and ice cream, or maybe even zucchini fries. These dishes are definitely out of the ordinary, but who knows, it may be your next guilty pleasure.
1. Fried Peaches
Feeling uninspired about dessert? Try frying up some peaches and topping with a little ice cream.
http://ourbestbites.com/2016/09/fried-peaches-cream/ Photos and Recipe By: Our Best Bites
2. Asparagus Fries
I love asparagus, and it tastes even better when it's fried (of course)! Make a great chipotle dip to accompany this exciting new snack.
http://skinnyms.com/asparagus-fries-recipe/ Photos and Recipe By: Skinny Ms
3. Deep Fried Apples
If you can't choose between pie and something deep fried – pick both! These apples will taste a little like apple pie and a bit like a danish. So good.
http://twokidsandacoupon.com/2016/10/deep-fried-apples.html Photos and Recipe By: Two Kids and a Coupon
4. Deep Fried Olives
Are you a committed olive fan? Serve up these memorable deep fried olives as an appetizer at your next dinner party.
http://thewanderlustkitchen.com/deep-fried-olives/ Photos and Recipe By: The Wanderlust Kitchen
5. Deep Fried Cauliflower
Cauliflower is everywhere these days and we've already learned that there is nothing cauliflowers can't do in the food world. So is frying them such a surprise?
http://www.livingwellspendingless.com/2013/08/07/deep-fried-cauliflower/ Photos and Recipe By: Living Well Spending Less
6. Crispy Deep Fried Breaded Mushrooms
Mmmm, mushrooms are so delicious and are even better when they are fried up.
http://thecookiewriter.com/crispy-deep-fried-breaded-mushrooms/ Photos and Recipe By: The Cookie Writer
7. Deep Fried Zucchini Slices
Get some marinara sauce ready because you're about to discover your new favorite snack!
http://www.savorytooth.com/crazy-good-fried-zucchini/ Photos and Recipe By: Savory Tooth
8. Crispy Fried Green Tomatoes
I used to eat fried tomatoes with my grandmother as a kid, and let me tell you, they are delicious!
http://rantsfrommycrazykitchen.com/2016/08/02/crispy-fried-green-tomatoes/ Photos and Recipe By: Rants From My Crazy Kitchen
9. Deep Fried Avocado
I cannot get enough of avocado, so I can't wait to try it all fried up. Delicious!
http://damndelicious.net/2013/06/25/fried-avocado-with-chipotle-cream-sauce/ Photos and Recipe By: Damn Delicious
10. Sweet Potato Balls
Sweet potatoes are the perfect starch that is salty and sweet at the same time. Enjoy them deep fried with a little sauce.
http://vforveggy.com/sweet-potato-balls/ Photos and Recipe By: V for Veggy
Salads aren't just for those on a diet anymore. Properly made, they can be a filling and delicious meal.
When you think of summertime, what's the one fruit that stands out to you as THE fruit of the summer?
Hey Forkly Followers! As a writer at Forkly, I try to walk the walk when it comes to what I make at home.
Having a backyard garden is one of the amazing ways you can cut down on your grocery costs while filling your body with fresh,...
When everyone is back at school and extra curricular activities kick in, it can be difficult to find time to have an after school...
Looking for a meat-free alternative to a classic chicken salad sandwich? We've got it for you.
Finding the right protein bar that isn't packed with sugar and additives can be a difficult task.
Chickpeas are always thought of as the ingredient required to make hummus and a bunch of other healthy foods.
Suppertime can be the best time or a time of chaos and dread. Why?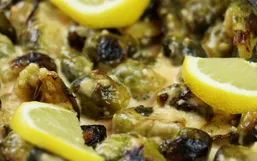 I remember when someone told me their favorite vegetable dish was Roasted Brussels Sprouts. I was not only shocked, but disgusted.
Cooking vegetables can be as simple or as complicated as you make it but at the end of the day, you want a delicious dish with the...
Have you been walking the grocery aisles and seeing "organic this, organic that"?