To me, summer and grilling are synonymous. By that, I mean my husband, grilling, and summer are synonymous because I have yet to learn how to barbeque anything substantial by myself. That's exactly what makes these lemon garlic shrimp and vegetables foil packets so dang good! You mix everything up in a bowl (if you've got a big enough bowl, you can put it all into one), dump it onto heavy duty tin foil, fold it up, and throw it on the barbecue. Not only is it a fast meal, it really doesn't require any grilling skill! If you can turn the grill on, you can make this dish perfectly.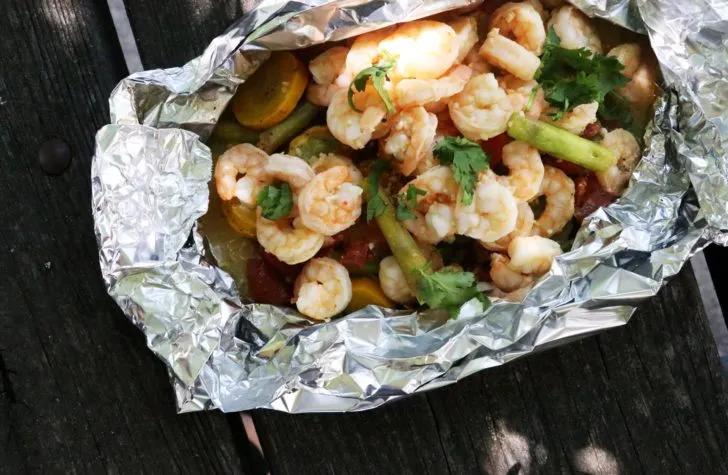 It's a healthier option with low carb vegetables and lean shrimp that has all the light summer flavors we crave during these hot months. It's simple enough that you can whip it up for a quick weeknight family meal, but flavorful enough to serve if you're hosting. Serve this dish by itself, over rice, or even on top of greens! Regardless, we're sure you'll love this Quick and Easy Lemon Garlic Foil Packet Shrimp! Time to get grilling!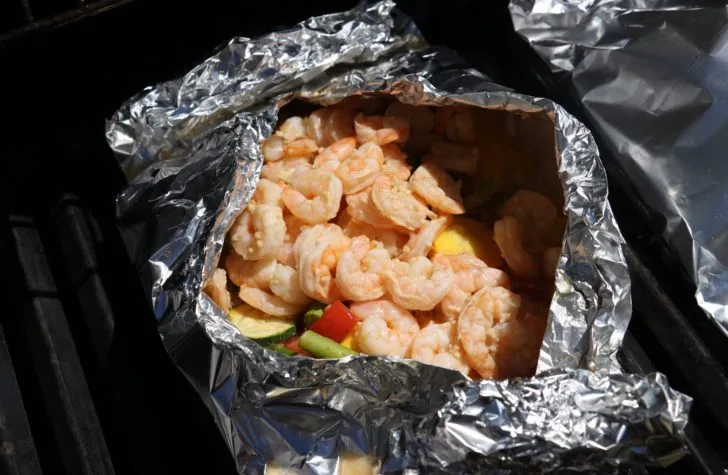 Ingredients
2 lbs raw shrimp, deveined and peeled
1 tbsp garlic, minced
1 tbsp dijon mustard
1/2 lemon, juiced
2 roma tomatoes, chopped
2 zucchinis, coined
1/2 bunch asparagus, cut into 2" pieces
2 tbsp butter, cut into pats
Salt and pepper
Olive oil
Cilantro for garnish (optional)
Extra-large heavy duty tin foil
Method
Turn the grill on to high heat.
In a large bowl, mix shrimp, oil, garlic, mustard, and lemon juice. Set aside.
In another large bowl, add all vegetables, oil, and salt and pepper. Mix to coat.
On a piece of extra-large heavy duty tin foil, add half of the vegetable mix and half of the shrimp. Drizzle with 2 tbsp of the shrimp marinade (from the bottom of the bowl). Top with 2 pats of butter.
Seal the foil packet by folding the packet edges together horizontally. Then tightly fold the sides up to form a seal.
Repeat steps 4 and 5 for remaining vegetables and shrimp.
Once the barbecue is up to temperature, place foil packets on the grill.
Let cook for 10-15 minutes (length will depend on size of the vegetables and shrimp). Begin checking for doneness around the 10 minute mark.
When fully cooked, remove from grill. Serve hot by itself or on rice!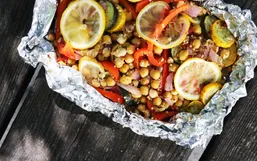 As someone who now eats a mostly plant-based diet, I've found myself stumped on how to enjoy BBQ meals this summer.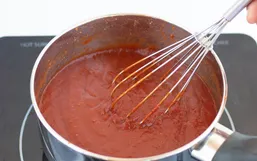 Barbeque sauce is a summer staple, but it's a hard one to get around if you're on the Keto diet since it's generally packed full...
One of the best parts about summer is deliciously grilled meals straight from the barbecue.
Cooking is half the battle when it comes to busy weeknights. Washing the dishes is the other dreadful task.
The last thing we want to do after a busy day is to spend hours in the kitchen prepping, cooking, and cleaning up dinner.
Encouraging your kids to eat more than noodles and sauce can be difficult.
Following a new diet can be both exciting and daunting and following through with that diet is never easy!
Summer is one of the most anticipated seasons of the year! I mean, why wouldn't you love it?
We seem to have breakfast and dinner covered but what about lunch?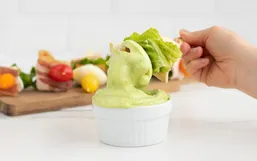 Let me start by answering the question I know you're wondering - "Is this dressing good enough that I should actually take the...
You can never go wrong with buttery flaky crescent rolls but did you know a tube of crescent roll dough can be so much more than...
When the snack cravings hit we all know how easy it is to reach for the most accessible thing in sight.