Enjoy the fresh flavors of Mediterranean cooking that will have you dreaming of lounging next to the sea without having to fly across the ocean to enjoy it! Seriously, today we're making an insanely delicious and easy salad that is light, bright, and bold in flavor! There is nothing better than transitioning into spring and summer by replacing our hearty comforting dishes for something fresh and light. We're here to show you how you can make salad fun again with our Mediterranian quinoa salad.
To learn more about the Mediterranean diet and what to eat check out The Absolute Best Snacks To Try On The Mediterranean Diet. Our salad combines authentic Mediterranean flavors to create an exciting bowl that can be served for both lunch and dinner. It can be prepared quickly and certainly serves a crowd so consider making this salad for your next potluck or use it to create healthy lunches for the whole week!
1. Cook Quinoa
Before preparing the salad, you need to cook the quinoa. There are two easy methods to do this. First, you can cook it using an Instant Pot, which is our favorite method. This method is completely hands-off, requires no babysitting and can be done quickly. Follow our Instant Pot Hack: How To Cook Quinoa! Second, if you don't own an Instant Pot you can prepare it on the stovetop by following the instructions found on the back of the quinoa package. You'll want to ensure the quinoa is cold before preparing the salad so consider cooking it the day before or at least several hours before assembling the salad.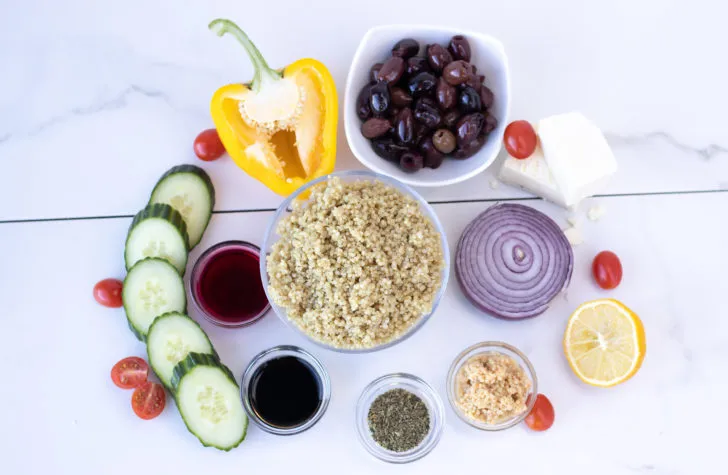 2. Prepare The Dressing
It's easy to buy store-bought salad dressing, however, we believe nothing quite compares to the delicious flavors that homemade dressing has to offer. Once you try it, you'll never want to go back to store-bought again! The base of our dressing is made from olive oil, red wine vinegar, balsamic vinegar, and freshly squeezed lemon juice. You will also need minced garlic, dried basil and oregano, and a dash of salt and pepper. Toss all of these ingredients into a jar and give it a good shake until it's thoroughly mixed.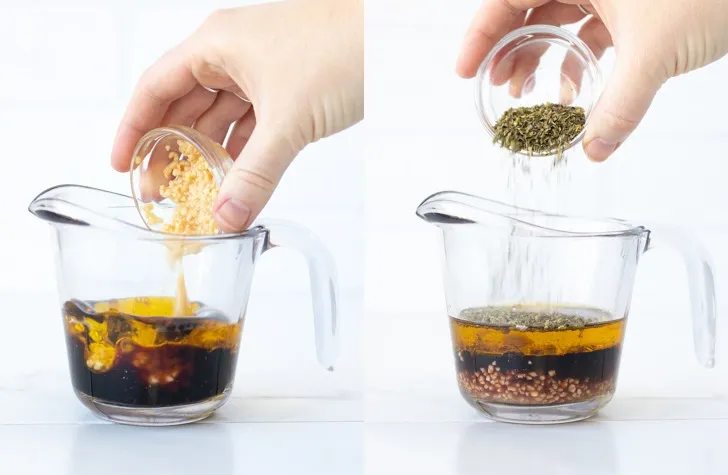 3. Combine Salad Ingredients
Once the dressing is prepared, set it aside and prepare the salad ingredients. Dice the cucumber and peppers, slice the tomatoes and olives, and finely chop the red onion. Finally, crumble feta cheese on top and then mix thoroughly with the quinoa to combine all the ingredients.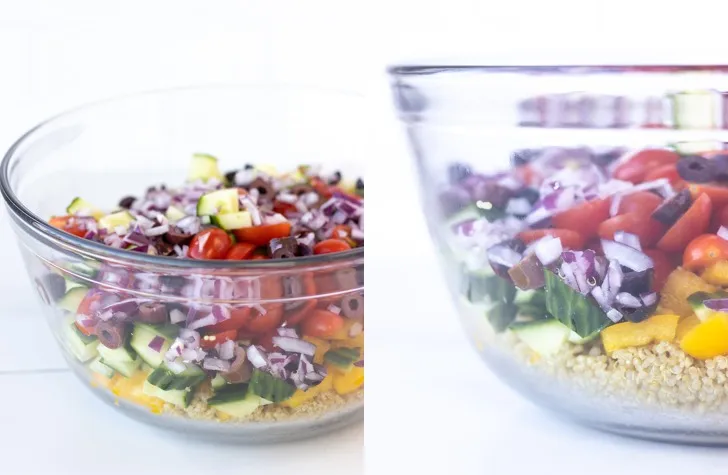 4. Combine Salad With Dressing & Serve!
Just before serving give the dressing another shake and then pour over the salad. Mix gently to ensure all the ingredients are evenly coated. Finally, garnish with more feta cheese and serve immediately! If you're looking to turn this salad into a full meal considering serving it with a piece of grilled chicken or salmon on top for protein. Alternatively, if you don't eat meat you can mix in one can of rinsed chickpeas for added protein! Enjoy!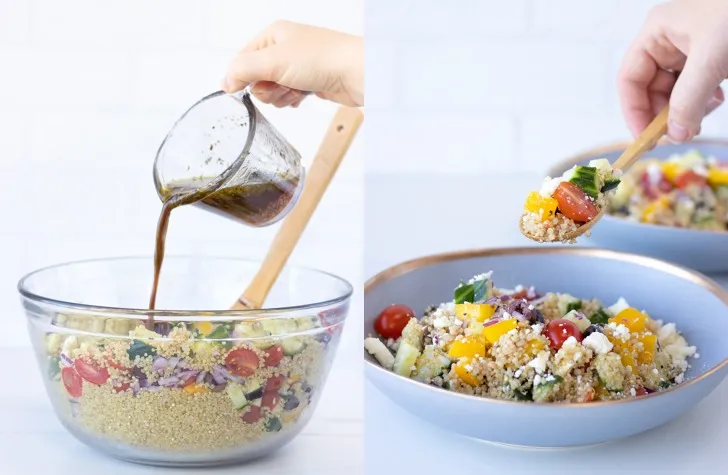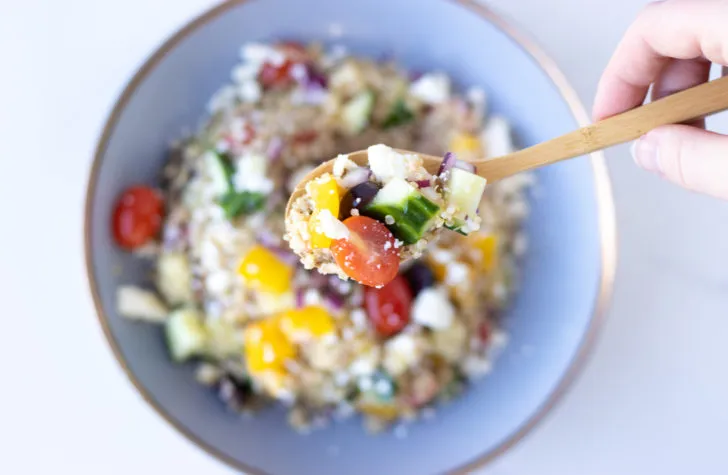 Ingredients
1/4 cup olive oil
2 tbsp red wine vinegar
1 tbsp balsamic vinegar
1/2 lemon, juiced
1/2 tsp dried oregano
1 tsp dried basil
2 tsp minced garlic
½ tsp each salt and pepper
4-5 cups cooked chilled quinoa
1.5 cups cherry tomatoes, halved
1 cucumber, diced
1 yellow pepper, diced
1/2 cup kalamata olives, sliced
1/2 red onion, finely chopped
2/3 cup feta cheese, crumbled
Method
Add olive oil, vinegars, lemon juice, oregano, basil, garlic, salt, and pepper to a jar or container. Lid the jar and shake thoroughly to combine. Set aside.
In a large bowl, combine remaining ingredients and mix gently.
Just before serving, give the dressing another quick shake and pour over the salad. Mix gently to coat all ingredients. Serve immediately.
Notes
When preparing quinoa, 2 cups uncooked quinoa equates to about 4-5 cups cooked.
To make this a full meal, add grilled chicken or salmon and serve on top of the salad. Alternatively (if you don't eat meat), add one can of rinsed chickpeas directly into the salad and mix together.
When the snack cravings hit we all know how easy it is to reach for the most accessible thing in sight.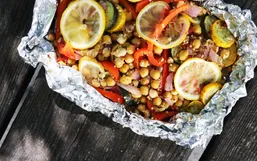 As someone who now eats a mostly plant-based diet, I've found myself stumped on how to enjoy BBQ meals this summer.
Are you tired of making the same meals over and over again? Perhaps you're feeling uninspired in the kitchen.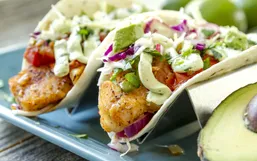 Let's face it, we all live busy lives and with those busy nights come stressful dinner times.
Dealing with picky eaters is never easy. It can be a never-ending battle trying to get them to eat dinner but we're here to put a...
Encouraging your kids to eat more than noodles and sauce can be difficult.
Cooking is half the battle when it comes to busy weeknights. Washing the dishes is the other dreadful task.
One of the best parts about summer is deliciously grilled meals straight from the barbecue.
These past few months, life has been flying by faster than usual. I make it home in time to whip up something quick for supper and...
I love cooking with chicken. It's a go-to grocery store item that I absolutely must have in my shopping cart.
I can only imagine what it must have been like when the microwave was invented.
Whether you're throwing a party or just hanging out at home, appetizers are an easy way to add variety to your meals and make them...