You can never go wrong with a delicious rice dish. After all, almost everyone has some type of rice on hand. The same old brown or white rice drizzled with soy sauce can get old fast so we're here to help!
We have found rice recipes that you and your family are actually going to want to eat. Better yet, all of these recipes are made in the Instant Pot. This means not only are they delicious but they can be made incredibly quickly too! Change up your weeknight dinners and throw a few of these recipes in the mix and your family will thank you.
Want New Instant Pot Recipes and Content Delivered Straight To Your Inbox? Sign up for our Instant Pot Email Newsletter!
1. Instant Pot Hack: Cooking Perfect White Rice
Before you dig into delicious rice dinners you'll want to master how to cook rice in your Instant Pot. Rice is a staple and the Instant Pot makes cooking rice a breeze. Our Instant Pot hack will walk you through how to make the perfect white rice effortlessly.
While the Instant Pot doesn't cut down the cooking time drastically, it does allow you to prepare it hands off. So set it, forget it, and come back to delicious fluffy rice that you can use for many meals!
2. Teriyaki Rice With Chicken
Who needs take-out when you can quickly make this teriyaki rice and chicken dish at home! This one-pot meal is full of wholesome ingredients and lovely flavors.
This recipe also comes with instructions on how to make a homemade teriyaki sauce. You'll begin by sauteing a few of the ingredients together that will release lovely flavors. Then it is finished by pressure cooking the ingredients for just 3 minutes!
3. Chicken Fried Rice
Fried rice is a family favorite! Often it is served as a side but you can turn it into a meal by adding in chicken.
First, you'll cook the rice with vegetable broth and chopped carrots for only 3 minutes! Then using the saute function, you'll add in the frozen peas and then add the beaten eggs last to give it an authentic fried rice flavor.
4. Wild Rice Pilaf
This wild rice pilaf would make an excellent side dish for almost any meal! It has a wonderful texture and even more amazing flavor.
It's important to note that this recipe uses a raw wild rice mix and if your wild rice is parboiled the cooking time will need to be lowered significantly. Keep in mind the packaging will tell you if your rice is raw or parboiled. Along with the rice you'll need mushrooms, garlic, onion, and seasonings.
5. Beef Rice Pilaf
If you're looking to turn pilaf into a meal try this beef and rice pilaf recipe! Savory rice is served with chunks of tender beef.
The Instant Pot can cook rice and beef simultaneously which means fewer dishes and easy cleanup! I think we can all agree that we need these type of easy meals during busy weeknights!
6. Greek Chicken and Rice
This dump and go recipe is so easy and is great for a quick weeknight dinner or for healthy meal prep. Rice is paired with chicken, zucchini, bell peppers, lemon juice, and a sprinkle of feta cheese to create a lovely Greek dinner.
Pressure cook the chicken and rice with the delicious seasonings and broth. Then when the cooking time is complete the pressure has been released, add in the bell peppers and zucchinis and allow them to sit in the hot pot for 5-10 minutes. This method allows the veggies to steam and prevents them from overcooking.
7. Cilantro Lime Rice
Jazz up white rice with a few fragrant ingredients such as cilantro and lime. This recipe recommends cooking the rice with both water and broth to provide even more flavor.
The rice only needs to pressure cook for 12 minutes then once the pressure has been released add in lime juice, lime zest, and fresh cilantro. The rice pairs very well with Mexican dishes such as tacos, enchiladas, quesadillas or whatever your heart desires.
8. Garlic Parmesan Chicken and Rice
Serve a crowd with this garlic parmesan chicken and rice meal and they'll be blown away! From pot to table you can have this prepared in 40 minutes.
Chicken and rice are cooked amongst water, heavy cream, and cream of chicken condensed soup. This creamy dish is very comforting and will become a new family favorite.
9. Wild Rice Soup
This wild rice soup will surely bring back childhood memories. Traditionally, a soup like this needs to simmer on the stove for hours. Cut down that time drastically by using your Instant Pot.
This wild rice soup is so savory and has lovely flavors of mushroom, garlic, and onion. If you feel like this soup needs more you can also add in chicken and cook it amongst the other ingredients.
10. Chicken Burrito Bowls
With this recipe, enjoy all the flavors and textures you love about burritos but in a bowl. The Instant Pot cooks chicken, rice, veggies, and all the wonderful seasonings together in one pot!
This dinner is so filling and can be prepared in under 20 minutes! Finish this meal by sprinkling shredded cheese on top and allow it to rest until it is ooey-gooey perfect!
11. Stuffed Peppers
Stuffed peppers are an awesome healthy dinner option, however, they do often require quite a bit of effort. Thanks to the Instant Pot, you can cook everything in one pot!
First, you'll want to prepare the rice in the Instant Pot. Once finished combine all the ingredients together, and stuff the peppers. Lastly, using the trivet accessory place the peppers on top and ensure there is water in the base of the pot. Serve the peppers with a dollop of marinara sauce and shredded cheese.
12. Chicken Ranch Rice Bowls
These chicken ranch rice bowls are perfect for lunches and light dinners. In the Instant Pot, cook the chicken and rice together with chicken broth. It only needs 2 minutes to cook but that doesn't account for the time it will take the pot to come to pressure.
While the rice and the chicken are cooking prepare the delicious blackened ranch dressing. Then serve together with fresh cherry tomatoes and diced cucumbers!
13. Cream of Mushroom Chicken
This cream of mushroom chicken is essentially like a casserole and a risotto combined! It's creamy, savory and oh so delicious!
Skip the canned soup because this recipe doesn't need it. This recipe puts a healthy twist on a traditional meal and uses ingredients that you most likely already have on hand. Chicken broth, chicken breasts, rice, and mushrooms cook together in the Instant Pot. Then once complete, add in sour cream to make this dish irresistibly creamy and tasty!
14. Brown Rice and Black Beans
Brown rice and black beans is a quick and easy healthy meal! The Instant Pot can cook dried beans and rice in under an hour and most of that time is spent hands-off.
Not only is this meal healthy but it's budget-friendly too! All you'll need is brown rice, dried black beans, diced tomatoes, vegetable broth, and water. You'll also be provided with recommendations on how to change the flavor to your liking.
15. Copycat Rice A Roni
We get it, boxed foods are easy! But what if we told you, with the Instant Pot your favorite boxed food can be made effortlessly at home with wholesome ingredients. This recipe proves that it can be done and it can be done well.
This copycat recipe requires 20 minutes and simple ingredients. First, use the saute function to toast the spaghetti noodles and the rice. Then combine all the ingredients together and pressure cook for just 8 minutes!
16. Mexican Rice
Enjoy authentic flavors of Mexican rice with this quick and easy Instant Pot recipe! This rice is made with long grain white rice, tomato sauce, tomato bouillon cubes, carrots, and frozen peas.
You'll start off by sauteeing the rice until it is lightly toasted (this will bring out the flavor). You'll also want to add the water and bouillon cubes while the saute function is on so that the bouillon cubes can dissolve. In the end, you'll be left with tender, fluffy delicious rice.
17. Instant Pot Unstuffed Pepper Casserole
Instead of Philly cheesecake stuffed peppers, you could try our unstuffed pepper casserole recipe! It's the perfect dump-and-go meal that packs a ton of flavor.
You'll experience the same flavors and textures you love about stuffed peppers but without the effort! Once the casserole is prepared, top it off with your favorite cheese.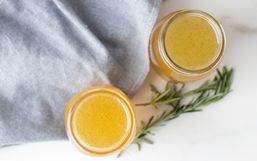 Bone broth is all the rage nowadays with health professionals proclaiming the benefits and people (and companies looking to...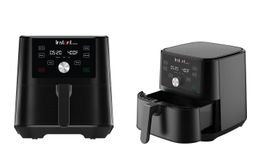 Deep-fried foods are delicious but they come with a cost. Often dripping in oil and full of fat, these not so healthy foods can...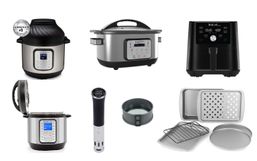 It seems like everyone and their best friend has an Instant Pot these days.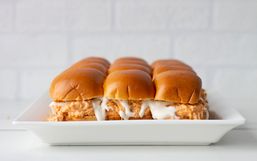 Parties happen all year round and instead of taking on the task of cooking for a crowd, make your next party a potluck party!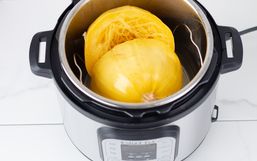 While I don't love all vegetables, I am definitely up for trying new things (at least once).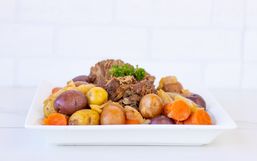 Roast beef is one of those meals that's an oldie but a goodie. If you have company coming over for supper - it doesn't matter who...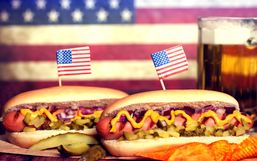 The 4th of July holiday indicates that summer is here. On this patriotic holiday friends and family gather together to play games,...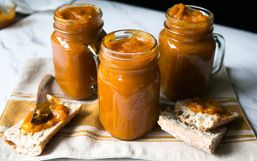 The season of fall is a favorite for many because it means crisp air, cozy layered clothing, and of course comforting meals.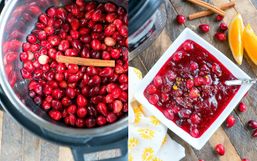 The holidays are a busy time of year, between hosting guests, planning a dinner, and catering to everyone's needs it can get...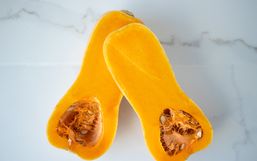 How many times have you pulled out your butternut squash just before supper and realized you don't have enough time to cook it...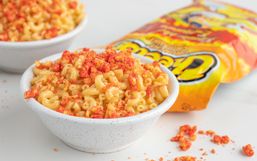 There is no comfort food like mac and cheese - the carbs and cheese are oh so delicious!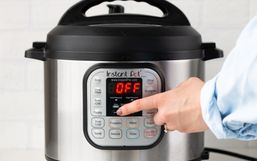 Do you know what FOMO is? Fear of missing out. I've been experiencing it ever since everyone under the sun got an Instant Pot for...