Fish is full of healthy fats, making it the perfect well-rounded dinner. It's delicious on the barbeque, but not everybody has a grill! The Instant Pot is a great alternative and cooks up flakey, flavorful fish every time. This Lemon Honey Garlic Salmon Dinner is an easy weeknight recipe if you're wanting to add some Omega fats into your meal rotation. Paired with low-carb broccoli and some rice (if you want), you've got yourself a full meal packed with flavor and nutrients!
Looking for other easy dinner ideas? Check out these Insanely Easy Weeknight Meals in 20 Minutes or Less!
Want New Instant Pot Recipes and Content Delivered Straight To Your Inbox? Sign up for our Instant Pot Email Newsletter!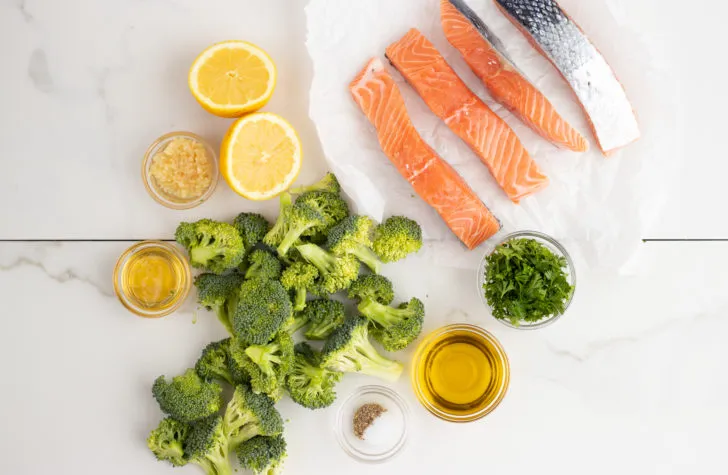 Start by placing the salmon fillets on a piece of tin foil and drizzling with the oil and garlic mixed together. Make sure that the fillets are well coated. Next, drizzle the honey over top using a back and forth movement to make sure the flavor of the honey is all over.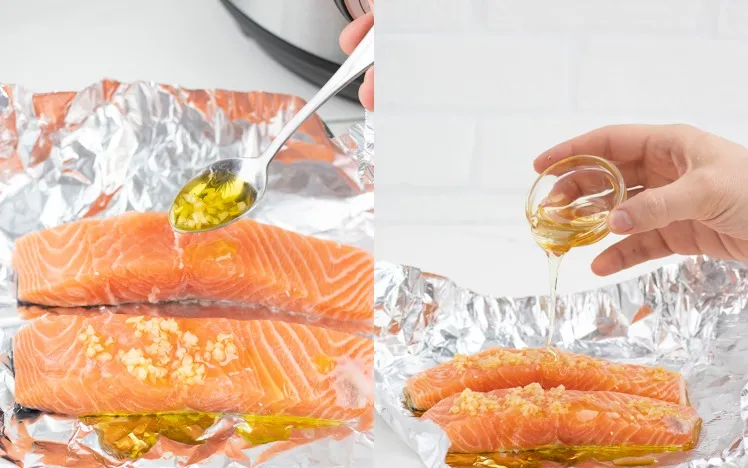 Squeeze some lemon juice onto the fish and sprinkle with fresh parsley. Lastly, place lemon slices on top of the fillets – one on each. Wrap up the tin foil packs, ensuring that there are no openings. This traps the flavor, juices, and heat in during the cooking process!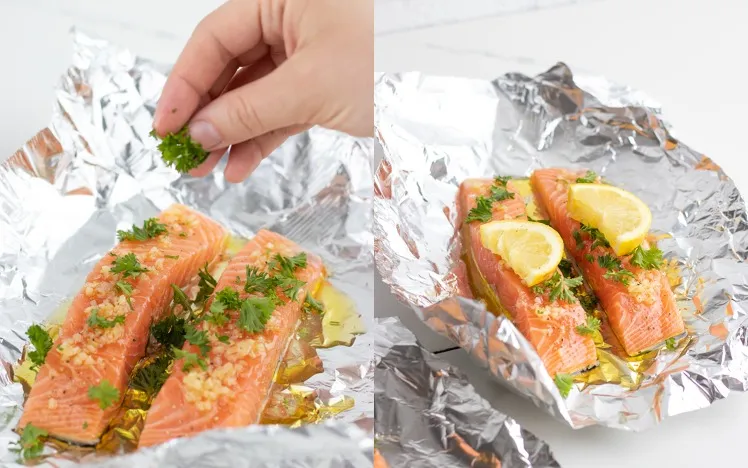 Add one cup of water to the inner pot of the Instant Pot, then add the trivet. Carefully place the broccoli florets on top, making sure they don't fall into the water. One note here: We found the broccoli to be quite soft once it had cooked. If you prefer your broccoli still with a bit of crunch then do not add the broccoli at this point and instead, add to the pot once the salmon has finished cooking, re-lid the pot and let sit for 5 minutes. Then open the lid and serve!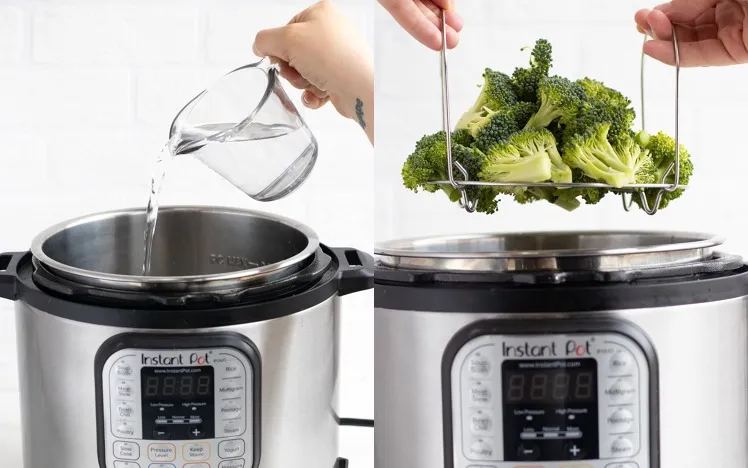 Add the foil packs on top of the broccoli, stacking carefully if needed. Lid the pot – it's time to cook!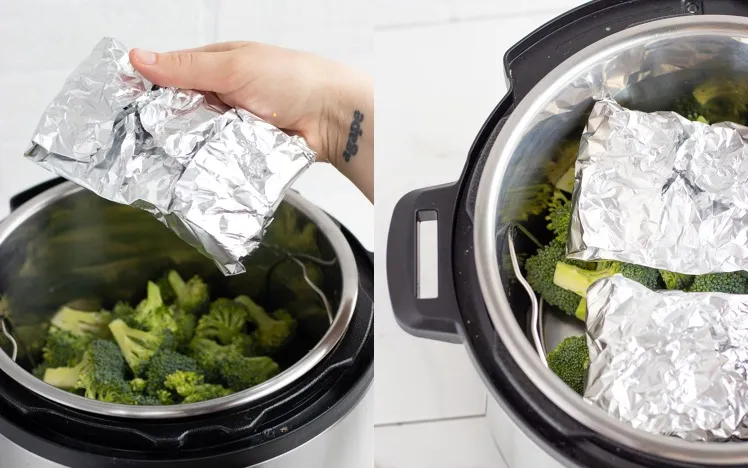 Cook on Pressure Cook (or "Manual" depending on how old your model is) HIGH for 0 minutes. Yes, you read that correctly! Hit that minus button until it reads "0". This means that the dish will cook during the time it takes the Instant Pot to come to pressure and during the natural pressure release time, but no time in between. This is important to ensure that the fish doesn't overcook!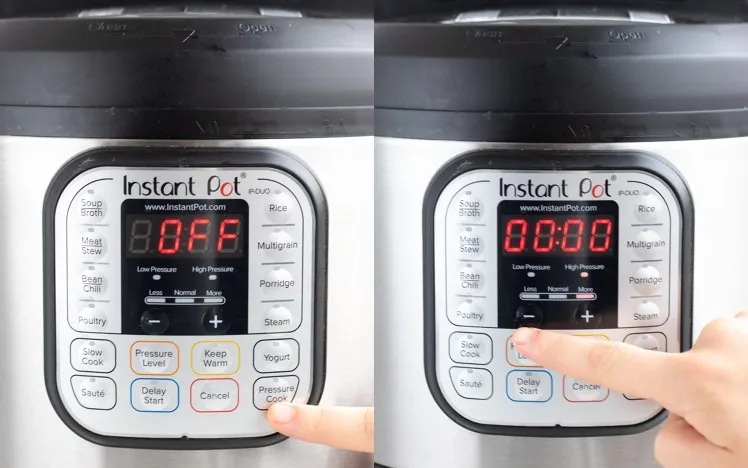 Once it's come to pressure and beeps into indicate, allow for a 5 minute nautral release before quick releasing any reamining pressure. Carefully remove the foil packs and open them up. Use tongs to remove the broccoli from the pot and serve alongside the fish and some rice, quinoa, or potatoes. Enjoy!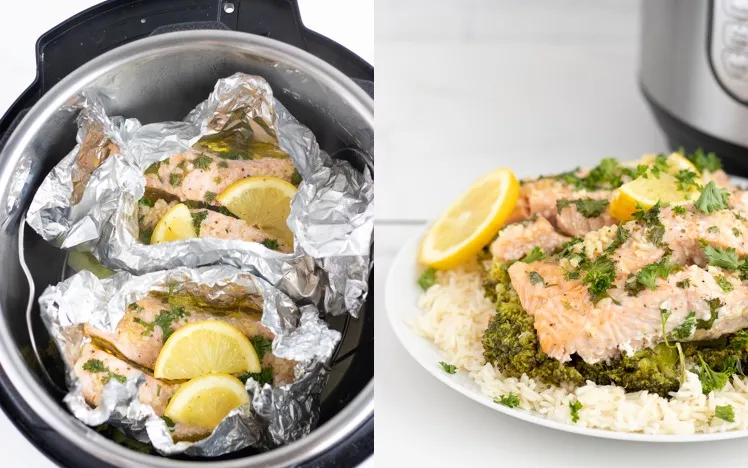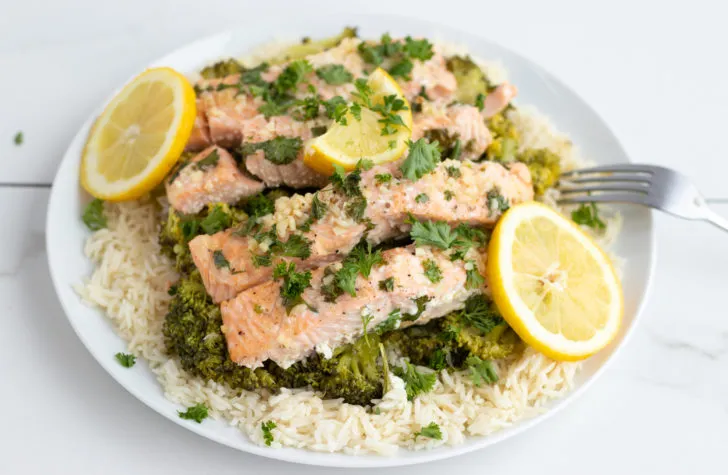 Ingredients
1 head broccoli, cut into florets
4 fresh salmon filets
2 tbsp olive oil
1 tbsp garlic, minced
2 lemons, 1 juiced and 1 sliced
4 tsp fresh parsley
4 tbsp honey
Salt and pepper
Equipment
Instant Pot
Trivet
Tin foil
Method
In a small bowl, mix the garlic and oil.
Place each salmon fillet on a small piece of tin foil. Brush with the oil/garlic mix, then add a squeeze of fresh lemon juice on top. Drizzle generously with honey. Top with a sprinkle of parsley (roughly 1 tsp per fillet), salt and pepper, and 1 lemon slice per pack. Carefully fold up packets.
Add 1 cup of water to the instant Pot, followed by the trivet. Add in the broccoli and carefully place the salmon foil packs on top.
Lid the pot, set the valve to sealing, and cook on Manual/Pressure Cook HIGH for 0 minutes (yes, you read that correctly).
Once cook time has elapsed, allow for a 5-minute natural release before quick releasing any remaining pressure.
Serve immediately with the unwrapped salmon on the broccoli. For more flavor on the broccoli, pour any liquid from the foil packs onto the vegetables before serving. Enjoy!
Notes
Our 6-quart Instant Pot Duo took 13 minutes to come to pressure, but the time will vary depending on what model and size you're using.
If your fillets are large, increase the olive oil measurement to ensure they are evenly coated.
We found the broccoli to be quite soft. With that, if you prefer your broccoli crunchy or tender then do not add the broccoli with the salmon and instead, add to the pot once the salmon has finished cooking, lid the pot and let sit for 5 minutes. Then open the lid and serve hot!
While experimenting with the Instant Pot I quickly discovered that it can not only cook a quick and easy weeknight meal but it can...
Parties happen all year round and instead of taking on the task of cooking for a crowd, make your next party a potluck party!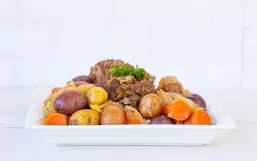 Roast beef is one of those meals that's an oldie but a goodie. If you have company coming over for supper - it doesn't matter who...
The 4th of July holiday indicates that summer is here. On this patriotic holiday friends and family gather together to play games,...
The season of fall is a favorite for many because it means crisp air, cozy layered clothing, and of course comforting meals.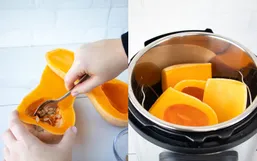 The holidays are a busy time of year, between hosting guests, planning a dinner, and catering to everyone's needs it can get...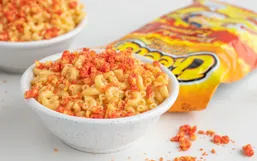 There is no comfort food like mac and cheese - the carbs and cheese are oh so delicious!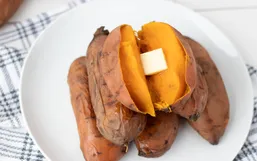 The thing about root vegetables is that they often take a lot of time to cook, especially in the oven.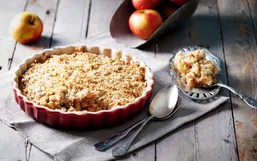 The holiday season is busy, between decorating for Christmas, hosting parties, buying and wrapping gifts it can all be...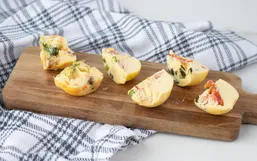 Breakfast is often the most rushed meal of the day. Sure, lunch is eaten while at your work desk and supper may be thrown...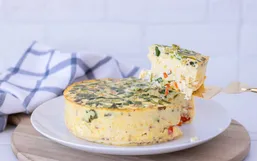 Leisurely weekends are my favorite because it's a chance to unwind and relax.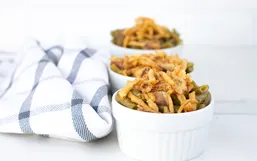 Do you love drool-worthy casseroles? Then get ready for a true treat!