Get ready friends, it's time to enjoy some delicious takeout made at home! You all loved our 15-minute Instant Pot Orange Chicken so much that we wanted to take those flavors one step further and turn it into an incredibly easy dump-and-go dinner that doesn't require any sautéing!
The Instant Pot has already proved it's worthiness to us. It can cook meals quickly, hands-off and doesn't heat up a kitchen. It doesn't get any better than that! If you're not convinced yet maybe our delicious dinner we're sharing today will change your mind! Dump dinners are seriously a game changer. It essentially means you dump all the ingredients into the pot, set it, and walk away. While you wait you can catch up on your favorite TV shows or more productively, tackle your to-do list! When the Instant Pot beeps indicating the time is up you'll be welcomed with a fully cooked delicious meal, sides and all! Our Instant Pot Orange Chicken Dump Dinner will surely become a new family favorite in your home!
Want New Instant Pot Recipes and Content Delivered Straight To Your Inbox? Sign up for our Instant Pot Email Newsletter!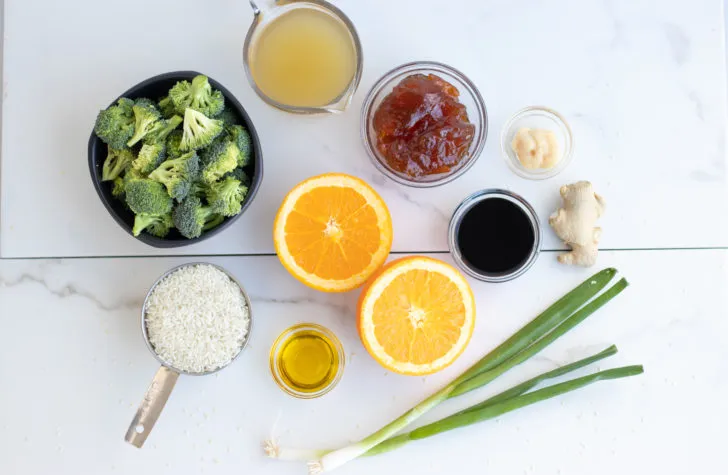 Since this is a dump-and-go dinner you simply add all of the ingredients to the pot. Yes, it's that easy. However, it's important to note you'll want to add the oil, chicken, broth, orange juice, garlic, ginger, soy sauce, marmalade, and rice in that order. Remember, DO NOT stir! When cooking in the Instant Pot, it's all about creating layers and we strategically placed the ingredients in that order to ensure you don't get the dreaded burn notice!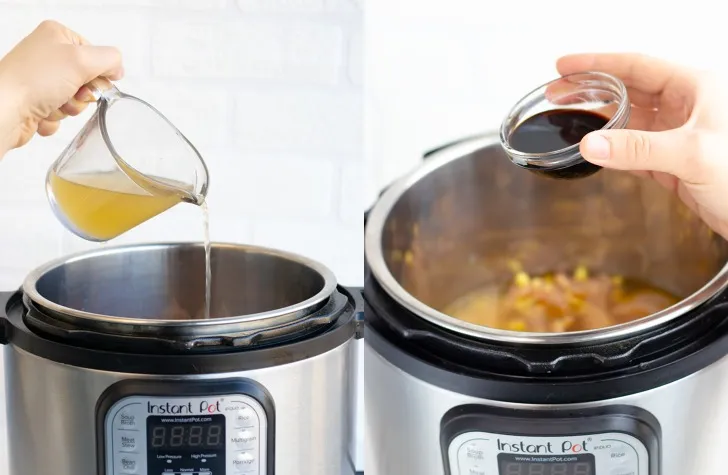 Next, it's time to pressure cook. Lid your pot and ensure the valve is set to "sealing". Then select Pressure Cook/Manual (this button will vary depending on the model of your pot) and cook on HIGH for 5 minutes. Now, keep in mind, this does not account for the time the pot will need to come to pressure. We found that our 6-quart Instant Pot Duo came to pressure in 15 minutes.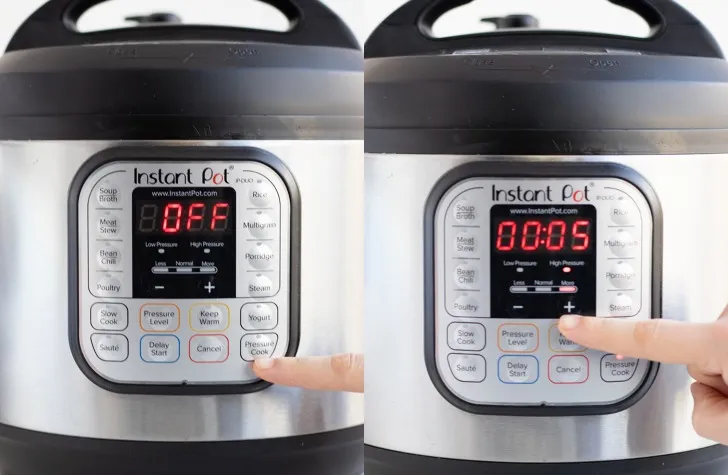 Once the cooking time has elapsed, allow for a natural release of 5 minutes and then quick release any remaining pressure. Next, open the lid and add the broccoli. Give the contents of the pot a good stir and lid the pot again and set the valve back to "sealing". Allowing the broccoli to sit inside the hot pot will steam the florets to perfection. After all, nobody likes soggy broccoli!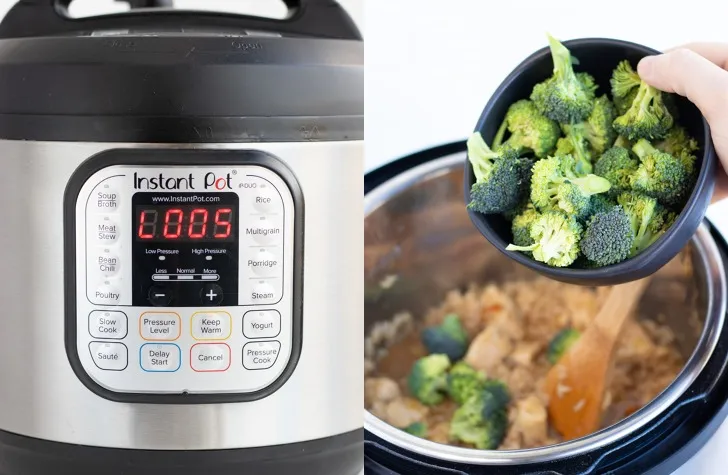 If you prefer your broccoli a little crunchy, let it sit for 5 minutes. If you prefer your broccoli a little softer, allow it to sit for 10 minutes. Then take the lid off and serve hot! We garnished our dish with green onions and a sprinkle of sesame seeds, however, this step is completely optional. We hope you come to love this dinner as much as we did!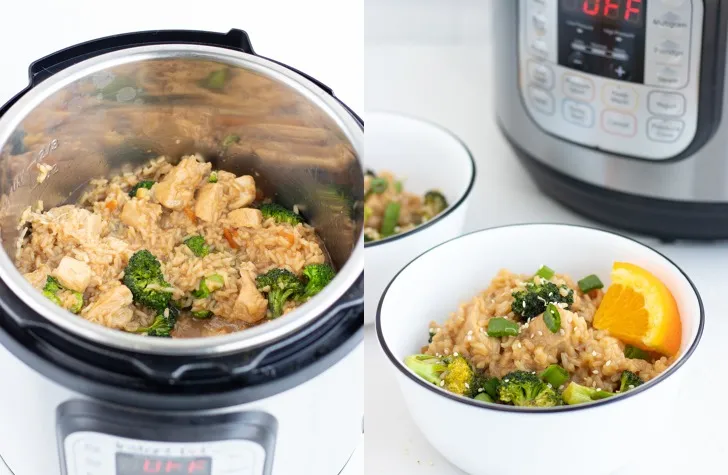 Ingredients
1 tbsp olive oil
3 large boneless skinless chicken breasts or 6 thighs, chopped into 1" pieces
1/2 cup fresh orange juice
1 tbsp minced garlic
1 tbsp minced ginger
3 tbsp soy sauce
½ cup orange marmalade
1 1/2 cups chicken broth
1 cup white rice
1 head broccoli, chopped into small florets
¼ cup green onions, for garnish
Sesame seeds
Method
Add oil, chicken, broth, orange juice, garlic, ginger, soy sauce, marmalade, and rice to Instant Pot in that order. Do not stir.
Lid the pot, set the valve to sealing, and cook on Manual/Pressure Cook HIGH for 5 minutes. Once the time has elapsed, allow for a 5-minute natural release before quick releasing any remaining pressure.
Open the lid and add the broccoli. Quickly re-lid the pot with the valve closed and let sit for 5-10 minutes.
Remove the lid and garnish with green onions and sesame seeds. Serve hot and enjoy!
Notes
It took our 6-quart Instant Pot Duo 15 minutes to come to pressure, however, the time will vary depending on the size and model you are using.
Check the broccoli at 5 minutes, if the broccoli is cooked to your liking serve immediately – if you prefer it softer, lid the pot for another 5 minutes.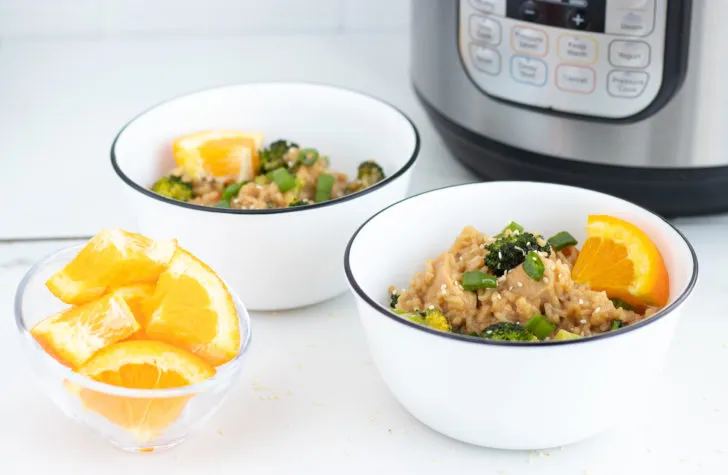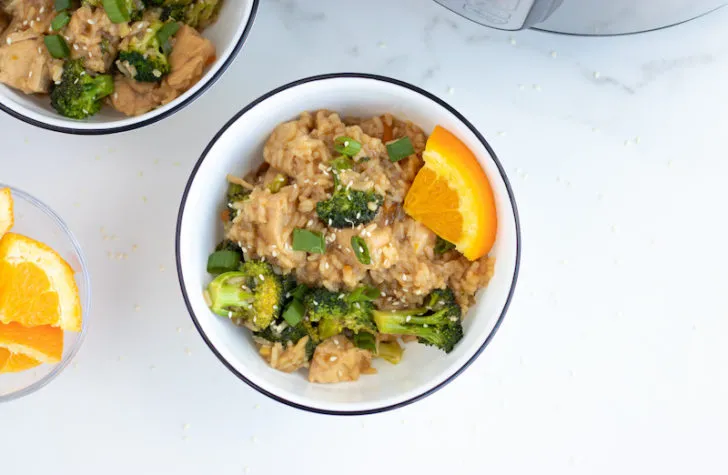 While experimenting with the Instant Pot I quickly discovered that it can not only cook a quick and easy weeknight meal but it can...
Parties happen all year round and instead of taking on the task of cooking for a crowd, make your next party a potluck party!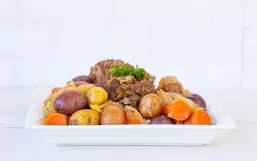 Roast beef is one of those meals that's an oldie but a goodie. If you have company coming over for supper - it doesn't matter who...
The 4th of July holiday indicates that summer is here. On this patriotic holiday friends and family gather together to play games,...
The season of fall is a favorite for many because it means crisp air, cozy layered clothing, and of course comforting meals.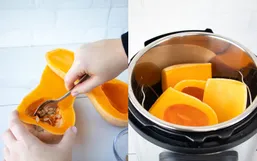 The holidays are a busy time of year, between hosting guests, planning a dinner, and catering to everyone's needs it can get...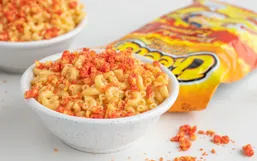 There is no comfort food like mac and cheese - the carbs and cheese are oh so delicious!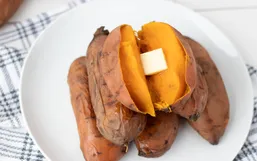 The thing about root vegetables is that they often take a lot of time to cook, especially in the oven.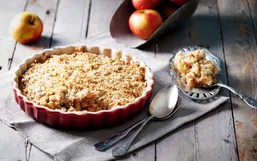 The holiday season is busy, between decorating for Christmas, hosting parties, buying and wrapping gifts it can all be...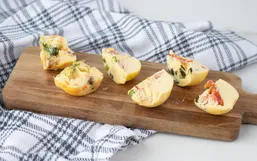 Breakfast is often the most rushed meal of the day. Sure, lunch is eaten while at your work desk and supper may be thrown...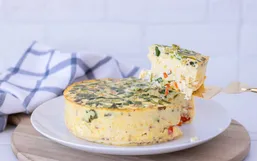 Leisurely weekends are my favorite because it's a chance to unwind and relax.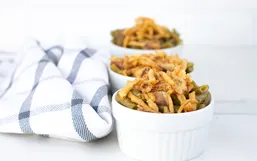 Do you love drool-worthy casseroles? Then get ready for a true treat!