If you're like me, odds are you've jumped onto the Instant Pot bandwagon! If you haven't, be prepared to fall in love with the amazing kitchen gadget. There are so many reasons that make the Instant Pot great. Some of these excellent traits are it doesn't heat up your kitchen (perfect for summer), it can cook laborious meals quickly and further, it transforms many recipes into hands-off recipes!
Quick cooking time is great and a recipe that requires minimal effort is even better but what makes a recipe outstanding is if you can cook your meat from frozen. The worst feeling is driving home from work just to finally remember that you've forgotten to take out the meat before you left for work. With that in mind, we have found you 15 awesome recipes that actually require frozen meat so you can go about your day without having to worry about dinner until you get home.
Want New Instant Pot Recipes and Content Delivered Straight To Your Inbox? Sign up for our Instant Pot Email Newsletter
1. Instant Pot Hack: Cooking Chicken From Frozen
Cooking chicken breast from frozen has never been easier! We're proving how the Instant Pot can do it quickly and result in delicious tender chicken.
All you need is frozen chicken breast, your Instant Pot, and 1 cup of liquid. The chicken will need to cook on HIGH pressure for 15 minutes and then you'll need to allow for a natural release of 10 minutes. A natural release is important to ensure tender meat otherwise it could end up quite chewy in texture. Check out 15 delicious Instant Pot Chicken Recipes.
http://www.forkly.com/food-hacks/instant-pot-hack-cooking-chicken-from-frozen/ PHOTOS AND RECIPE HERE: FORKLY
2. Instant Pot Taco Meat From Frozen
With this recipe, you won't need to babysit your stove while preparing taco meet! Simply dump frozen ground beef with beef broth into the Instant Pot and cook on high pressure for 20 minutes!
You'll also be provided with instruction on how to prepare a homemade taco seasoning that really adds a delicious flavor to the meat. Once prepared, serve with tortillas with your favorite toppings!
https://www.number-2-pencil.com/instant-pot-ground-beef-taco-meat-from-frozen-2/ PHOTOS AND RECIPE HERE: NUMBER 2 PENCIL
3. Lemon Garlic Salmon
This lemon garlic salmon may just be the fresh and bright springy dinner you've been searching for. Cooking salmon can seem like art, but you'll quickly discover that the Instant Pot can cook it quite well too.
For this recipe, you'll need 1 1/2 pounds of frozen salmon filets and a few enticing seasonings. From pot to table you can have the salmon ready in about 20 minutes. Serve with your favorite sides such as rice, potatoes or any veggies!
https://www.thenaturalnurturer.com/blog/instant-pot-lemon-garlic-salmon-from-frozen?utm_medium=social&utm_source=pinterest&utm_campaign=tailwind_tribes&utm_content=tribes&utm_term=286930592_7772246_30 PHOTOS AND RECIPE HERE: THE NATURAL NURTURER
4. Shredded Chicken Taco Bowls
Taco bowls are my favorite because you can enjoy all the same ingredients but don't have to worry about anything falling out of a tortilla. So prepare the delicious chicken in the Instant Pot and pile up your bowl as high as you want!
Further, this recipe is paleo diet approved and puts a healthier spin onto a traditional taco recipe. When cooking from frozen, you'll need to pressure cook the chicken for 20 minutes followed by a natural release of 5-10 minutes. Then in a bowl add salad greens, rice, avocado and any of your favorite taco toppings!
http://oursavorylife.com/paleo-instant-pot-shredded-chicken-taco-bowls-frozen-meat/?utm_medium=social&utm_source=pinterest&utm_campaign=tailwind_smartloop&utm_content=smartloop&utm_term=15665354 PHOTOS AND RECIPE HERE: OUR SAVORY LIFE
5. Easy Chicken Wings
Enjoy tender chicken wings on game day or share a platter at any party! Cooking them in the Instant Pot makes this recipe easy and quick.
When cooking from frozen, you'll need to pressure cook the wings for 15 minutes followed by a natural release of 5 minutes. While the wings are cooking you can whip up the delicious buffalo sauce. It only requires 3 ingredients and transforms these wings from bland to a flavor explosion in your mouth!
https://www.lemonblossoms.com/blog/instant-pot-chicken-wings/ PHOTOS AND RECIPE HERE: LEMON BLOSSOMS
6. Instant Pot Roast Beef and Potatoes
Nothing says Sunday dinner like this roast beef and potatoes recipe. Cook your roast effortlessly and from frozen using your Instant Pot!
If you're lucky enough to own two instant pots then you can cook your potatoes and carrots at the same time as the roast or you can cook them separately once the roast has finished cooking. All in all, you can have a full roast beef dinner cooked and ready to eat in less than 2 hours! Check out these 16 Instant Pot Recipes Using Beef!
https://ohsodelicioso.com/pressure-cooker-frozen-roast-beef/ PHOTOS AND RECIPE HERE: OH SO DELICIOSO
7. Instant Pot Beef Stew
There's nothing like a delicious beef stew recipe that reminds me of my mother's cooking! Thankfully the Instant Pot helps transform a laborious recipe into one that is quick and easy.
This recipe is truly a dump-and-go recipe! You'll also be provided with tips on how to create this meal in both the 6-quart and 8-quart Instant Pot. You'll also see in the notes section that when using frozen cubed meat, simply increase the cooking time by 10 minutes.
https://ifoodreal.com/instant-pot-beef-stew/ PHOTOS AND RECIPE HERE: IFOODREAL
8. Instant Pot Pork Tenderloin
Much like the roast, the Instant Pot can cook frozen pork tenderloin effortlessly and quickly too. All you'll need is frozen pork tenderloin, chicken broth and bay leaves.
While the pork is cooking you can prepare the delicious homemade sauce. This is made from honey, soy sauce, garlic, fresh ginger, and cornstarch to thicken. Serve the pork with a side of your favorite veggies and rice. Learn how to cook rice quickly using our Instant Pot Hack: Cooking Perfect White Rice.
https://sweetandsavorymeals.com/how-to-cook-frozen-pork-tenderloin-in-the-instant-pot/ PHOTOS AND RECIPE HERE: SWEET AND SAVORY MEALS
9. Instant Pot Turkey Breast
Try cooking a turkey breast in the Instant Pot for your next holiday dinner! It's so easy and results in savory tender turkey.
This recipe provides tips and tricks on how to adjust your cooking time depending on the weight of your frozen turkey breasts. Serve the turkey with your favorite sides such as these delicious Instant Pot Garlic Mashed Potatoes!
https://sweetandsavorymeals.com/instant-pot-turkey-breast/ PHOTOS AND RECIPE HERE: SWEET AND SAVORY MEALS
10. Honey Garlic Instant Pot Chicken Breasts
Honey and Garlic are one of my favorite flavor combinations. Sweet and savory was meant to be together! Enjoy the flavors of honey and garlic on tender chicken cooked effortlessly in the Instant Pot.
To cook your chicken from frozen you'll simply need to add 2-4 minutes to the cook time. You'll also be provided with tips on how to adjust your cook time depending on the size of your chicken breasts. Once the chicken is cooked, you'll create a cornstarch slurry and add it to the liquid in the pot to create the perfect homemade honey and garlic sauce!
https://kristineskitchenblog.com/honey-garlic-instant-pot-chicken-breasts/ PHOTOS AND RECIPE HERE: KRISTINE'S KITCHEN
11. How to Cook a Whole Frozen Chicken in the Instant Pot
Who knew you could cook a whole chicken from frozen using the Instant Pot! This recipe proves that is can be done. This chicken can be served with your favorite side dishes for a family feast or cut up the meat into a salad for a light and healthy lunch or dinner.
Before cooking, you'll need to rub oil and seasonings all over the chicken. The oil is important as it helps the seasonings adhere to a frozen chicken. Then simply add water and the trivet to the pot, place the chicken inside and cook on HIGH pressure for about 35-45 minutes. Once again, ensure you allow for a natural release so that your chicken turns out nice and tender.
https://ifoodreal.com/instant-pot-frozen-chicken/ PHOTOS AND RECIPE HERE: IFOODREAL
12. Instant Pot Sweedish Meatballs
This Instant Pot recipe is sort of like beef stroganoff but with meatballs instead! It's creamy and savory and will surely become a new family favorite!
You will need beef broth, cream of mushroom soup, egg noodles, sour cream, milk, and frozen meatballs. You can have dinner ready to eat in less than 20 minutes!
https://wildlycharmed.com/2016/12/instant-pot-swedish-meatballs-recipe.html PHOTOS AND RECIPE HERE: WIDLY CHARMED
13. Instant Pot Spaghetti and Meatballs
Spaghetti and meatballs are loved by children and adults alike. It's one of those meals you can make for picky eaters that almost always guarantees no complaints.
Using frozen meatballs, some pasta sauce and noodles you can cook a delicious hearty meal quickly in the Instant Pot! Aside from the time the pot needs to come to pressure, this meal cooks in just 8 minutes!
https://www.soulfullymade.com/instant-pot-spaghetti-and-meatballs/ PHOTOS AND RECIPE HERE: SOULFULLY MADE
14. Brown Sugar and Butter Frozen Ham in the Instant Pot
Perhaps instead of turkey, your family prefers ham for a big holiday dinner! You'll be pleased to discover that you can cook a ham from frozen conveniently in the Instant Pot too!
Remember to search for a ham that fits comfortably in your pot. Aside from the ham, you'll need water, brown sugar, butter and a glaze that often comes with the ham. Cook the ham for about 30-35 minutes and you'll have a delicious entree made quickly!
https://makethebestofeverything.com/2018/03/brown-sugar-and-butter-frozen-ham-in-the-instant-pot/ PHOTOS AND RECIPE HERE: MAKE THE BEST OF EVERYTHING
15. Instant Pot Chicken Pot Pie
Chicken pot pie is another family favorite. While we're not exactly cooking a pie in the Instant Pot, you will be cooking the delicious filling we love about chicken pot pie!
When cooking with frozen chicken, increase the cook time to 15 minutes. When the cook time is complete, remove the chicken and shred it using a fork. Then add in the frozen veggies and milk and add the chicken back in. If your filling comes out more soupy than you'd like you can simply add in a slurry made from cornstarch or flour and liquid from the pot. Turn on saute mode and stir until it has thickened to your desired liking.
http://www.forkly.com/recipes/instant-pot-chicken-pot-pie/ PHOTOS AND RECIPE HERE: FORKLY
While experimenting with the Instant Pot I quickly discovered that it can not only cook a quick and easy weeknight meal but it can...
Parties happen all year round and instead of taking on the task of cooking for a crowd, make your next party a potluck party!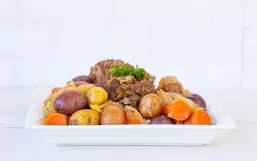 Roast beef is one of those meals that's an oldie but a goodie. If you have company coming over for supper - it doesn't matter who...
The 4th of July holiday indicates that summer is here. On this patriotic holiday friends and family gather together to play games,...
The season of fall is a favorite for many because it means crisp air, cozy layered clothing, and of course comforting meals.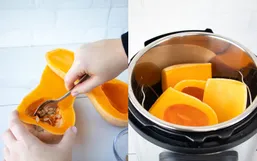 The holidays are a busy time of year, between hosting guests, planning a dinner, and catering to everyone's needs it can get...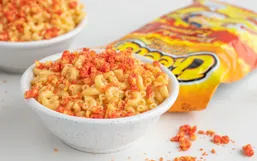 There is no comfort food like mac and cheese - the carbs and cheese are oh so delicious!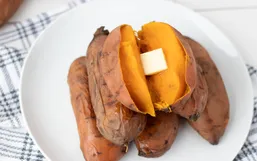 The thing about root vegetables is that they often take a lot of time to cook, especially in the oven.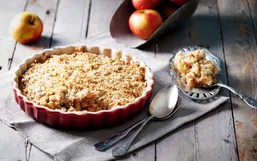 The holiday season is busy, between decorating for Christmas, hosting parties, buying and wrapping gifts it can all be...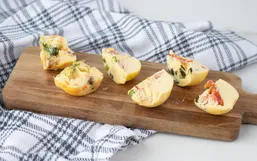 Breakfast is often the most rushed meal of the day. Sure, lunch is eaten while at your work desk and supper may be thrown...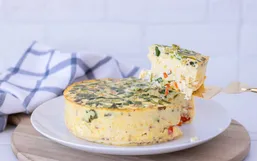 Leisurely weekends are my favorite because it's a chance to unwind and relax.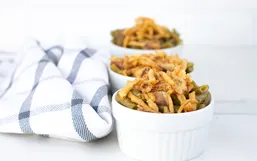 Do you love drool-worthy casseroles? Then get ready for a true treat!